Dax's Army Against Lymphoma
This campaign is for 11 year-old Dax and his parents, Dan & Michelle. 
Dax is an exceptional kid and came into the world in a special way. When his dad was young, he was diagnosed with cancer. Before treatment, measures were taken to allow Dan to have children in the future. In 1996, Dan married Michelle, a vibrant and spunky woman. When they wanted to start their family, they endured several painstaking attempts with IVF. With the support of friends and family, Dan & Michelle proceeded with their last possible opportunity and were given the most precious gift of their lives - Dax. It's difficult to put into words how great Dax is. He's a real character, bright and always smiling. He loves his family, his dogs, and his friends. He's passionate about hockey and football and the teammates he's made along the way. Everybody loves Dax.
On May 9, 2020, Michelle made an urgent plea on Facebook for prayers. Her and Dan were following an ambulance that was taking their only child from a Windsor hospital to London Children's Hospital. Dax was having difficulty breathing and they didn't know if it was his heart or cancer. That night, Dax had tubes put into his heart and lungs and by the next morning, 2.2L of fluid had drained from his lungs and 800mL from his heart. On May 10, a biopsy of a mass above Dax's heart was taken. The next day, a brave 11 year-old Dax - who endured every procedure awake so far - was told that he has cancer. The biopsy results showed the growth in his chest is lymphoma. Dax has been put on steroids to shrink the mass and after the type of lymphoma is known, he'll start chemotherapy. As always, Dax is a courageous superhero and wants everyone to know he's going to be okay. He's even called some family and friends to tell them just that!
Due to COVID-19, Michelle has already been off work. Now away from home, in London, food, parking and accommodation costs add up, while regular bills keep coming. We want to help this amazing family while Dax is receiving treatments at London Children's Hospital.
It takes a village to raise a child. It takes an army to fight cancer. Let's help Dax fight and give what we can.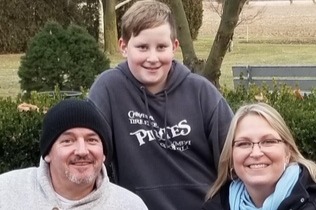 Todd, Jill, Zoe & Quinton Stevenson
See all
Fundraising team (4)
Jill (Rounding) Carrier
Organizer
Harrow, ON
Michelle Hoekstra
Beneficiary