David Wright's Fight Against COVID!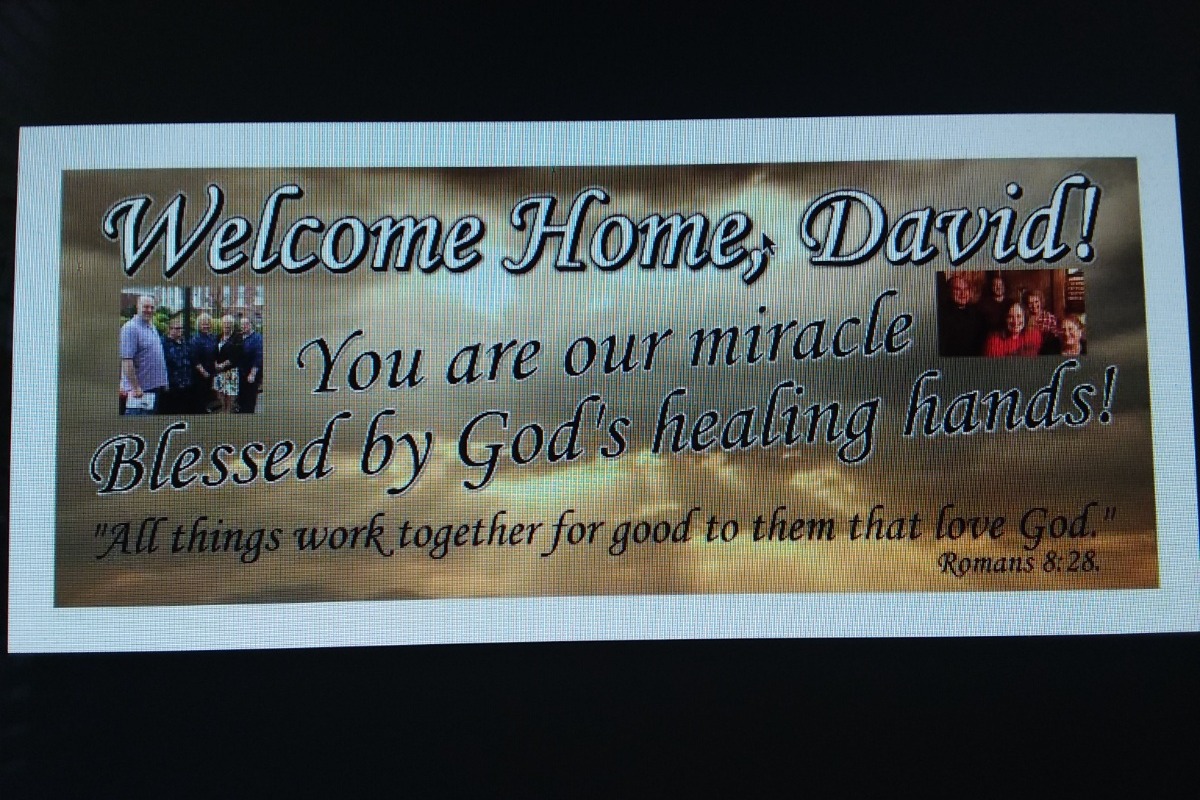 Dave Wright is my younger brother and a correction officer for Franklin County.  He worked at OSU on the floor that allows prisoners to get surgeries and procedures.  In March, he contracted Covid 19 at work through touching contaminated surfaces shared with nurses and doctors.  During March, the Director of Nursing and another nurse died from Covid 19. Neither the nursing staff nor the guards were given any PPE. 
On Sunday, April 5, my brother, David was having great difficulty breathing. He was taken by ambulance to Adena Medical Center in Chillicothe. He was diagnosed with Covid 19.  Each day, he got worse and needed more oxygen.  He was feeling isolated and missed his family.
On April 10, he called Mom to say "goodbye." The doctor told him the virus was winning and admitted he didn't know what to do. They started hydrooxychlorquine therapy.  That evening, Dave agreed to be intubated. They had great difficulty putting the breathing tube in and broke off half a tooth. He was paralyzed and heavily sedated. He was in a medically induced coma.
Saturday, April 11, Dave was transported by intensive care ambulance to OSU. The same day, I took Mom to the OSU ER. We were told she wasn't sick enough so she had to go back home.
Easter Sunday, April 12, Dave had a kidney line put in and started dialysis. The doctor said "he is one of ours, we are going to take care of him." The same day, at midnight, Mom was admitted to OSU Hospital with Covid 19 and started hydrooxycloquine therapy. She had high fevers, chills, body aches and headaches for 12 nights. She didn't know if she would live or die each night.
The next several days, we were told Dave was one of the sickest patients there. He was on maximum ventilation, life support for his kidneys. He was in acute respiratory arrest, septic shock with multiple systems failing. We were told to pray for a miracle. The doctor said if his heart stops, they will not do any chest compressions! Dave may not make it through today!  That same day, I drove 65 miles one way to get tested for Covid 19.
April 16, They started cytostorm therapy. The next day he received the first round of life-saving plasma therapy.  They moved the dialysis line to his groin.  My test results came back positive for Covid 19. The next few days, Dave was off paralytics, getting intermittent dialysis, heart improving, lung function showed significant progress. He was no longer hypoxic. He was making urine again.  He received his second dose of plasma! He was making his own antibodies. He passed the spontaneous breathing trial! His doctor agreed, David was a miracle!  His lungs looked fantastic!
April 24, Mom was discharged after 14 days still Covid positive. The next day, Dave passed the delirium test and started Physical and Occupational Therapy. We talked to him on the phone. His eyes were wide open and he was listening! Soon, he was following all commands, squeezing hands. His kidneys were working normally and lungs looked great! He was able to sit on the edge of the bed with support. The next day, the breathing tube was out! This was a huge, happy day!
April 29, we talked with Dave on Facetime!!! He shared his testimony of where he went and who was with him during his coma those weeks. The next day, Dave was moved to a regular room! He was able to eat! All the doctors and heads of nurses made a parade route and cheered and clapped for Dave when he left the ICU! The next day, Mom's high fevers, headaches, chills, high pulse and body aches returned.
May 1, Dave, Mom and I talked on the phone for three hours. He sat in a chair, walked a few steps and brushed his teeth. He has fallen three times since yesterday. His left hand is not working correctly. He asked for prayers to get the use of all his fingers again!
May 2, His left elbow and arm hurts. He has to learn how to walk again. He has to test negative two times before they move him to Dodds where he will get the rehabilitation he needs to make a full recovery.
On May 2, Mom was feeling a bit better. Her fever broke in the afternoon.  Dave's ICU doctor, Dr. Thomas told him "if he had stayed at Adena one more day, he would have died." His doctor said he was in full organ failure and couldn't get any air into his lungs.  He said "you were constantly throwing blood clots." Dave was surprised with how weak he is right now.  Dave said without all the intervention, I wouldn't be here right now. 
David was in the valley of the shadow of death. We prayed that Jesus Himself would be with him, that the angels would surround him and touch his feet, and cover him with blessings all the way to the top of his head. We prayed for God to intervene. You are the great Physician, Lord, you can heal! We knew he was in Heaven and told him he had to come back! We couldn't live without him. He has a great work to do here on earth. His family loves him and needs him! 
Dave said, part of my body's problem is; when you let my body start to go, it immediately goes and doesn't want to come back.  If you let me do a procedure too fast, my body just dies and I won't hear you.  I had to fight to come back to you!  I was getting farther and farther by the second. 
I have prayed mightily unto our Heavenly Father for my brother to be completely healed.  I have prayed for my mother to recover fully from pneumonia and Covid 19.  I have prayed that my symptoms continue to be mild and that my husband can escape this horrible virus.  
Dave had two weeks of intense physical and occupational therapy at Dodd Rehabilitation Hospital after being on the floor at the Brain and Spine floor for four days.  We brought him home on May 21 to the entire community coming out to celebrate his homecoming!  We had three firetrucks and an ambulance escort us through Richmond Dale with friends and neighbors cheering, waving signs and honking horns.  It was such a wonderful day!
Dave has been home for a week and a half now and has so many physical obstacles to overcome.  His left arm has nerve compression caused from being prone in the ICU for four weeks.  He has constant pain down his arm through his hand.  He is not able to bend his pinkie or ring finger all the way.   He has nerve compression from the thigh down the entire right leg.  This causes pain each day.  He started two antibiotics today  (June 2) to heal the infection caused by a catheter which was in his body for so long.  He has a mass on his chest that is not going away and several doctors have never seen one like it before.  (He will have a CT Scan this week).
He has physical and occupational therapy twice a week for the month of June and once a week in July.  He has doctor visits both months.
Dave's doctors say he should regain the use of his left arm and fingers as well as his right leg once the nerves heal.  It could take 9-12 months.  He is not able to work and is trying to get his last two checks.  He is working on getting short term disability and hopes to have his insurance for the remainder of the year.
His medical bills are starting to come in and they are at $500,000 as of June 2.  He expects them to continue up to $750,000 if not more.  
He is humbled and thanks each one who has prayed for him throughout this Covid nightmare.  His life has completely changed just because he went to work!  I mentioned that I was going to start a GoFundMe page to help with his medical bills and he was hopeful.
I am humbled by God's healing power as he gave my brother a miracle!  He continues to hear my prayers and answers them with healing for my mother and myself.  I felt it was the least thing I could do to ask for specific needs each day for my brother and mother's healing.  "Surely goodness and mercy shall follow me all the days of my life; and I will dwell in the house of the Lord forever."

Organizer
#1 fundraising platform

People have raised more money on GoFundMe than anywhere else. Learn more

GoFundMe Guarantee

In the rare case that something isn't right, we will refund your donation. Learn more

Expert advice, 24/7

Contact us with your questions and we'll answer, day or night. Learn more