Service dog training by Healing Companions
$2,000
goal
Campaign created
28 days
ago
Hello, my name is Cyndi. I am 50 years old, married with an adult daughter and baby granddaughter. We all live together in a home that my husband and I bought in October 2018. My life completely changed at that time for good and bad.
Let me start by saying that I have been diagnosed with anxiety, depression and ADD and I've been taking medication for many years as treatment. However, after 12 years of working at a job that is demanding and stressful, the pressure became too much. The deadlines alone were keeping me up at night. I love my job but the problem is that the workload doubled over the years with cutbacks in hiring due to the budget. I work for the federal government and much of the staff I started out with have been promoted to other offices or retired. Many of those were never replaced. Feeling overwhelmed became a part of my daily life and started to work its way into my home life as well.
My brain was constantly trying to find solutions to doing my job better, smarter and quicker. I am a problem solver but a solution wasn't coming to me. To this day I am still trying to figure it all out. Then one day, I remembered a time when I was the happiest at my job. It was usually working a Saturday morning working a little overtime and my boss would bring her dog into work! She was small and young but so playful and cute! She had black long hair with little round black eyes. Her name…Emma! She was not the kind of dog that wanted to sit on your lap or spend time being petted. She wanted to run throughout the office and wanted everyone to chase her. As soon as she saw you walking around, she would zip by in rocket speed with a look behind her to see if you were coming. Her adorable looks and her innocence drew me in and I couldn't help but to feel a little more relaxed.
I decided that I needed to start research on obtaining a service dog to mitigate the effects of my anxiety, stress, insomnia, depression etc. The public access and task training is extensive, extremely costly and specifically tailored to my specific symptoms and needs. I came across Healing Companions founded by Jane Miller. LISW, CDBC, CDBT. The next thing I knew I was matched up with "Sage". She is a black Labrador Retriever and only about 3 years old. She is an old soul that can never get enough affection or give enough kisses. She has the patience and the serenity of the Dalai Lama. She was the positive change in my life of October 2018 as we began our training together.
Soon after that I began to feel ill. I suffered from pretty bad stomach aches and all I wanted to do was sleep. I would put my head down at my desk at work to sleep and would do the same at meetings. I couldn't help myself. I have always had digestive problems so I thought something was wrong in that area. My gastroenterologist would run test after test a couple of weeks a part but I couldn't get him to understand the severity of the fatigue and pain. I knew that the emergency room wouldn't find anything other than treating me for the pain. I decided to go see my primary care doctor and he was smart enough to order a scan. Later that night my aunt who works in the hospital radiology department came to visit me at home. She looked at my stomach and noticed that I was bloated with more of bump just under the rib cage. She said that this is very serious and it could be some kind of mass growing in my abdomen. She pretty much took over my case from there.
To make a long story short they found ovarian cancer. By this time is was January 2019 and I had surgery at the hospital to remove the tumor which turned out to be 7" long. It was a successful surgery and now my chemo treatments are near the end. The hospital did a genetic test to see if I have the genetic markers for this cancer. The test came back showing that I have no genetic reason to have the cancer so my daughter and sister can be relieved. I blame my job as I am a strong believer that stress can cause just about any type of illness. One of my co-workers is developing tremors while another is having complications from a bypass surgery, she had years ago. That is evidence enough for me.
My recovery has been long but it could have been much worse. I am thankful that I have not been very sick because of the chemo treatments. According to a pet scan I had about a month ago, I am cancer free!! You may be asking, what has been the worst side effect? The hospital bills. I have insurance through my job and my husband's but when it comes hospital stays only so much is covered. Making payments to the hospital will take up most of our income for several years.
Instead of asking for help for hospital bills I wanted to ask for help with my continuing training with Sage. She and I have not gone to our training sessions since January 2019 and now that my chemo is almost over, we are getting ready to go back. It felt right to ask for help for the training because it's not all about me, it's also about this loving dog. She was chosen for me because of her natural talent in connecting with people. This talent cannot be wasted and she and I were put together for a reason. She has been a great help to me at work so far and I can't let money stop us from continuing. My job requires verification of completion of her training and if I don't have it soon they may ask me to stop bringing her.
Lastly, I want to say to anyone that will help me, from the bottom of my heart, THANK YOU!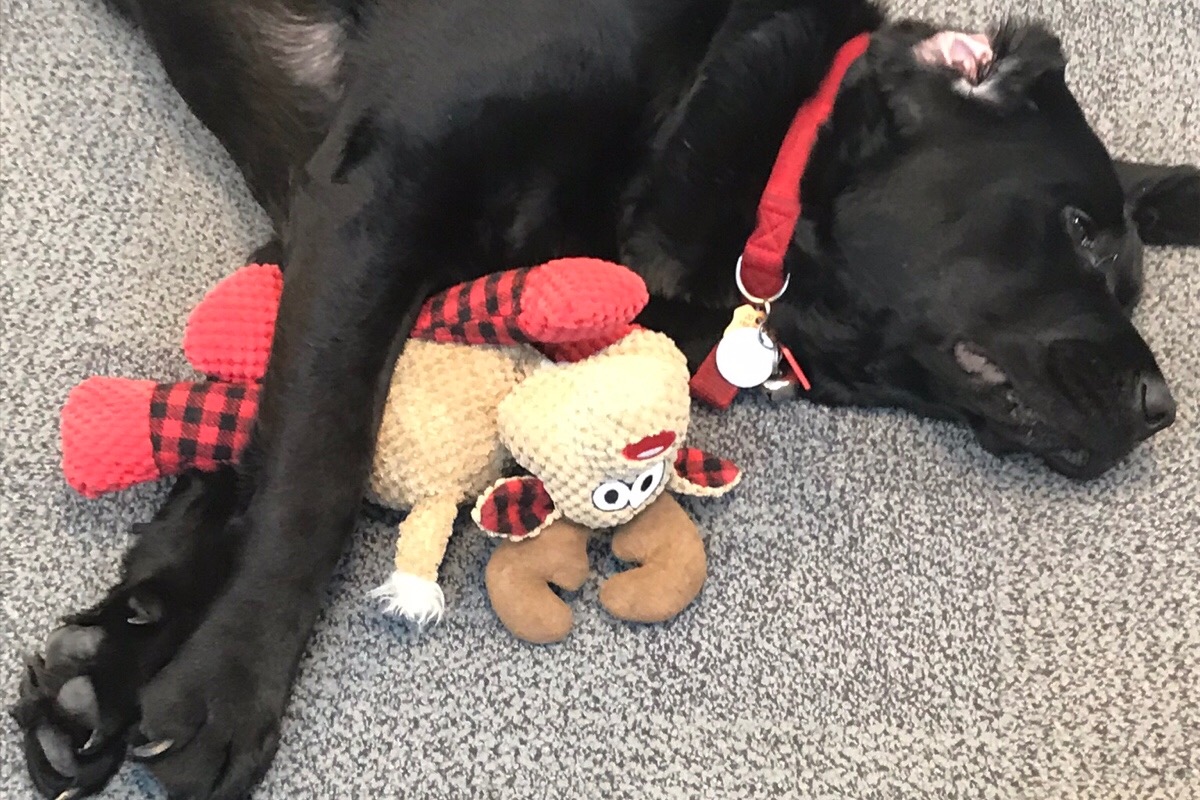 + Read More