Women in DRCongo need our help
"Life is short. There is no time to be small, selfish or
  distracted."
               Angelina Jolie
This past month I went to the Toronto Film Festival to see Angelina Jolie, a woman I deeply admire. As you know she is not only a world famous actress and director, but I think she would say, more importantly, she is a humanitarian who fights for the rights of people living in Africa and around the world.
Angelina and I have one thing in common ~ we have both been to DRCongo and seen the violence and trauma of the women and children living there and we are called to act. I have been travelling to DRCongo with Canadian artist Heather Haynes for over three years now working on the Tchukudu Projects in Goma. We have been able to help 42 women to start their own businesses - sewing and basket weaving - and have another 36 in training with many more waiting to begin. Our training program provides women with income earning opportunities and most importantly it provides them with hope. 
So there I was at TIFF holding up my sign and maybe looking for a sign :)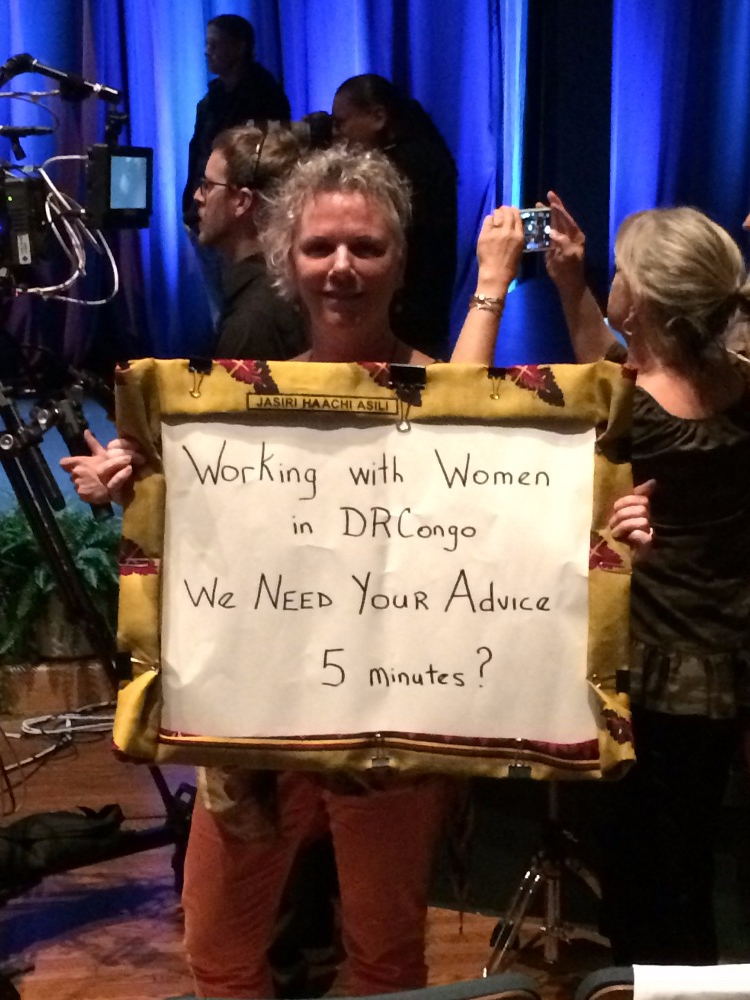 Angelina saw my sign and called me to the front to speak with her. I could not believe it! She told me that in the DRCongo and around all humanitarian crises we have to come together to work to make the biggest impact 
It is time for me to be bold and brave and ask for your help. Following in Angelina's footsteps I am inspired to think big and ask you to come together with me to make a difference... 

Your money will help me to continue our work and to widen our impact. We will:

~ Purchase business sewing and basket weaving kits ($500 per trainee) 
~ Support our administrative costs in DRCongo (no costs here in Canada) including teachers, security guards, supplies, monthly stipend, etc. ($10,000)
~ Develop and provide personal care kits. ($200 per woman)
~ If you are interested in a tax receipted long term sponsorship of one woman's training please copy this link to your browser   
http://www.cacha.ca/projects/tchukudu-sponsorship-project/tchukudu-sponsorship-project-tchukudu-women-s-training-centre-twtc
I am so grateful for any amount you can give. I hope you can help...
 
To hear more about my meeting with Angelina please copy this link to your browser
https://soundcloud.com/hopefortodaycafe/cathy-clearys-cbcbmorning-podcast-how-i-convinced-angelina-jolie-to-chat-about-africa
About Cathy Cleary
Cathy has been traveling to Tanzania as team lead of a medical caravan since 2008, providing health care to isolated and vulnerable communities. Over the past ten years she has worked with 150+ volunteers and they have seen 30,000+ patients.
In 2014 Cathy made her way to Goma in the Democratic Republic of Congo and spoke with ten women there who changed her life. Women who are victims of violent sexual crimes as a result of the ongoing violence in DRCongo. She left them thinking that surely there was something she could do to help ~ Cathy could not imagine coming home and doing nothing. So she took a big breath and found amazing people willing to help. Sponsors provide not only monthly donations but the compassion and generosity that inspires her to make a bigger impact helping as many women and children as she and her supporters can.  
How Cathy became heart connected... 
Imagine if you can for a moment. You are living peacefully in your village with your family and many friends. You hear the sound of the guns before you see anything and you begin to run as fast as you can to find your children and get to some kind of safety. You run right into the soldiers and before you even have time to take a breath you are forced to the ground and men are pounding themselves on top of you. Then they are gone and you are left bleeding inside and out as you try to gather yourself up and put one foot in front of the other. Maybe you see your children then, watching as the soldiers leave you behind or maybe you never see them again as they too run, scattering to find safety somewhere – anywhere. You find yourself in the city and are invited to join a project where you will learn new skills of sewing or basket weaving. And you begin to see a future – a real future where you and your children have enough to eat, where your children go to school, where you have a home that is safe and comfortable. You are grateful beyond your wildest imagining that God… the Universe… the Canadian women… have seen it in their hearts to reach out to you in love and compassion. And you know that something inside you is beginning to heal and you smile for the first time in a long time.        
Organizer