FTP's Hurricane Prison Commissary & Support Fund!
We are only at the beginning of potentially the most active and devastating hurricane season in history. Help us raise funds to support our comrades behind bars!
As Hurricane Laura, now a Category 4, barrels towards Louisiana and Texas tens of thousands of prisoners lie in its path with no ability to escape its destruction on their own accord. We already know dozens of prisons lie in the "storm surge zone" in Louisiana which
weather reports say will reach up to 30 miles inland in places
 and be "unsurvivable." After our team called all morning with different prisons and jails in this zone, only one jail claimed to be evacuating. The rest either had no comment, didn't answer, or
explicitly said they weren't evacuating. 
We are raising money to support
abolitionists on the frontline, both inside and outside the bars, in what will be the devastating aftermath of Laura across the region. Funds will be directed towards our trusted comrades at the
Louisiana Network for Criminal Justice Transformation
 and the
Texas Abolitionists
  to redistribute directly to peoples' books inside for commissary or through their families and loved ones. Funds will also be used for outside support if it's needed and logistically viable (i.e. buying truckloads of water, food, toilet paper, PPE, etc. and delivering it), to help with funeral costs for families if necessary, and to whatever else our comrades on the ground deem is highest priority to support our comrades inside in the aftermath of this disaster. If there are distributed funds leftover, we'll hold onto it to distribute when the next hurricane strikes. Because it will strike.
Laura is already stronger than both Hurricane Harvey and Katrina. When Harvey hit Texas in 2017, USP Beaumont flooded, leaving prisoners up to chest-deep in water for hours. The lack of drinkable water in the aftermath resulted in two deaths when prisoners were forced to drink the toilet water to try and survive. Laura is projected to hit USP Beaumont again, while staff there told us this morning they are not evacuating. 
Donations can also be sent directly to FTP via:Paypal
- [email redacted]
CashApp
- $FightToxicPrisons
Venmo
- @blocthejuvi
About Us-
 The
Fight Toxic Prisons
 Disaster Prep Team has organized to pressure the state and federal government to evacuate prisoners ahead of hurricanes for the past four years. Through phone zaps and other tactics, we've successfully been able to pressure state governments to evacuate prisons. FTP has organized at the intersections of environmental justice and abolition for over five years, working to advance collective liberation for all.
More Info on what you can do right now 
available
 at www.fight-toxic-prisons.org!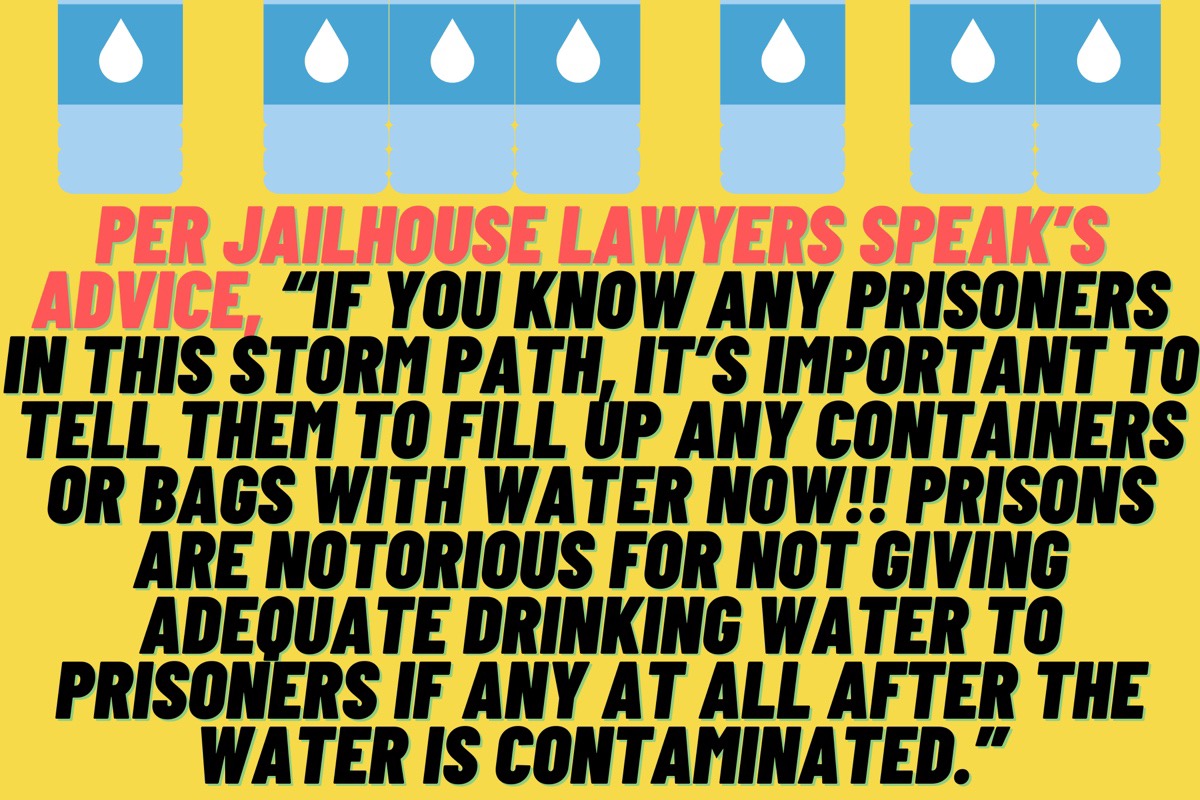 ----------------
Also to combat frauds, GoFundMe is requiring we include the following information:
1. Who you are- The funds will go to and be distributed by Jordan E. Mazurek, a National Organizer with Fight Toxic Prisons.
2. Where you're from- Jordan is based in Gainesville, Florida. The FTP Collective has members in Florida, Texas, Kentucky, West Virginia, California, Washington, and Oregon with an organizational commitment to work in the South and Appalachia. 
3. Your relationship to the parties you're raising funds for- The Louisiana Network for Criminal Justice Transformation is run by one of our movement elders and long time comrades Rebecca Hensley who lives in Hammond, LA. The Texas Abolitionists is a crew spread out between Houston and North Texas who FTP has worked with for over two years now to advance the abolitionist movement in Texas, including hosting dozens of abolitionist 101 trainings as well as the Texas Abolitionist Conference last year.
4. How the funds will be spent (be specific as possible)- See Above.