Colombian Activists to US Congress
Support Colombian Activists and Filmmakers to Travel to US Congress with Documentary 'Nos están matando'Goal
:  $3,000 USD
Nos Están Matando - They are Killing us (in Spanish) – is a social-issue documentary about the targeted persecutions and assassinations of social leaders and human rights defenders in Colombia: over 300 since the peace deal was signed in 2016.
Now, we have the opportunity to screen our film on Capitol Hill to a group of US congress members on September 28 and we need your support.  We are looking for contributions
to get our independent filmmaking team and Héctor Marino to Washington DC. We're lucky to have great friends to put us up on their couches, but we still need to eat, buy train tickets and flights! We hope you can support us on this journey, and we'll keep everyone updated via Instagram and
Facebook
 .
Our Story
First published by Colombian national newspaper
El Espectador
  and US magazine
The Atlantic
 on May 30, 2018 was supported in part by the human rights law collective CAJAR. It was published the same day, coincidentally, that the office of
Rep. Jim McGovern (MA) submitted a letter to the administration with 74 congressional signatures
 calling for US action on the violence against social leaders in Colombia. Since then, our film went viral in Colombia with millions of views on facebook, becoming the iconic film on this issue just as the country's social movements were taking to the streets calling for action. Functioning as a tool to spark conversations, screenings and discussions have already been held in Colombia, Germany, England, Italy, Spain, France, Ecuador and Bolivia and requests for screenings continue to come in every week.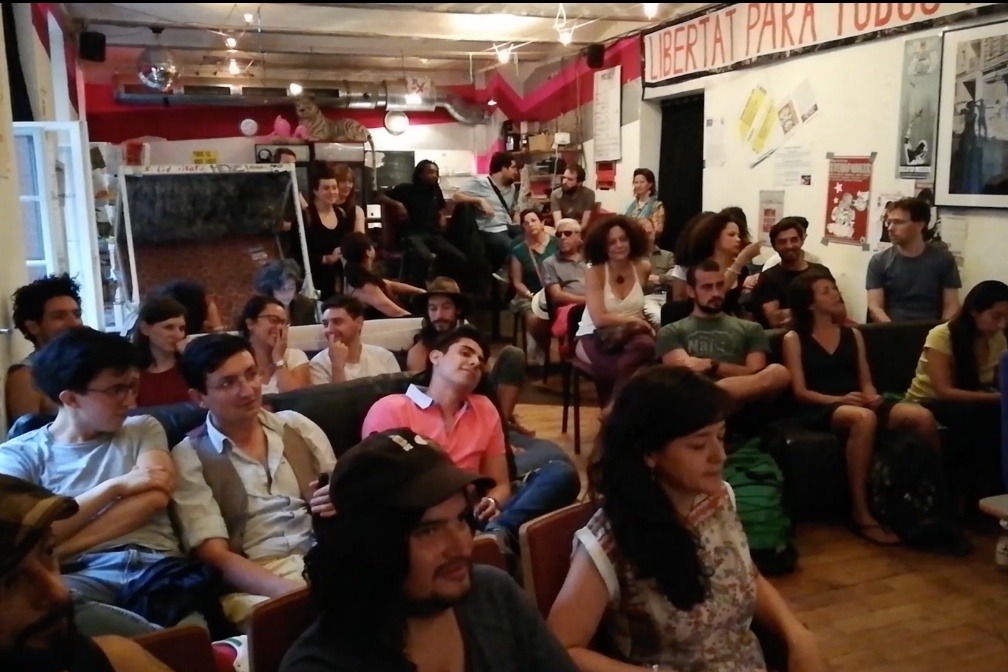 (Screening in Berlin July 2018)
As soon as the film was published, we called the Office of Rep. Jim McGovern and partnered with WOLA (The Washington Office on Latin America) to organize screenings on Capitol Hill for congressional members. Now, this screening is being made a reality on September 28, along with screenings at George Mason University and the popular Busboys and Poets earlier the week of September 24. From there, our team will take the road to Philadelphia, Newark and New York City.
This is an incredible opportunity to get the film seen by US Congress, as well as giving Héctor Marino a platform to discuss the issues that community leaders and activists like himself face in Colombia today. All screenings will be accompanied by post-screening discussions on the risks, challenges and threats faced by human rights defenders in Colombia, as well as the engagement process of getting our film into the halls of power.
(Screenshot from 'Nos están matando' of social leader Héctor Marino)
Why should you support us?
Since the beginning of 2016 –
the year that a peace agreement was signed with Colombia's largest leftist rebel group,
  the Revolutionary Armed Forces of Colombia (or Farc) – over 300 activists, community leaders, and human rights defenders have been assassinated.
At least 123 of those killings took place in the first six months of this year, in what the country's human rights ombudsman described as "an extermination".
Now community leaders and human rights defenders are focussing their efforts on staying alive and protecting their communities. Héctor Marino, one of the protagonists of the documentary is working to protect his family while at the same time taking a public stance to call for attention to this issue to the US Congress.
Against this backdrop, it is imperative to get the film seen on Capitol Hill to urge US action and greater exposure on this issue. Post-show discussions will start much-needed conversations around the assassinations of human rights defenders in Colombia and what can be done to ramp up protection efforts for those activists.
How will your contribution help?
Your contribution will go towards covering return flights and accommodations (2 nights) for the protagonist Héctor Marino and the three filmmakers (Tom Laffay, Emily Wright and Daniel Bustos Echeverry) as well as covering food costs while on the road. In the interest of transparency, we are more than happy to share a budget breakdown with anyone who is interested and any additional funds raised will go towards continuing covering this issue and / or film festival submission costs, additional screenings, etc.
For more information or any questions, please contact us. 


Fundraising team: 'Nos están matando' film team (2)
Tom Laffay 
Organizer
Raised $1,500 from 23 donations
Rocky River, OH
Emily Wright 
Team member
Raised $220 from 3 donations