UPDATE
7-12-17
We will be transferring to another hospital within 24 to 48 hrs.
They have exhausted all their ability to treat this immune disorder. And made the choice of transferring him.
They are confident that he has the CGD but in a rare form that needs more specific testing.
Please continue to pray for Cody, Brandi, Macey, Mylee, and me.
7-11-17
Update.
Cody is doing ok today. He developed another perianal absess that had to be lanced but this time they where able to get a culture of. The last time was done in office and wasn't gotten.
Going back over with more specific immune system tests as he shows all signs of CGD disorder ( Google it).
The first test came back on the CGD negative but the Immunoalist is retesting in case of a false negative.
He has contacted Duke University immune specialist and has informed him on Cody's condition.
Continue to pray for our little guy as he goes through this.
Friday is when we should expect test results again as he can only have 5 ml of blood drawn a day.
After consulting with the doctor he is very adamant about if we need to be transfered we will. And would be Cinncanati OH. As of the now we are going to stay here because they have seen him roller coaster. I don't want a diagnosis unless it's the right one and this staff has seen him at his worse and saw the up and downs.
7-10-17
Cody is doing good. He is still on IV and antibiotics.
One of the BIG test came back negative. Still waiting on one more Big test. It should be here tomorrow.
Still no diagnosis after 9 days but the doctors are trying to figure out something. They are just as complexed.
Continue to pray for him.
Cody Trent:
Cody has gotten worse over the night.
He now has a heart issue that causes his heart to slow way down followed by him to stop breathing.
After ekgs and monitoring him all night he is being transferred to ICU to further monitor his heart.
Many tests are still pending and we still have no idea what is going on.
The room in ICU is an isolation room so we cannot receive visitors.
Please Countinue to pray for this very sick little man.
Brandi and I are very very tired but we know if God brought us to it He will sustain us through it.
Isaiah 43:2
When you pass through the waters, I will be with you; And through the rivers, they shall not overflow you. When you walk through the fire, you shall not be burned, Nor shall the flame scorch you.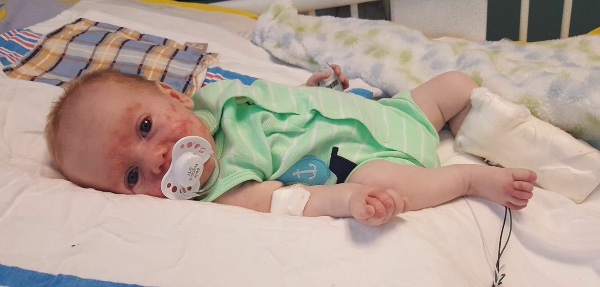 Organizer and beneficiary