Cody Gonzalez - Care Credit Loan
My dog has been through a lot towards the end of November until till this day. At the end of November, my dog had a cough and I took that very seriously. I went to Greater Staten Island Veterinary Services located in 3135 Victory Blvd, Staten Island, NY 10314. He got checked in, seen by the dog vet and told me that his lungs are clear. It was my choice whether I wanted to monitor him at home or do $400 chest x rays and see the source of the issue. In the xrays which was sent to the radiologist, the dog vet said the cough might be unrelated to this issue, but he has a lung tumor on left side of his lung.  I was in tears and couldn't stop crying at this point. At the end of this place I had a bill of $600 to $700 dollars that I paid out of pocket with no help. The Greater Staten Island made a recommendation for me to go to Garden State Veterinary Specialists located in 1 Pine St, Tinton Falls, NJ 07753 which in my experience is very far from my house. Cody's primary doctor at Banfield hospital at the Staten Island location made a referral for Cody to see the specialist surgeon doctor in NJ.

When me, my mom, my brother, my best friend and I made the trip to NJ to see the specialist on Black Friday, it was a very long car ride. However, we all had the best interest in our hearts for Cody. When we arrived at Garden State Veterinary Specialists, my mom helped me fill out the paper work. It was a long wait. Cody went inside to get different exams done on him and the surgeon even looked at Cody's xrays exams. Cody did a CT scan to make sure nothing else was there just the one spot and it did not spread. Luckily in that situation, it was only located in one spot. He made an attempt to do the biopsy, but was unsuccessful at it because it was far long into his body. The surgeon suggested that the surgery would be a better option the first time around. He gave us high hopes that everything was going to work out and Cody will have 2 additional years added to his life. The procedure was done on 12/3/19, he stayed 3 additional days in the hospital, had a breathing tube that went inside his body to help him breath the first two days then it was taken out. This whole procedure cost about $8,500 or a bit more than that. In that moment, I used whatever money from people donated the first time around which were my family and friends, my brother helped me and I have a Carecredit loan hanging on my shoulders till this day.
When Cody came home, I did not go back to work. I took care of him, fed him, gave him water, helped with bathroom and I even put my mattress on my floor because Cody couldn't sleep on my tall bed without getting up every 5 minutes every time he woke up from a nap or sleep. I was home 100% of the time until Cody got his stitches removed. Not even one month after healing from the surgery, Cody had a cough.

I took Cody to the Staten Island Banfield Hospital located in 1525 Forest Ave, Staten Island, NY 10302, I said this was urgent and I wanted to know after everything we had been through why is my dog coughing. He got checked by the vet doctor, she said that his lungs were cleared. She suggested to do chest xrays on him. All I could think about was, "Again?" So, I said lets do it. She did them and send them to the radiologist. These xrays were almost $400. The next day, I get a phone call and the vet dog doctor said its another tumor and its much bigger than the last one my dog had. She said she was going to speak to the radiologist and the surgeon again because she seem very disbelief because Cody had a recent surgery not so long ago.

So, I went back to Garden State Veterinary Specialists in NJ for a second time around even if one of the doctors made a comment that hopefully we don't see you all for a very long time due to the fact the procedure the first time went to well in their minds. The surgeon looks at the xrays that was taken at Staten Island Banfield pet hospital and read the radiologist reports. He said he agrees with the radiologist and said he agrees with him because this time the tumor is very noticeable within the xrays. Now overall, the surgeon was very surprised about this outcome because in his career to see a second tumor growth in such a large form in such in a short amount of time is very rare itself. So he suggested to take another CT scan ($1,000 added to the Carecredit) and he will give me a phone the next day to see what the results will be.

The next day, I spoke with the surgeon and he told me that on Cody's tumor, its located on the left side on a different lobe. He said if he did surgery on Cody that Cody will have complications in his surgery and he will have to remove the whole left lung on my dog. He mentioned that dogs don't do well and can only survive with the right lung. He said the second thing if my dog does die naturally, he could die tomorrow, this week, next week, not anything longer than one month. He apologized and he believed that in the first CT, he did not see the growth of a second tumor.

In my opinion, I believe that CT scans are very advanced than xrays and very expensive. I believe the surgeon made a mistake or he didn't see the second tumor in the first CT scan. The fact I had to pay another CT scan to find out this heartbreaking news, breaks my heart. Before all of this my dog not so long ago had two warts removed one from his eye and one from his arm along with a dental cleaning. Who knew after that this would happen (that bill at Banfield was close to $1,000). My dog Cody is my child. As a family, we paid a whole lot of money to make sure Cody gets the best results as possible. However, I am truly disappointed the outcomes were for my baby Cody. I cried ongoing for days, hours and minutes about this whole situation. He's a healthy baby boy that developed tumors in short period of times.

I really need help paying my Carecredit loan of $3,305.34. After all the expenses, we all been through. I am reaching out for anyone for help. Please find it your hearts to help this situation out. I do not know how long I have with my baby Cody. This second loan is a burden I have to carry for a very long time for a procedure that didn't work out in the first place I believe...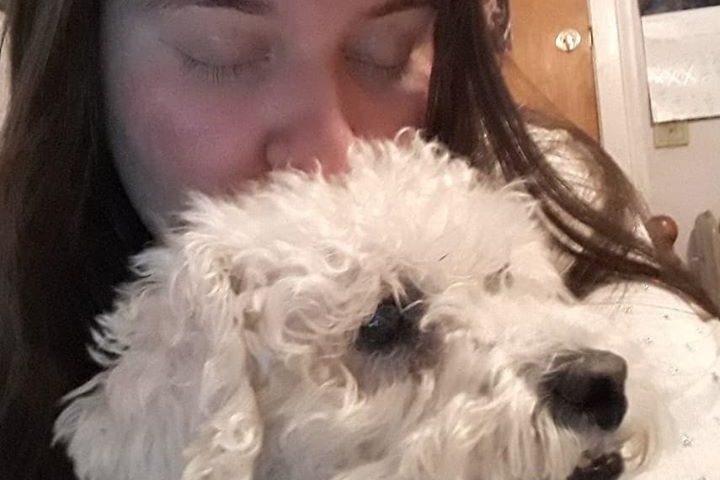 Donations

Organizer
Joanna Gonzalez 
Organizer
Staten Island, NY
#1 fundraising platform

People have raised more money on GoFundMe than anywhere else. Learn more

GoFundMe Guarantee

In the rare case that something isn't right, we will refund your donation. Learn more

Expert advice, 24/7

Contact us with your questions and we'll answer, day or night. Learn more