Catina's South African Trip 2018
A few years ago 2013 I had the opportunity to do missions work in South Africa. It has been my desire since then to return and be a blessing to God's people. This year (October) I have been asked to partner with Arch Bishop Desmond Tutu, Noble Peace Recipient and the Tutudesk Champaign to help do mission work and join them as they continue to address the problem of school desk shortage in Sub Sahara Africa. Please visit them at
www.tutudesk.org
   and learn more about the campaign.
While in Africa I will minister to local Churches, Schools and communities, conduct vocal training workshops and have the honor of singing for Bishop Tutu! I am excited about this great call to do ministry abroad again!! Will you help me!
I am reaching out to you for your support, for this is a great charge. The expense of this great mission will be $5,000.00. The funds will be used for a round trip plane ticket to and from South Africa, in country flights, food, lodging and training materials. I am asking all who can partner with me to be a blessing in this mission. It will be a great blessing to me to fulfill my heart's answer to God's call to foreign missions in addition to my local ministerial role.
All funds donated will need to be received by September 28, 2018.
Thanking you in advance,
Catina C. Rosemond
PHOTOS:
The picture above was taken with Thandeka Tutu-Gxashe, Bishop Desmond Tutu's daughter, whom I met after ministering at the  "Africa In the Sky"  LIWA AFRICA Gala.
Taken on on March 17, 2018 in Greenville, SC when I sang for their "Africa In the Sky"  LIWA AFRICA GALA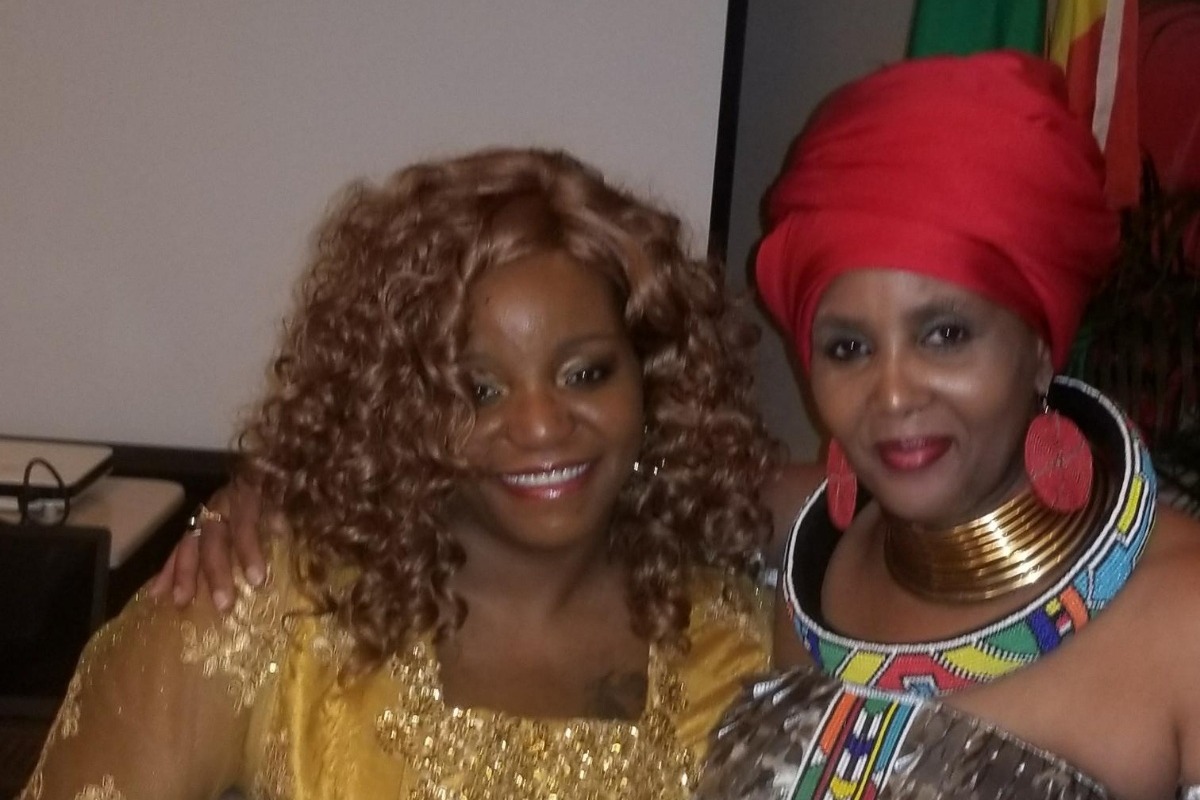 About 2 days after the Gala I got a call from my host, Mapitso Rivera (Red Head wrap) and she put Mrs. Thandeka on the phone. She began to tell me how much she enjoyed my ministry and how I bought tears to her eyes. She then began to tell me that she would Love to have me come sing for her parents and her people. She said she would love for me to even travel with her and minister before she speaks at different events. I was so honored and elated to be even considered!!
PHOTOS FROM PAST MINISTRY TRIPS TO SOUTH AFRICA:
At a radio show in Africa
Ministry Poster for the Maximized Tribe Concert in 2013
Visiting the Winnie Mandela Museum
I HOPE YOU ENJOY SOME OF MY COMPOSITIONS BELOW:
"NEVA GIVE UP!" World Premiere Music Video
"Perfect Peace" performed by Catina Rosemond, live on WGGS TV
Thank you so much for you love, encouragement and support! God bless you!
Organizer and beneficiary