My name is Vickie Edgerly and I'm blessed to be the aunt of the most courageous, determined, faith filled 26-year-old young woman I know, Caitlyn.
Caitlyn's Courage
Caitlyn and Rawson welcomed Zelda Cait into the world on October 31, 2017.  They were over the moon in love with their baby girl but their joy and celebration came to an abrupt halt 5 days later when Caitlyn was diagnosed with Osteosarcoma of her left humorous, an extremely rare bone cancer. 
Zelda Cait's birthday!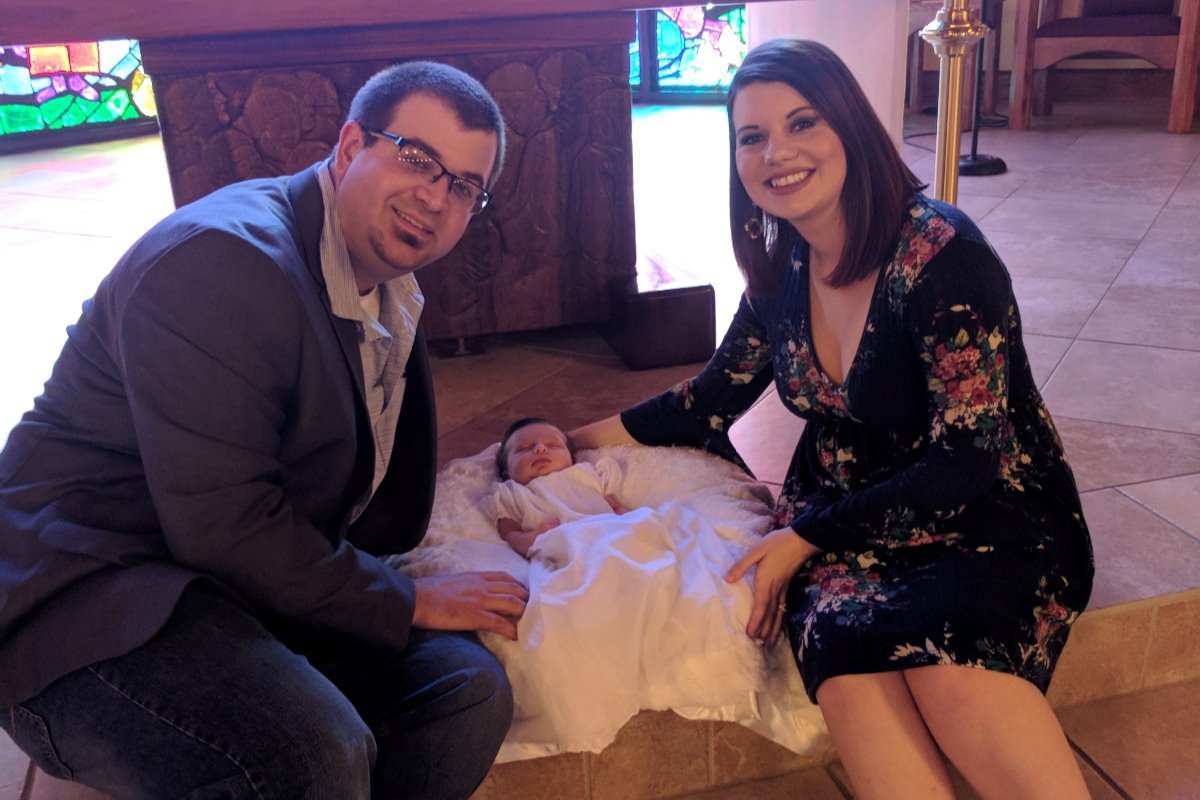 Zelda's Baptism
MDA's treatment plan was a very aggressive inpatient chemo referred to as
"the red devil"
with the goal of surgery after 4 rounds.  The chemo compromised her immune system keeping her hospitalized with infections or for transfusions between treatment weeks.
January 5, 2018, after 2 rounds of chemo the tumor had grown more than 2cm and there were 2 pulmonary nodules, chemo was discontinued.  January 10, 2018, Caitlyn's sarcoma doctor advised her that the tumor was 13.9cm or 5.27"
and her only option was
amputation of the left arm and shoulder followed by chemo.
  She never hesitated, she was choosing life.  Caitlyn has an inspiring way of never looking back and always seeing the next step as the next right thing and focusing on all she must live for.  A mommy, wife and a special daughter whose strength and determination wouldn't let cancer take her parents baby girl; they lost her brother 7 years earlier in an accident. 
Home for Christmas
January 25th, 2018, Caitlyn's surgery was scheduled for 5:00 a.m.   We are thankful to report that all went very well with the surgery and Caitlyn is recovering.  Life throws us extreme challenges at times and we are reminded just how fragile life is and the choices we might be faced with to hold onto it.
Day of SurgeryWhat your donation will do for Caitlyn
Caitlyn is amazing and selfless and never stops bringing hope to the hearts of others. She's my hero and will make incredible strides in her recovery as well as learning to be a new mommy.  The mind is a powerful tool and having a positive attitude is vital to the healing process.   It's important to keep her mind as stress free as possible so she can focus on her rehabilitation.  The last thing we want is for her to be overwhelmed about paying medical bills and expenses.  Even with insurance medical bills are a financial burden from doctor's bills and co-pays to travel costs and lost wages.  Prosthetics are very costly and there are gadgets made to assist in doing everyday things we may take for granted such as squeezing toothpaste onto a toothbrush, opening a jar and even a hands-free bottle to feed Zelda.
Caitlyn has been surrounded by so much love and support and we want to continue to fill each day with love and positivity.  We will be forever grateful for your donation to Caring for Caitlyn; there is no amount too small.  Please continue to bless her with your prayers.  Thank you from the bottom of our hearts for helping Caitlyn.
With heartfelt gratitude,
From Caitlyn & her family

Organizer and beneficiary
Alvin-Vickie Kenney Edgerly
Organizer
Orange, TX
Rawson Wickersham
Beneficiary