Juneau is my 9-year-old, 125 lb long-coated Akita who has osteosarcoma (bone cancer) of her right front leg, which will need to be amputated this week—to stop the spread of cancer cells as well as the intense pain—she has just stopped really being able to walk on her leg due to the pain (she went on her walk for the first time in 5 days because she really had to poop and could no longer hold it in). This will be followed by chemotherapy and (possibly) radiation.
However, the current standard of care has not changed in a decade (and adds a bit of time but not nearly long enough). But there is an immunotherapy clinical trial at the University of Pennsylvania School of Veterinary Medicine that I am going to try to get her enrolled in. I am calling on Monday 2/5 to see if I can get an appointment for her for all the testing and get the ball rolling.
It costs more (much more) than a leg
So far,
$3,700
just to get a diagnosis of osteosarcoma and rule out any infection (incl. blood work, biopsy, histology, $750 for anesthesia for 125lb dog, x-rays, cultures, pain meds, specialty doctors, misc.)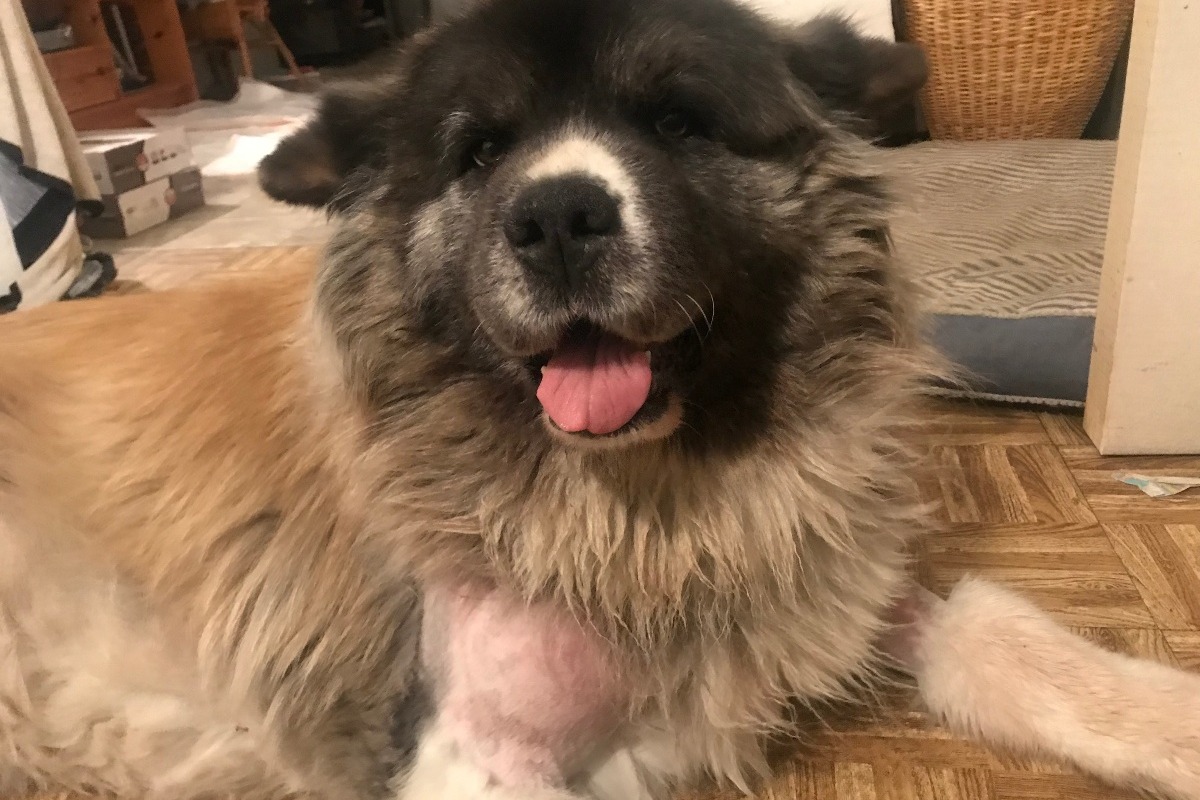 Pre-op tests (to determine if her cancer has already spread):
~$2,500
Amputation: surgery/2 nights in clinic
~$4,300
Treatment: Chemotherapy/pain medication/rehab
~$4,000 


$500 for miscellaneous GoFundMe fees
Expediency is Key (aka "Like Yesterday")
I will need the money as soon as possible as I have already maxed out my credit cards to pay for the diagnostic workup and am currently looking for a new position (as you may remember, I had the devastating breast cancer scare in November and then lost my job in December…yes, it has been a tough few months…). So, if you can be so kind to donate today, instead of putting it off until tomorrow, I would so appreciate it
Without Juneau, I Have Trouble Living Alone
Juneau isn't just any dog, she is my emotional support dog as I have PTSD following being sexually assaulted in my dorm room during my freshman year of college and cannot live alone without the security of a dog to protect me. And earlier this year in June, we lost her companion, Princess Sophie, who I am still mourning as she was my sleeping companion for the past 12 years. 
The Story of Juneau

I adopted Juneau as a special needs dog from her breeder. They thought she had epilepsy (seizures). Her previous owners originally bought her as a puppy for their son who was in grad school who knew nothing about Akitas and kept her chained up outside and at night brought her inside with no toys and nothing to do. If anyone knows anything about Akitas, you know, this is a terrible combination...
One day, she started having seizures and the son brought her to the vet and said if it was more than $500, he would have to put her down. When he spoke to his parents, he learned there was a clause in the contract that if the dog was put down without permission of the breeder (except in cases of), they would take legal action and a large fine would be leveled. They contacted the breeder, who took Juneau back and paid for the vet bills to have some basic testing done and they found fluid in her lungs that usually indicates that they either have been electrocuted or badly beaten (usually) kicked around their lungs. Other signs, such as a burn mark in her mouth if she electrocuted herself from chewing on the wire, were lacking except there was some blood in her nose. They put Juneau on anti-epileptic meds and looked for a home for her as a special needs dog. At the time I was looking for another Akita to adopt as my Akita, Shiro Ashi, had been seriously injured and needed to be euthanized about 6 months earlier.
As I have a medical background and she was adorable (and looked nothing like my Shiro Ashi), I felt she would be perfect. So, at 8 months old, I adopted Juneau. Once I got her, I took her to Blue Pearl (where she was diagnosed with her osteosarcoma) to rule out/in the known causes of her seizures in dogs under the age of 1, they very rarely are idiopathic (aka have a cause that can't be determined). All her tests came back normal and when they tried to do her neurological exam, she not only showed no signs, but they couldn't do a standard exam because she was so playful that on the floor all she wanted to do was roll around and gnaw at the doctors hand anytime she went to test her paws. 

She never had another seizure while with me on her medication, but I did find that mouthy puppy chewing on anything she could find, including…you guessed it…electrical cords, I swear she has a death wish. And when she was a year, I weaned her of her anti-seizure drugs and still no seizures. So, it seems, my not too bright, not special needs, Support dog, electrocuted herself because she was left alone, lonely, with nothing to do but find trouble and that is what she did, but I rescued her, and she then rescued me. 
I Want To Express…
How grateful Juneau and I am for anything you can give to our GoFundMe campaign, even $5 can make a difference when it is a 1,000 people. If you can't give (and if you can), can you share this with your friends and social network? I would be so filled with gratitude for any help you would be willing to give us.