The last thing I ever thought I would be doing was setting up a GoFundMe, but they say you miss 100% of the shots you don't take, and this is a shot we need to take.
In 2010,  my then-boyfriend, Mike, and I were lucky enough to find our best friend. Mike had heard from a co-worker, about a litter of puppies that had been born at their next door neighbor's house.  The puppies were somewhat unexpected and the neighbor was scrambling to find homes for all of them. After work, Mike decided to tell me the news and said that we were going to take a trip down to see them.
After two visits, we took home our rolly polly little black furball and named him Boscorelli, after our favorite character on the police show, Third Watch.
Bosco quickly nudged his way into our lives and hearts. He was the perfect goofball addition to our little clan!  Bosco loves everybody and everybody loves him! He even won over our grouchy cats! He loves cuddling up on the couch, playing tug-of-war, going for walks and rides and assuring everyone that they don't need that last bite of food, so it's totally okay to give it to him.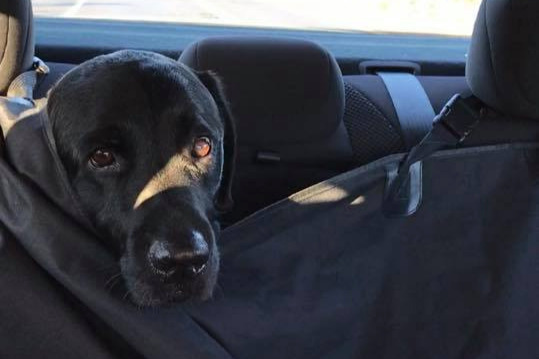 If one of us isn't home at our usual time, he waits at the door for us, and if it's past, what he deems bedtime, he'll head towards the bedroom trying to coax us into heading to bed! Bosco always wants to be where we are and follows me around no matter where I go.
2019 has been a big year for us.  Bosco turned 9 and Mike and I finally got married. However, one month after the wedding, we noticed that Bosco had an ear infection. Not that uncommon of an occurrence, since he's suffered from chronic allergies and ear infections his whole life. Gotta love those Lab ears! We had also been talking to the vet about issues with his gums, but they believed it was just another way his allergies were acting up.  Around this time, we also noticed that his nose had started to change colors and had lost some pigmentation. The vet suggested doing a biopsy on his nose.
A week later, Mike received a phone call from the vet telling him that they believed it was an auto-immune disorder.  Mike called to tell me. We thought, no problem, we can manage this. Three hours later, our worst fears came true. The vet called back and told Mike that based on a second opinion, they believed it was cancer. To say that weekend was difficult is an extreme understatement. We had no idea what to do, but we knew one thing...we weren't going to let our best friend go down without a fight.
We met with the oncologist a week after receiving Bosco's diagnosis and she told us it was cutaneous lymphoma, which affects the mouth.  It isn't curable, but it is manageable when treated. However, we were told Bosco had a mass on his spleen that they believed was unrelated to the Lymphoma, but they needed to check that out a little further before starting a chemo regiment. In order to determine what the mass is, they needed to do surgery to remove the mass, at a cost of nearly $4,800. We were shocked by this number, but they were also worried about his spleen rupturing if we didn't remove it as soon as possible.
If the mass turns out to be benign, we can focus on treating the lymphoma with chemo. If the mass is malignant, it will require a more aggressive chemo regiment than the lymphoma.
No matter whether the mass is benign or malignant, he will need chemo to treat the lymphoma. The chemo alone is in excess of 300-400 dollars per round, as quoted by the oncologist, and Bosco will need a minimum of 8 rounds.
After paying for a wedding, this is HUGE money for both of us. We have already paid nearly $1400 just to get to the point of a cancer diagnosis and now approximately $4800.00 for surgery. With the cost of the rising vet bills and the expense of our recent wedding, I'm setting up this go-fund me page for Bosco to help alleviate costs for his treatment going forward. We would greatly appreciate any help we can get to make sure that he gets the chance at life he deserves.
Finally, as a couple who knows first hand the toll that cancer can take on a family, Mike and I have decided that if Bosco's treatment fails or if we have money left over from this campaign, we will donate the remaining funds to a local animal shelter/rescue organization to support their ongoing efforts.
Thanks for reading!
Love,
Mallori, Mike & Boscorelli
Donations

Organizer
Mallori Longevin 
Organizer
Essex Junction, VT
#1 fundraising platform

People have raised more money on GoFundMe than anywhere else. Learn more

GoFundMe Guarantee

In the rare case that something isn't right, we will refund your donation. Learn more

Expert advice, 24/7

Contact us with your questions and we'll answer, day or night. Learn more