Blue's Vet fund - No pressure to donate or share!
This is going to be the hard part - a lot to unpack, telling my story and reliving it again.
There are a lot of ups and downs here, with more photos at the bottom.


So let's start the story where it hurts most, knowing it's my fault.

8:30pm December 3rd - I let Blue out without a leash at night, with our other pup Beasley to get some fresh air and stretch their legs before bed. I let them out unmonitored and that was my biggest mistake. Blue has always been so good at listening to me and staying close but that was just ignorant to think she'd never get curious and roam. 

It was about 5 minutes later I hear Beasley barking at the door, which he never does. He always just puts his paws up on the door and scratches when he's ready to come in, so I opened the door immediately and saw Blue halfway down the yard panting, but managing to walk home, it's then I noticed 2 flashlights coming down my drive and people yelling to me. They hit my pup with their car, and it was an accident. They where heartbroken and willing to help any why they could, so I couldn't ever blame them as it's dark and they are my dogs in the street, without their collars on (Vibrating collars with wireless perimeter).

They informed me of what happened and pointed to Blue and that's when my jaw dropped as I saw about a foot long, wide open gash going from her shoulder to below the neck. I instantly freaked out, cried and panicked. I have never experienced trauma like that and didn't know how to react. Fortunately the people stayed  and helped me me stay somewhat calm and collected to get the number to any emergency vet that was open.

It took a few minutes but found out that Maine Veterinary Medical Center in Scarborough Maine was available and about an hour away. I rushed to get Blue there and thankfully did in time. 

The emotional rollercoaster didn't stop when we arrived at the hospital like I had hoped, as my wife and I slowly realized the world we live in runs on money, and that's not a jab to anyone but a realization that we where not prepared for this. Heartbreak then set in at it's hardest knowing I could not be there for my sweet pup, and she doesn't deserve this.

"What kind of parent can't save their loved ones?", "What kind of dog owner doesn't have an emergency fund for things like this?" is all I asked myself, over and over. The hopelessness was unbearable but somehow things felt like they where going to start slowly falling into place soon. 

We where then told on scene that the bill will be around $5K, again my heart sank in desperation and depression as I applied for Wells Fargo pet vet financial support, and Carecredit only to get enough funding to give my pup 12 hours of care ($675), til morning when new funds needed to line up.

I tried EVERYTHING own my own, I listed everything from my new metal detector I bought last year, to the snow blower I bought for this coming winter on craigslist and was overrun by emails from people wanting to walk all over my desperate cry for help trying to get everything I saved up for for next to nothing. I would have sold my only car if it came down to it. Blue is my family and I needed to find a way. 

The hopelessness kept getting more and more severe as everywhere I turned I was denied. I posted on Facebook marketplace, just to see my for sale ad removed for unknown violations, I appeal and get no response. I tried to make a Fundraiser on FB, and was denied to the previous unknown infractions, so I am blocked from using my largest platform to sell and find support.

My mom was able to get approved for $1600 through Carecredit and that was able to bring our total up over $2000 which we where told would get Blue up to surgery but only for a chunk of the services til more funding came in.

December 4th, 10am, Day of surgery:

I get a call from the vet, things went real well over night. Blue has improved and stabilized and so the relief that lifted off my chest felt like I could breathe again. "She's going to live!" I bursted into tears telling myself. That's where the rollercoaster of emotion hit's it's next downward spiral.
Although things seemed better than planned, the new vet bill was hidden behind the good news with a $7,000+ price tag. There is no total in this world that I would not have found a way to grind and get, and as irresponsibly as it is - I have drowned my family in debt to get as far as I did just to financially give my best friend another chance at the life she deserves.

They said they can't go forward with treatment, or even stitch her up unless half the total costs are paid upfront. Even though some services have been done, they wouldn't release Blue to me if I can't pay. I have borrowed far more money at this point then I can give back from family in the foreseeable future, but thankfully my families' hearts are pure gold and I have time to pay them back.

We got approved for enough credit to reach the half way mark that made the other half able to be financed through the vet themselves, and I was able to get a somewhat (for me) a manageable monthly payment of only $50, and although $50 is not a lot, I live on $800 a month from disability and most of that is chewed up for bills, food and other necessities over the month before the next check comes in, as well as now I have to pay back 2 Carecredit lines, one riding on my mom's credit that I can't mess up, the other on my own as well as all the other debts that I have to pay back, and family to feed. It's hard to manage as is, and I will find a way if I have to to pay this entire bill off by myself at $50 a whack. Even if this gets nothing, that's fine because every penny is I have to grind is worth saving my pups life. Money will come around, our loved ones are not here forever, and it's not Blue's time yet. 

So here is my request:

No-one will understand how difficult it is for me to ask for handouts. I am stubborn and always want to do things myself. I am embarrassed to ask for help knowing I am causing collateral damage to my peers, friends, and family.

I made this choice to list this the moment I realized Blue wasnt just my Best friend. The night I came home from dropping her off, my daughter woke up crying for Blue. She's 2 years old. That shattered my heart and that's when I knew I had to ask for help. With that being said I don't want anyone to feel pressure to donate, to share or anything more than what you want to do. There is no judgment on my end going out and I hope you all can do the same in the other direction. I am trying to move past my pride and take the advice from everyone and start this GoFundMe in hopes to shrink this devastating cloud looming over our heads and get our lives back on track.

I am not expecting by any means this entire bill to get funded, as again, Blue is my responsibility, and it was my dumb mistake in the first place so I expect to pay all this if need be, but I just want to post the entire amount so the reality of this can be seen by others. So please if nothing else, take my words of wisdom, get pet insurance for your animals. It will save a life! 


Attached are photos I was updated on today, as well as the vet bill itself and a breakdown. I understand people are hesitant to donate to GoFundMe's as this world has some awful people in it that ruin it for the rest of us, so that being said - you can call Maine Veterinary Medical Center in Scarborough Maine and donate directly to the bill at the vets office itself. Just call and tell them you want to donate $5 to Blues vet bill and they will take care of it, no fees or any cuts going to anything other than ol Blue.

In closing, from the bottom of my broken heart, thank you everyone who took the time to read this regardless of how you follow up or don't. Thank you to the team at Maine Veterinary Medical Center for looking through my frustrations and seeing the love I have for my pup driving my emotions. Thank you to my rock, my wife and my everything Melissa for being the strong one when our family needed you,  Thank you to my Mom and Dad for always coming through and giving more than their last penny to pull me out of the darkness. I love you  all and I am thankful for everyone I have had reach out over these last few days just to offer a shoulder to cry on and an ear to listen, from my family to yours - thank you, thank you, thank you and a million times over, thank you!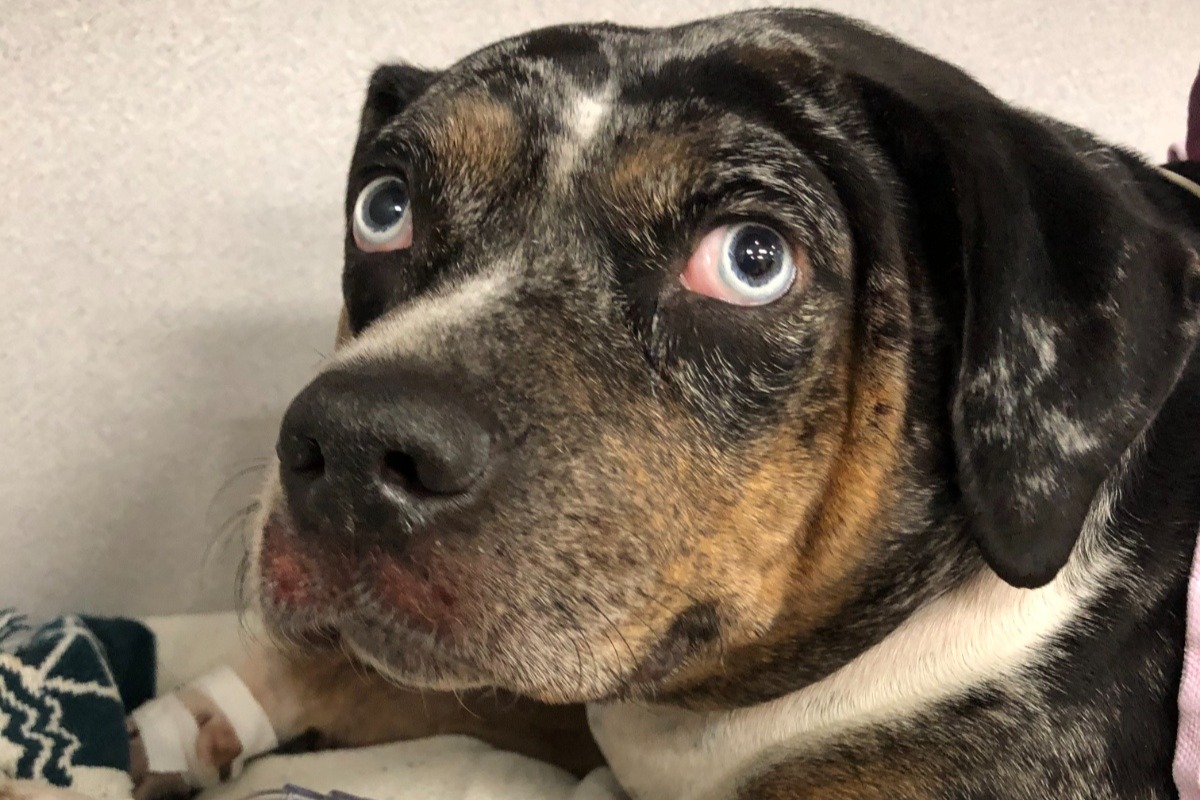 Organizer
Peter Pandora 
Organizer
Center Conway, NH
#1 fundraising platform

More people start fundraisers on GoFundMe than on any other platform. Learn more

GoFundMe Guarantee

In the rare case something isn't right, we will work with you to determine if misuse occurred. Learn more

Expert advice, 24/7

Contact us with your questions and we'll answer, day or night. Learn more