219
11
Support Our Health & Wellness Center!
$95,400
of $100,000 goal
Raised by
271
people in 3 months
*FFBWW Founder and President Lisa Peyton-Caire & her Mother
FRIENDS! HELP US OPEN THE FIRST BLACK WOMEN'S HEALTH & WELLNESS CENTER IN DANE COUNTY, WISCONSIN!

A Message From Our Founder, Lisa Peyton-Caire


Thirteen years ago on May 22, 2006, my Mother Roberta W. Peyton, died at the age of 64 from congestive heart failure in a tiny dimly lit hospital room in Richmond, Virginia. That devastating moment in my life  became the powerful catalyst that sparked the work I now lead as Founder & President of the
Foundation for Black Women's Wellness
 . 
My Mom's death reflects a disturbing and persistent trend in communities across the United States,  including right here in Dane County, Wisconsin where Black women die every day at alarming and disproportionate rates and at far younger ages than our peers from largely preventable illnesses.
In fact, Wisconsin leads the nation in health disparities impacting Black women and their families. 
The unacceptable deaths I witnessed of dozens of women close to me and throughout my community, and the life-altering damage of chronic illness and stress on the lives of too many others led me to launch
Black Women's Wellness Day
  on May 22, 2009. And three years after that in 2012, I launched the
Foundation
 with a committed group of women who believed in the urgency of our mission to empower Black women to transform our health, save our own lives, and to disrupt the disparities that keep far too many of us sick and struggling. 
Over the last seven years, we've made powerful progress impacting  thousands of women!
 We're supporting women every day to reduce their risks,  live more active lifestyles,  access health insurance and quality healthcare services, become more informed healthcare consumers, achieve stability in their daily lives, and to  raise their voices as leaders and advocates on issues that impact their lives. Along the way, we've inspired greater public accountability for investing in Black women as a community imperative, and as one supported stated, we've "moved the discussion of Black women's health in Greater Madison and Wisconsin from a whisper to a movement!"
And today, we are taking another bold step forward in advancing the health of Black women in Dane County by opening the first Black Women's Heath & Wellness Center in our community! 
We've secured the space we need on Madison's west side in the middle of two of our city's highest need zip codes, 53719 and 53711, where Black women's health and birth outcomes face big risks. 
We've set an ambitious goal of raising $100,000 over the next month to outfit our center and prepare for a Summer 2019 opening.
WE NEED YOUR HELP TO  GET THERE!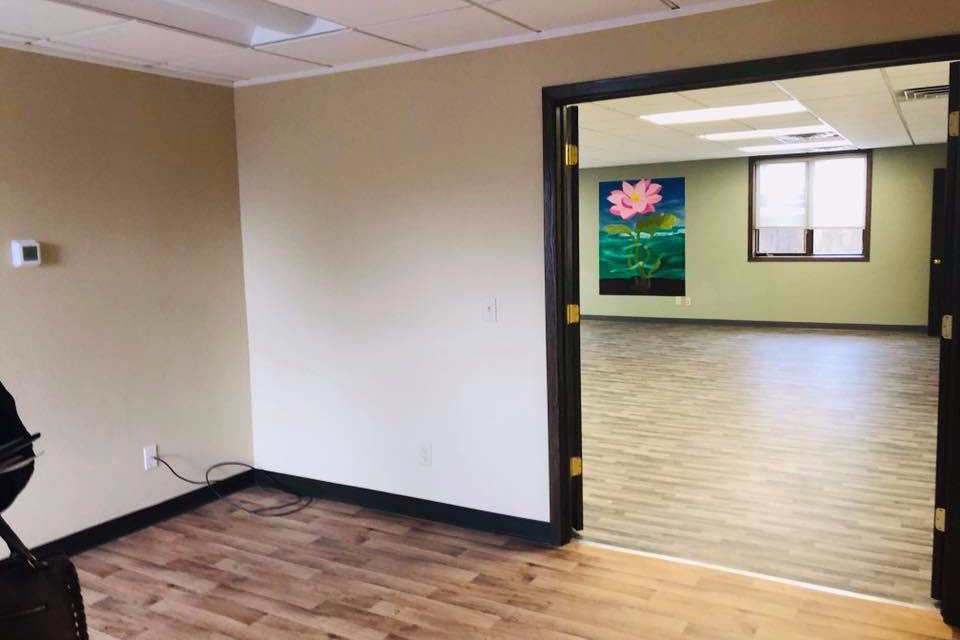 WHY OUR HEALTH & WELLNESS CENTER IS SO IMPORTANT FOR BLACK WOMEN IN DANE COUNTY
In Dane County and the State of Wisconsin, Black women are more likely to:
• Live with and die at higher rates and younger ages from largely treatable and/or preventable illnesses like cancer, heart disease, diabetes, stroke & Alzheimer's.
• Have limited access to quality healthcare services and be uninsured or underinsured.
• Experience higher rates of cancer, more aggressive forms of cancer, and higher cancer mortality than our white peers.
• Give birth to babies who are 2 times more likely to be born too small and too soon, threatening their healthy development and their survival in the first year of life.
 • Experience higher rates of infant mortality—and are 3 times more likely to die in childbirth than our peers. Wisconsin leads the nation in Black infant mortality.  
• Face well-documented and over-studied social and economic barriers that contribute to and compound these and other poor health outcomes.  
BLACK WOMEN OF ALL AGES IN DANE COUNTY
DIE AT A HIGHER RATE THAN OUR WHITE PEERS:
• 60 years was the average age at death for Black women in Dane County in 2015 (45 deaths). (Compared to 85 years for White women)
•Wisconsin is the only state in the U.S. where Black women's life expectancy is not improving.


We are changing this daily! But our pace and impact must grow! 
We currently reach and engage over 1,000 women and girls in our health and wellness programming  and support services each year. 
YOUR GIFTS WILL ENABLE US TO SERVE THOUSANDS MORE TO IMPROVE THEIR HEALTH AND STABILIZE THEIR LIVES, THROUGH: 
*Year round health promotion & health literacy education
*Weekly fitness and yoga classes
*Chronic disease prevention education 
         *Cardiovascular disease and stroke prevention
         *Breast & cervical health
         *Sexual and reproductive health
*Nutrition and healthy eating education
*Mother and Baby Wellness 
*Mental health & wellness support 
*Stress reduction and mindfulness
*Financial Education
*Individual and small group wellness coaching
*Young Women's Wellness education 
*Referrals to stabilizing community resources & opportunities
*Family and Community Wellness gatherings and events
*Space to engage our partners in the collective work of improving Black women's health! 
OUR CENTER WILL PROVIDE THE SPACE AND CAPACITY TO IMMERSE WOMEN DEEPLY AND CONSISTENTLY IN THE PRACTICE OF IMPROVING THEIR HEALTH.In addition, your generous gifts will enable us to:
*Secure fitness equipment for our yoga & wellness room
*Outfit our conference room & community space
*Purchase computers and AV equipment 
*Design and install new signage
*Purchase office furniture, supplies and printer/fax machine 
*Create a welcoming and beautiful space for the women we serve
*Prepare the space to open by Summer 2019! 
*Wellness and fitness studio
*Staff office and client intake room
*Meeting space & kitchenette
THANK YOU TO OUR MANY PARTNERS
We are grateful to our many community partners who have helped us offer our programming in spaces across the county,  keeping us accessible to women everywhere. This will continue, but our site will enable us to  root our work in a space of our own for deeper engagement while offering occasional programming through partner satellite sites. 
*FFBWW Yoga classes hosted at The Studio Yoga
*FFBWW fitness classes  hosted at Badger Rock Community Center
*FFBWW Annual Wear Red Day Heart Disease Prevention Event at Fountain of Life Covenant Church
*FFBWW Day of the Girl Empowerment & Wellness Event at Meadowwood Community Center
*Low Birthweight community engagement session at Northport  Community Center
*Wellthy Woman Financial Empowerment series hosted at Summit Credit Union, Fitchburg
*Black Women's Wellness Day Planning team convening at the Urban League of Greater Madison. 
YOUR SUPPORT WILL MAKE THE DIFFERENCE! 
Every donation counts and will make a difference! Your generous gift of at least $100, $250, $500, or $1000 will be acknowledged on our web site.
Your gift at the following investment levels will be prominently acknowledged on our web site and on a special donor wall at the Center.  Room naming rights are 
available for our Reception area, Wellness Room, and Community meeting spaces. Please inquire.
$100,000 - Champion 
$50,000 -    Partner
$25,000 -    Leader
$15,000 -   Advocate
$10,000 -   Investor
$5000 -       Friend
$2500 -      Steward
The Foundation for Black Women's Wellness is a 501c3 non-profit organization,  and all gifts are fully tax-deductible. 
If you have questions or want to get involved with the campaign,
contact us
 . 
To mail in your donation, send check to:
The Foundation for Black Women's Wellness
C/O Lisa Peyton-Caire
PO Box 259831
Madison, WI, 53725
Please stay connected by
joining our email list
 .
Thank you in advance for your support!

Lisa & the FFBWW Team 
______
About Us
Established in 2012, the Foundation for Black Women's Wellness is a Wisconsin based 501c(3) non-profit organization committed to empowering Black women and girls to build and sustain healthy, thriving, wellness-centered lives. 
Our Mission
To  eliminate health disparities and other barriers impacting the lives of Black women and girls. We will achieve this mission through education and outreach, advocacy, support circles, and powerful partnerships.
Our Vision
We will radically transform Black Women's health by creating a community and world where Black women and girls live long, happy and thriving lives, defined by healthy minds, bodies and spirits.
+ Read More