Five years ago I was diagnosed with Keratoconus plus Dry Eye's Syndrome.  A doctor from Las Cruces, NM  told me that I was in risk to loss my vision and the only one option will be a corneal transplant but due that my eyes were very sensitives there were a lot of probabilities to reject the transplant or start having eye's infections added to enlist me in a waiting list for a cornea's donator.  It was a devastating notice  for me and my family, I was very depressed for long time.  Later the doctor advised me to find a cornea's specialist physician; it was very difficult because in Texas state there was not a  physician with this speciality.  Finally  thanks God I found one in Eye Associates of New Mexico in Albuquerque, NM.  I contacted him to made an appointment and I went to Albuquerque to see him.  He ordered me a lot of eye's exams confirming me that I had Keratoconus, my vision was not good and I was only using my right eye to see because my left eye could not see 90% adding that my eyes were too dry, it made my problem more worst.  He prescribed me different kind of drops and practiced me a procedure that allowed me to have less dry my eyes.  He said me that I also had cataract  in both eyes but the most important was trying to stop the Keratoconus due there was no cure for this disease.  I came back to Las Cruces, NM, mi life changed, I started to work only few hours, I stoped  driving in the night because with this disease you see the lights in a distortional manner putting me in risk to have an accident.  A optometrist from the same place in Albuquerque, NM  prescribed me my firts contacts lenses because with this disease I was required to use an special hard permeable contact lenses because my corneas were going to close as a cone form and I could not use eye glasses.  Also, I was not a candidate to Lasik surgery due my corneals were very thin (They were deteriorating).  I started to use my first contacts having many difficult to adapt these for my eyes.  My eyes started to be more and more dry and more worst I started to having spills in my eyes, a lot of itchy, every day my eyes were too red not allowing me to work.   I felt without hope when the doctor told me about a new treatment to stop the keratoconus (Corneal Cross Linking CXL) a very expensive treatment not covered by the insurances because this was not still approved by the FDA (considering like a experiment).  He told me that he was in process to get the permission to apply this treatment in NM but unfortunately his technique used for this was not good for me and I could get infection in my eyes. He decided to send me to Scottsdale, AZ with another doctor to receive this treatment using another technique very appropriate for me.  There they told me that this treatment was a kind of experiment and one of the risks was that the ultra violet affected my eye's retina.  With my older son's support to pay this treatment I decided to take the risk and accept the treatment because I didn't have many options.  The treatment was done, the first days were very very painful for me, I had  a lot of pain, itchy in my eyes and I didnt see well, my husband and a family's friend stayed with me there.  The last day in Arizona the doctor told me that probably in one or two years I will know the results of this treatment (meaning to know if the disease stop). I had two more visits with my doctor in AZ but always I had the same answer be patient and wait made me feeling very depressed.  I returned with my doctor to Albuquerque, he said me that my cornea looked good but I needed still to wait to know the results (again the same answer).  I continued using only eye glasses because my doctor started to take care that my eyes were not too dry with the hope that I could wear the contact lenses again.  He suggest me try a drops that will be made with my own blood plus another drops containing steroids, I did it but with few results.  At today I continue working only few hours, taking rest for few hours and returning to work again.  My eyes are like if I cried all day not allowing me to work and drive in a normal way, constantly I need to clean or wash my eyes because of the tears.  If I work more than 3 or 4 hours without stop my eyes tend to be red , dry and sometimes creating spills in my eyes.   Another HOPE, my doctor told me that he can sended me to Houston, TX to get a PROSE SCLERAL CONTACT LENSES specially designed for my eye's problem. Even though I will continue under medical care to check if I don't loss more vision at least with these contact lenses I can feel more comfortable having a better life style and prevent my eyes infections and spills due the dryness.
At this time I cannot afford this travel and pay the scleral contact lenses because as I stated above I had many years fighting with this disease, my financial situation is not good, i have another health problems.  I created this fundraiser with the hope that GOD illumine their heats and help me with a donative to afford my travel and pay my Scleral Contact Lenses.  I don't want to stop fightiing, I know that this option will not cure cure my disease but at least I have the hope to have a better life style.  I am a very active and positive person, I love to work, I love the life, I love to look my family every day, I love to look all things every day.  PLEASE HELP ME TO DON'T LOSS THIS NEW HOPE.  YOUR DONATIONS WILL MOTIVATE ME TO CONTINUE WITH THIS FIGHT!!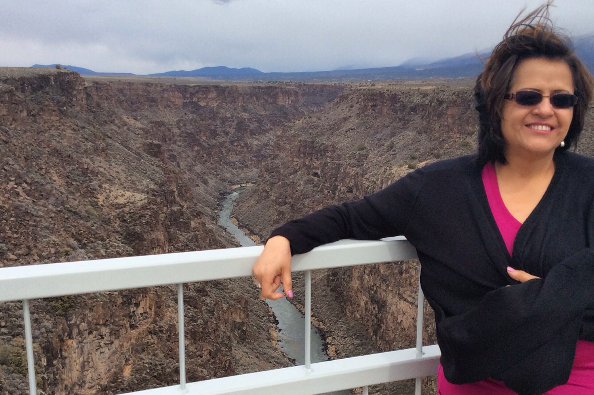 I Love the Nature, I love to look the trees, the rain, the rainbow, the water. Improving my vision I can continue to enjoy of these beautiful places.

Organizer
#1 fundraising platform

More people start fundraisers on GoFundMe than on any other platform. Learn more

GoFundMe Guarantee

In the rare case something isn't right, we will work with you to determine if misuse occurred. Learn more

Expert advice, 24/7

Contact us with your questions and we'll answer, day or night. Learn more