Our son, Jack, is an 8 year old boy. And just like most 8 year old boys, he is energetic and active, fun-loving and silly! However, that is where the 8 year old similarities end.
Jack is not your "typical" child. He has autism. And because of his autism, he struggles in many different aspects of his life. His speech is very limited and therefore he is unable to communicate the most basic of needs. He can't tell us when he's hungry, tired, scared, sad, or frustrated. Many times his inability to express himself results in a meltdown. He can become very aggressive and self injurious when he's frustrated. Jack doesn't engage much with his younger brothers; he prefers to "do his own thing." Jack doesn't understand the concept of danger and therefore, many times he will engage in unsafe behaviors. He "bolts" if someone is not holding his hand, and will run and run. He doesn't know the potential dangers of traffic, strangers, getting lost, etc.
Besides Jack's autism, he suffers from many physical issues. He has an anaphalactic dairy allergy, seasonal allergies and asthma, migraines, and many GI issues.
We are a family of 5, but we very rarely get to do anything together. Because of Jack's limitations, safety concerns, and frequent tantrums we usually split up. My husband ,or myself, will stay home with Jack, while the other one takes the younger boys to where we need to be. It's a hard situation but we try to make the best of it.
The idea of a service dog for Jack started about 4 years ago. We love animals and had an older boxer who Jack would lay on and cuddle with. I had a friend in high school who had a service dog so we knew the amazing things a dog like this could do. We wanted a companion for Jack, but what could be better than a companion who could make Jack's life easier?!? We wanted to wait until Jack was a little older before we made the leap. An autism service dog will provide many supports for Jack. We will be able to tether Jack to the dog so he can't "bolt" in public. If, by chance, Jack does get away, the dog will be trained in tracking and will be able to search for him. The dog will also be able to stop Jack from eating harmful items and alert us of unsafe behaviors. In our opinion, this dog has the potential to keep our son safe and change his life for the better. It will enhance his life in countless ways, and it will allow our family to enjoy more "everyday" activities together. Please consider donating to this worthy cause for a wonderful little boy.
Check out the organization, if you'd like...
www.perfectfitcanines.org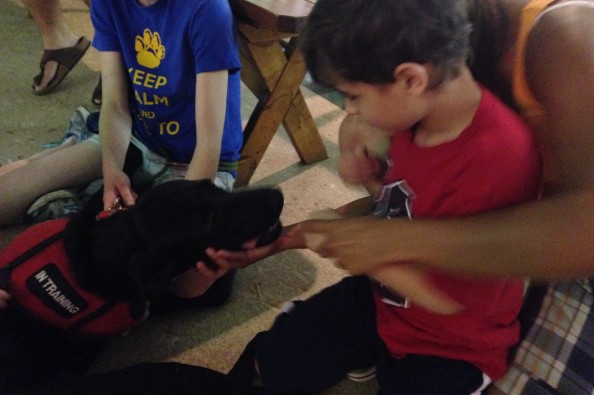 Organizer