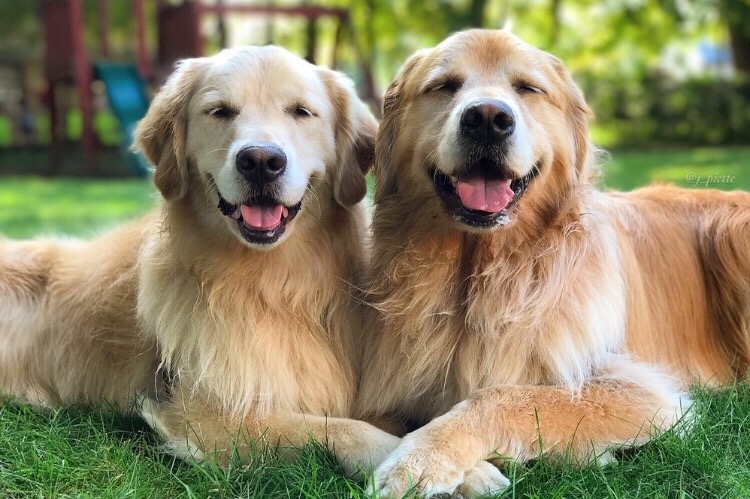 November 18, 2012. The day we brought home two beautiful new additions to our family, our girl Autumn and her sweet disinter, my parents' girl, Bailey. Golden Retriever sisters inseparable since birth, our breeder knew right from the beginning that they had a special bond, she knew they were a very special pair of pups- and she was right. 
Since 2012 they've celebrated every birthday and holiday together, lazy weekends to crazy fun filled adventures and everything in between. Bailey and Autumn have been there for us through the good and the bad, bringing our family more love, laughter and happiness then they'll ever know. 
On November 29th our world came crashing down when sweet Bailey was diagnosed with an inoperable brain tumor specifically an "intraventricular tumor with secondary obstructive hydrocephalus of the lateral ventricles". Hearing these words completely took our breath away. It was a heart crushing pain that no one should ever have to endure. This happy, healthy girl was just chasing tennis balls in the backyard a few days before. We are devastated and completely heartbroken. Bailey and her sister just celebrated their 6th birthday together in September.
My parents, per the Neurologists advice, immediately started Bailey on Prednisone to keep her from falling. The Prednisone, coupled with supplements, CBD Oil and diet changes, made a world of difference and our happy girl was back to herself… for only one week. Unfortunately, Bailey is now showing signs of regression, stumbling, circling, and very lethargic. My parents have consulted with numerous doctors, their neurologist and oncologist and in an attempt to help shrink Bailey's tumor, and give her a chance to live her best life possible, they've decided to move forward with Radiation Therapy at Angell Memorial in Boston. 
Because now time is of the essence, Bailey is going to undergo Stereotactic Radiation-which is a higher dose of radiation administered in 3-4 consecutive visits.  She has a CT scan scheduled for tomorrow, Christmas Eve. They will then begin her radiation planning/testing and, if all goes well, she will undergo her first treatment on Thursday, December 27th. 
This integrated treatment plan of traditional and holistic approaches, together with seeking the best care possible for Bailey, understandably comes with a very high cost. She is so young and deserves the chance to live her best life possible. As long as Bailey is happy, maintaining a great quality of life and continuing to fight, so will we. My parents, sister and I are completely overwhelmed and so very grateful with the outpouring of love from all over the world, the calls and messages, candles lit and all the prayers for our sweet Bailey. Unfortunately, my parents do not have any pet insurance to help cover the expense of Bailey's medical costs and they would never ask anyone for help, which is why my sister and I have started this page.
We would be forever grateful for any donation you would be able to make to help defer some of the medical costs they are facing. Any amount is so deeply appreciated, as is any prayer or share of this page. As any dog lover knows, our pups are family and they mean the world to us. Please hug your fur babies for us and remember not to let a day go by without telling those you love just how much they mean to you.
We wish you all a wonderful holiday season and from the bottom of our hearts, we thank you. Please keep Bailey in your prayers as she begins her radiation treatments this week. We will continue to share updates on this page.
Thanks so much, 
Jen and Kathryn
#prayersforbailey