We are so proud of the way Jason and Natalie have reacted in such a positive manner to such a trying life experience(see below for full story). They, with the help of our amazing family, have not let Marleigh feel an ounce of loneliness. There's absolutely no doubt that she feels the love and is fighting for us every minute of every day. I am not sure how much a day of care is in the NICU at Mott Children's Hospital, but I do know how expensive all the day-to-day expenses can be just trying to be there so Marleigh knows she's not fighting this alone. These funds would help Jason and Natalie with all the expenses they are currently experiencing and will continue to endure throughout the healing process of Baby Marleigh; hotel, food, gas, time off work, medical expenses, etc. Please donate anything you're able. Whether that's spiritually through prayer, physically by offering your time with Marleigh, socially by sharing this link, or monetary through this GoFundMe. Any/all of these avenues are more appreciate than you will ever know. Please feel free to leave messages - I have, and will continue to read every single message to Marleigh. Please keep the GoFundMe a secret as I would love to surprise them with all of the love we're able to provide. Thank you and God Bless.
Marleigh Ann's Story:
Natalie went into labor unexpectedly after her water broke more than 3 weeks prior to her due date. She was rushed into the hospital for an emergency C-section and Marleigh Ann was born in 37 seconds on March 22, which is also her Dad's(Jason) birthday. After the birth, Marleigh was immediately rushed to Mott Children's Hospital in Ann Arbor. We found out Marleigh was detached from the placenta, medically known as a Placenta Abruption(the cause of about 15% of infant deaths). Basically, Marleigh lost her lifeline and was without oxygen. Both Marleigh and Natalie were minutes away from losing their life – literally minutes. Natalie lost so much blood she had to have a blood transfusion. I apologize for the graphic details, but it was a very real and scary experience for everyone involved.
Marleigh, because of the fear of brain damage, was immediately placed on a full-body cooling pad. This is to help reduce longer-term brain damage. This is typical for oxygen-deprived newborns. In fact, a study was conducted at the University of Oxford which found the process of cooling oxygen-deprived newborns at birth significantly increased their chance of survival without brain damage. This process takes around 72 hours and means that you're not allowed to have much interaction with her. This was, without a doubt, the most heartbreaking part of the entire process. After all she'd been through, all you wanted to do was hold her tight and tell her everything was going to be okay and we would be there no matter what. But, we had to settle for only holding her hand and reassuring her, and ourselves, that, no matter what, everything would be just fine. During this time, they hooked small metal discs to her scalp to record brain wave patterns, medically known as an Electroencephalography or EEG. During these tests, they found Marleigh was having neonatal seizures which isn't uncommon for oxygen-deprived newborns. These seizures are not what you typically think when you hear the world "seizure." They're, for the most part, unrecognizable to the untrained eye. For that reason, Marleigh has been placed on seizure medicine which makes her very sleepy and unable to eat on her own; therefore, she continues to have a feeding tube. 3 weeks later, they have reduced the seizure medicine and are trying to find a dosage that is effective, but also doesn't make her too sleepy to eat.
The 3 things Marleigh, with the Doctor's guidance and our love and support, needs to overcome before she can go home: get the proper dosage of her seizure medication, completely remove her from oxygen, and be able to eat her entire bottle 8 times per day without the feeding tube.
She's making progress, but only time will tell when she will be released and what the outcome will be. What I do know is she is truly a miracle baby and has dramatically changed my life in her short(or long depending on who you ask) 3 weeks of life.
Love,
Paul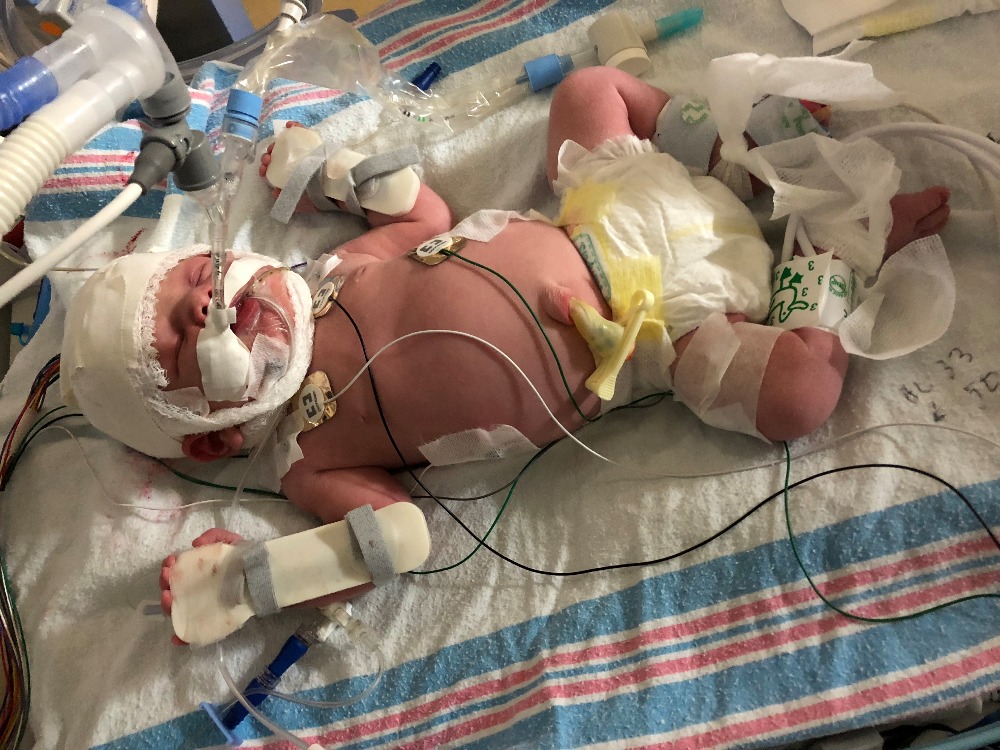 Organizer
#1 fundraising platform

More people start fundraisers on GoFundMe than on any other platform. Learn more

GoFundMe Guarantee

In the rare case something isn't right, we will work with you to determine if misuse occurred. Learn more

Expert advice, 24/7

Contact us with your questions and we'll answer, day or night. Learn more