Baby Charlie's Story
Our precious son Charlie Lee Rein, was born on August 3rd 2016 at 5:00pm at Saint Clare's Hospital in Weston . He weighed 6 pounds 3.5 oz, 17.5 inches long. He received perfect newborn and apgar scores.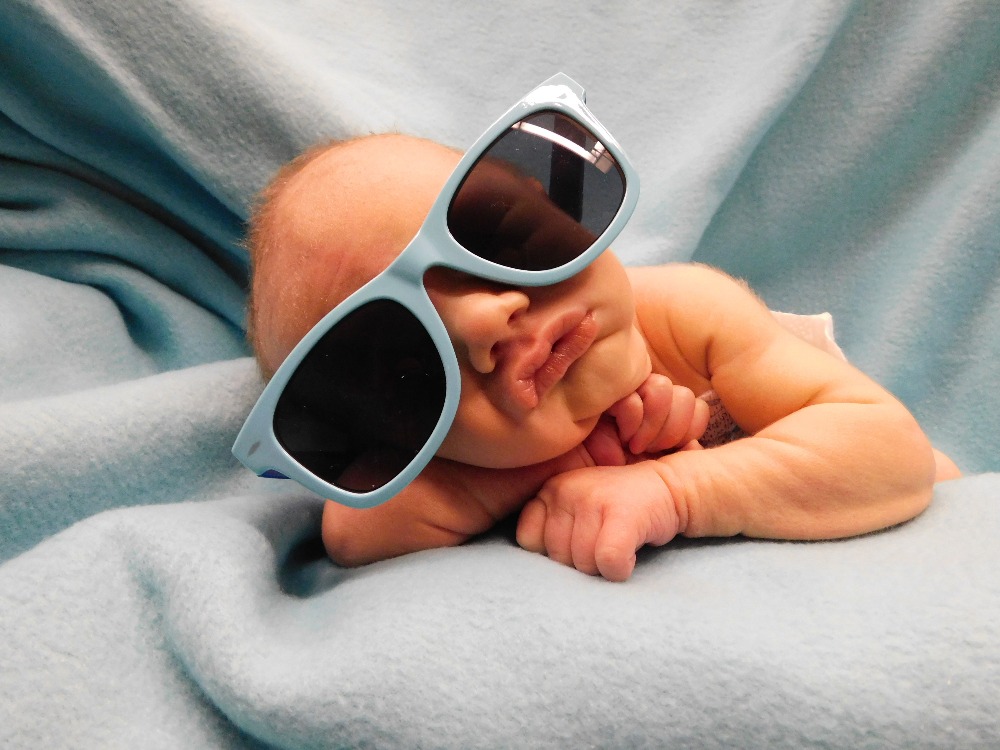 (Charlies newborn photo)
On August 5th the doctor thought that Charlie looked a little jaundiced and took a heel prick of blood from him. The blood test came back with a shocking level. Charlie's platelets (a blood product involved in clotting) were at 18,000, a normal range for them is 150,000-450,000. Low platelets can be life threatening.
He was transferred via flight for life helicopter to the NICU at Saint Joseph's hospital in Marshfield WI at 12:30am on Saturday August 6th. When he got to Saint Joe's they rechecked his blood and his platelets were at 14,000 and dropping fast. He received his first platelet transfusion. His conjugated bilirubin levels were very high and the inflammation marker (CRP) was very high. The pediatric gastroenterologist was extremely concerned about Charlie's liver based on his blood tests and informed us that he may need a liver biopsy to determine if he needed a liver transplant. The Dr. stated he would be keeping a close eye on Charlie's levels and would be monitoring him on a daily basis.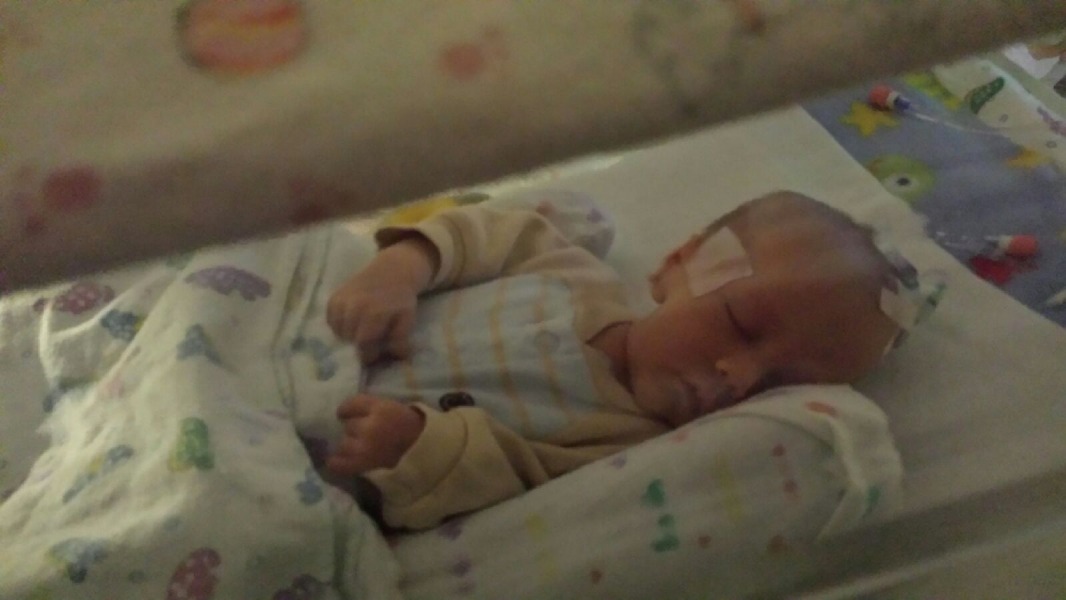 (Charlie week 1 at Saint Joe's Children's Hospital)
Over the next several weeks Charlie had numerous tests done. He was poked with needles every day. His veins are very tiny and do not hold an IV for longer than a couple of days. The specialists at Saint Joe's ran every test imaginable; he has had several ultrasounds, x-rays and MRI's. He had a lip biopsy to rule out Neonatal Hemochromatosis and had several stitches in his mouth.  All the blood, urine and stool tests sent out to Mayo Clinic came back normal or negative for diseases they thought fit his symptoms. A MRI test later confirmed that he had damage to his liver and his spleen.
 During the next month Charlie was treated for his symptoms however the Doctors could not figure out what was causing his low platelets (thrombocytopenia), liver dysfunction, anemia and inflammation in his body.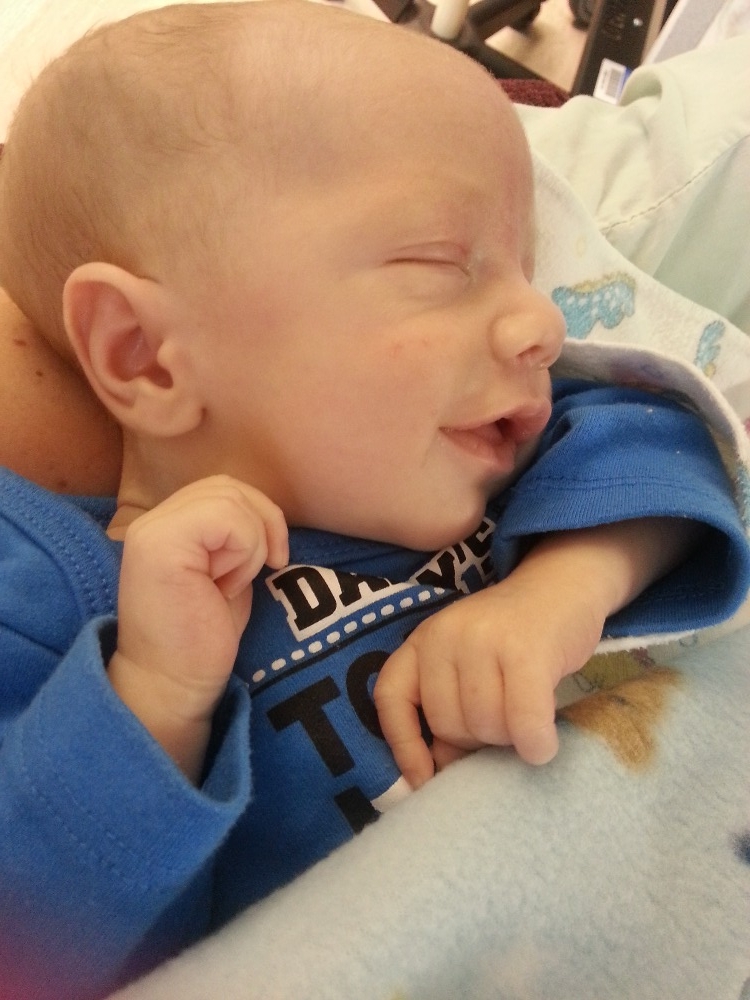 (Charlie still smiling after everything he has been through, sweet little baby Charlie!)
On September 10th the neonatologist informed us that almost all of Charlie's veins had been 'used up' and she could not get an artery stick to draw any blood. The Dr. stated that with all of the transfusions Charlie needed to maintain his life he needed a central line installed immediately. A pediatric surgeon was called in to perform the surgery, he stated that he had installed thousands of lines in his career and they were easy to do and took about 30 minutes. 1 hour and 30minutes later we were still waiting to hear about Charlie's surgery and asked what was taking so long. The pediatric surgeon came out with sweat dripping down his face and stated that he could not get the central line installed in Charlie's pulmonary artery. He stated that Charlie had some of the smallest veins he has ever seen and that he would have to go through his femoral artery in his leg. He stated that the leg is not the most convenient place for a baby because of the diaper and the risk for infection. 4 hours later from the beginning, Charlie was out of surgery and in recovery with stitches in his neck and a new central line in his leg.
(Charlie on September 10th &11th after his surgeries)
That same day he also had a Paracentesis procedure as his stomach blew up like a balloon and was holding a lot of fluid (ascites) due to his liver dysfunction. On September 11th Charlie had another Paracentesis as his stomach re-accumulated all of the ascites that was drained from him over night. That same week he was tested positive for a Staph infection from the surgeries and was put on antibiotics.
On the evening of Wednesday Sept 14th Charlie's gastroenterologist doctor informed us that Charlie was not getting any better and his liver was getting worse. He stated he was very concerned for Charlie and that Charlie would need a Liver Biopsy to be able to tell the Doctors what was going on with him. He informed us that Saint Joseph's did not feel comfortable doing that procedure on a baby who has thrombocytopenia and ascities. After 6 weeks of being at Saint Josephs Hospital and not receiving any diagnosis we made the decision to transfer Charlie to a larger hospital.
(The morning of Charlies transfer to Children's in Milwaukee)
On the morning of Thursday September 15th Charlie was transferred to the Children's Hospital of Wisconsin in Milwaukee WI via Flight for Life Airplane. Shannon rode with Charlie in the airplane and I drove to Milwaukee.
 In the first week at Children's Charlie underwent a Liver Biopsy, Bone Marrow Biopsy and Spinal Tap. After numerous blood tests, urine tests, biopsy slides, the Pathologist came back with an answer from his Liver and Bone Marrow Biopsy.
(After Charlies liver biopsy) :(
On September 23rd the Bone Marrow Transplant Doctor informed us that they had a positive test return and that they were 100% sure on the diagnosis for Charlie and that they were adding another team of doctors to treat Charlie…Oncology.
The disease Charlie has is so rare that he is the first child in the United States to have it and the 4th child in the world to test positive for it. The rare blood disease Charlie has is Anaplastic Lymphoma Kinase Positive Histiocytosis or ALK + Histiocytosis for short. The pathologist stated that special stains in his biopsy showed that Charlie has an overwhelming amount of macrophage cells in his liver and bone marrow. Charlie's Oncology team reached out to world experts and specialists involved with histiocytosis to develop a plan to treat Charlie. On October 5th a care conference was held to discuss Charlie's treatment plan with us and Charlie's team of specialists.
On October 6th Charlie started his first round of Chemotherapy, 5 days of straight chemo followed by three weeks of recovery time. The Oncologist stated that he has no idea how many rounds of Chemotherapy it would take to see an improvement in Charlie because the disease is so rare they do not have much to go off of from the other previous children reported. It was reported that it took 6-12 months for the other children to recover.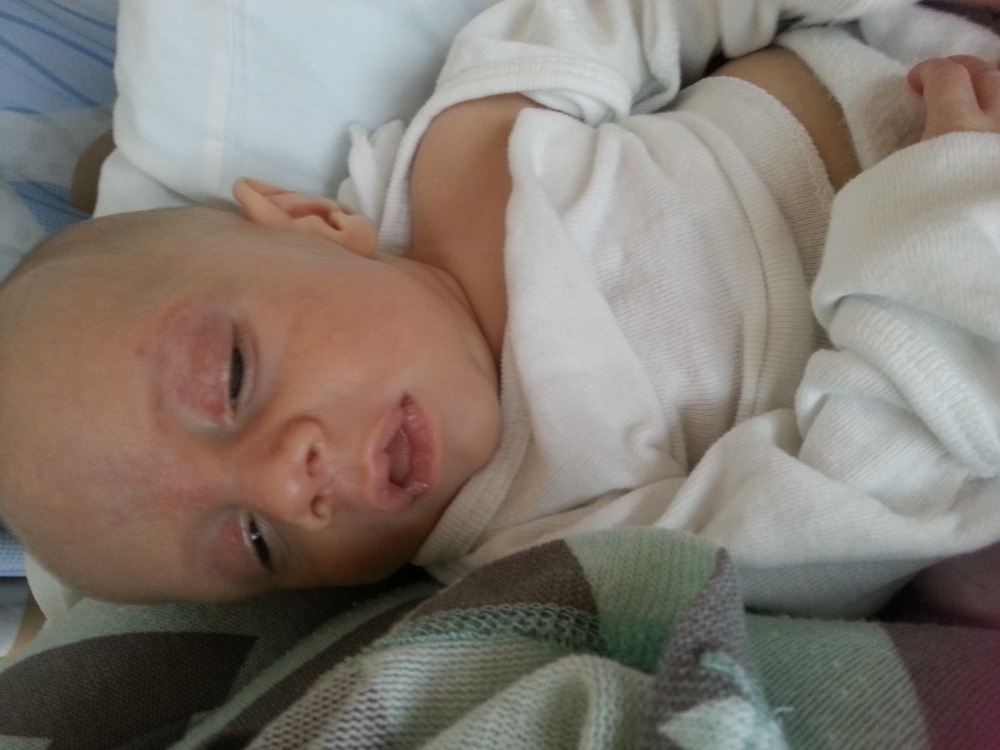 (Charlie during his first round of Chemotherapy)
Today October 14th Charlie is in the recovery phase of his chemotherapy and needing more transfusions than ever because of the Chemotherapy. He receives platelet transfusions every other day, albumin transfusions every day, fresh frozen plasma and red blood cells on a regular basis.
I have been staying with Charlie in Milwaukee and Shannon has returned to work and visits us on the weekends. Funds will be used for Charlie's medical expenses as well as travel, living and recovery expenses we will incur. Staying in Milwaukee and spending all day in Charlie's hospital room  we have not had the luxury to be  frugal with even basics such as lodging, food and gas. We have had to  pay for convenience. 
Our young family needs your help and support from the community. They say it takes a village to raise a child. We offer an overwhelming amount of thanks and gratitude in advance for any and all assistance.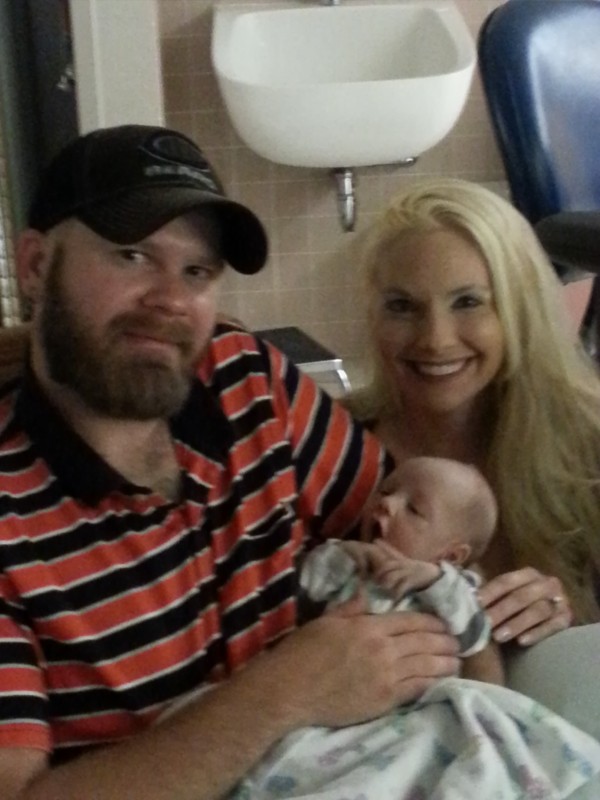 (Our little family September 2nd, Charlie ready to eat :) )
Baby Charlie is a fighter! Sometimes the real superheros in life live in the hearts of the smallest babies fighting the biggest battles of life, their life.
We love our little Charlie so much it breaks our hearts to see him struggle and go through this. Everyday I fold Charlies hands and we pray to God for a miracle. Everytime Charlie smiles I know an angel is whispering in his ear and it gives me hope.
"I chose you. Before you were born, I set you apart for special work."-Jeremiah 1:5
"Therefore I tell you, whatever you ask for in prayer, believe that you have recieved it and it will be yours."-Mark 11:24
"For this child I prayed."-Samuel 1:27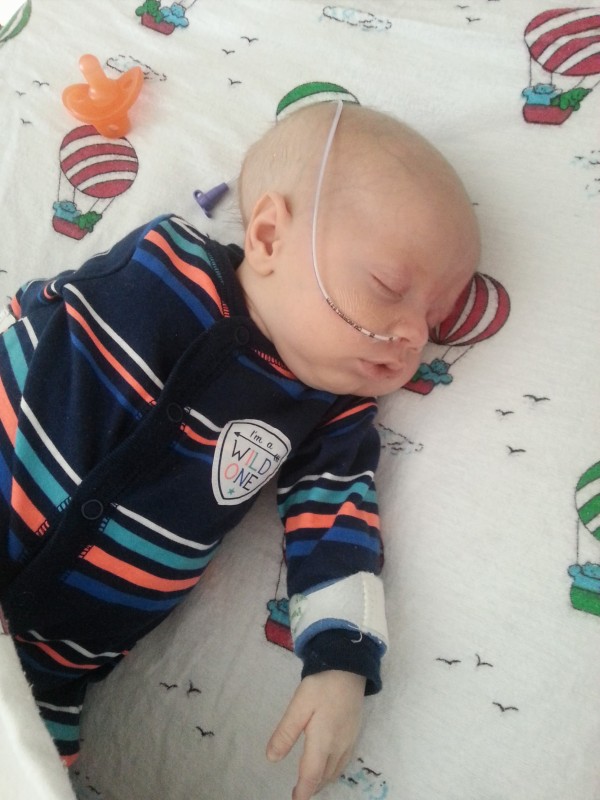 (Charlie very sleepy during his recovery phase of his first round of Chemo, keep fighting my precious baby)
Heaven's Very Special Child Poem
A meeting was held quite far from earth
"It's time again for another birth"
Said the Angels to the Lord above
This special child will need much love
His progress may seem very slow
Accomplishments he may not show
And he'll require extra care
From the folks he meets way down there
So let's be careful where he's sent
We want his life to be content
Please, Lord, find the parents who
Will do a special job for You
They will not realize right away
The leading role they're asked to play
But with this child sent from above
Come stronger faith and richer love
And soon they'll know the privilege given
In caring for this gift from Heaven
Their precious charge so meek and mild
Is Heaven's very special child.
Thank you from the bottom of our hearts! 
The Rein's

Organizer
#1 fundraising platform

People have raised more money on GoFundMe than anywhere else. Learn more

GoFundMe Guarantee

In the rare case that something isn't right, we will refund your donation. Learn more

Expert advice, 24/7

Contact us with your questions and we'll answer, day or night. Learn more