(English in the bottom)
¿Cómo honrar el nombre y la cultura de Carora y Venezuela en el mundo?
 El patrocinio y difusión del arte y la cultura de una región son claves para la dar a conocer el valor del trabajo de su gente, así como incentivar a la población en general, en especial a los más jovenes, a dedicarse a este tipo de actividades, incluso en el ámbito profesional.
 En esta ocasión, en el marco de los 450 años de la ciudad de Carora, estado Lara, se está preparando la primera temporada de ópera caroreña, movimiento creado por jóvenes estudiantes y profesionales en la música y las artes con el objetivo de impulsar el entorno cultural en la región aportando conocimientos y experiencias importado de distintas latitudes para la formación del futuro artístico profesional del país.
Esta temporada contara con dos obras como lo son "La Serva Padrona" del compositor italiano Giovanni B. Pergolesi, importante ópera bufa del barroco, contando con la participación de jóvenes cantantes integrantes de la Coral Nacional Simón Bolivar en el elenco y el Sistema de Orquestas Núcleo Carora.
 Paralelamente también se llevará a cabo el estreno en el centrooccidente del país de "Fausto" de la joven compositora venezolana Diana Daniele.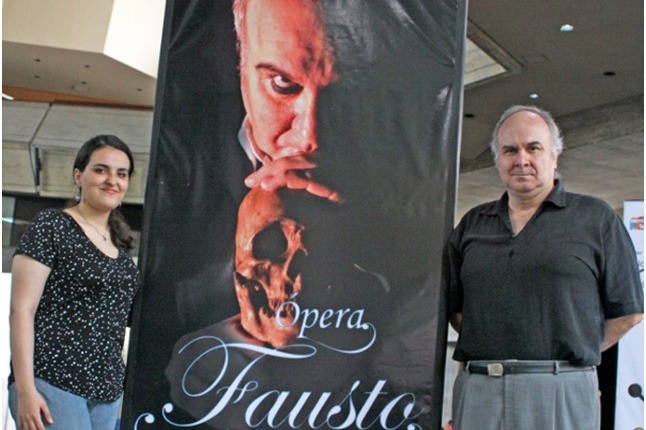 A la izquierda, la compositora Diana Daniele.
 En esta última obra, se tendrá la participación de dos solistas oriundos de Carora que son Jorge De Brito y Jesús Herrera, tenores, junto a otros cantantes miembros de la Coral Nacional Simón Bolivar, igualmente con la participación del Orquesta Sinfónica de las Juventudes Larenses Pedro León Torres y los miembros de los principales coros del municipio Torres como son el Orfeón Carora, el Coro Juvenil de FUNDAMUSICAL Núcleo Carora y el Orfeón UNEXPO Núcleo Carora.
Jorge De Brito,  tenor caroreño, interpretando a Valentín en la ópera "Fausto"
Jesús Herrera, tenor caroreño, interpretando el papel de Fausto en la obra homónima.
Orquesta Sinfónica de las Juventudes Larenses Pedro León Torres junto con los miembros de los principales coros del municipio Torres.
La dirección musical estará encargada en manos del novel director caroreño Carlos Torrealba, y en la dirección artística el también caroreño Luis Fernando Crespo.
El joven director caroreño Carlos Torrealba 
El director artístico y músico Luis F. Crespo, también oriundo de Carora.
La cita para las presentaciones serán el día
jueves 29
de agosto para "
La Serva Padrona
" y
Domingo 1 de Septiembre
para
"Fausto"
, todas en el Teatro Alirio Díaz de Carora..
Para la realización de esta proyecto esta la colaboración de parte todas las personas anteriormente mencionadas en el trabajo artístico y logístico, sin embargo, aún se debe conseguir el dinero para el financiamiento de este proyecto.
El dinero recaudado sera utilizado para:
· Pagar la unidad para el trasporte para la orquesta y el coro· Pagar el hospedaje y comida para las 15 personas que integran el proyecto (cantantes, pianistas, directores de escena, vestuario y maquillaje) por dos semanas· Pagar la utilería, maquillaje, lamparas y programa de mano a utilizar para las funciones· Pago y mantenimiento por el uso del teatro Alirio Diaz· Mantenimiento de la fundación Alirio Diaz
la persona encargada del gofundme nos hará llegar los fondos cambiando las libras a bolívares y depositandolas a las cuenta de Carlos Torrealba y Jorge de Brito. Somos músicos apoyando el proyecto que se realizará en Carora para beneficio del pueblo en sus 450 años de fundacion, ya que de lo contrario seria imposible cultivar la cultura lírica en Carora y en el resto del país.
Todos podemos ayudar a este gran proyecto que quedará escrito en la historia de la región. El llamado es a poner en alto el nombre de nuestro pueblo apoyando esta iniciativa a alcanzar esta meta; Cada centavo cuenta.
*****Aceptamos donaciones en bolívares a través de las siguientes cuentas:
Pago móvil:
Banco Provincial
CI: 20942732
Tlf: 04142447630
Cuentas:
Banco Provincial
Cuenta corriente
Nº: 01082402800100153205
Titular: Jorge De Brito
Ci.20942732
Banco Venezuela
Cuenta corriente
Nº: 01020372470000140025
Titular: Carlos Torrealba
CI.23490922
Confirma tu donación en Bolivares enviando un mensaje de WhatsApp al siguiente numero +584120907947 
How to honor the name and culture of Carora and Venezuela in the world?
 The sponsorship and dissemination of art and culture of a region are key to publicize the value of the work of its people, as well as encourage the general population, especially the youngest, to engage in this type of activities, even in the professional field. 
On this occasion, within the framework of the 450 years of the city of Carora, Lara state, the first season of the opera Caroreña is being prepared, a movement created by young students and professionals in music and the arts with the aim of promoting the environment Culture in the region contributing knowledge and experiences imported from different latitudes for the formation of the professional artistic future of the country. 
This season will feature two  works such as "La Serva Padrona" by the Italian composer Giovanni B. Pergolesi, an important bufa opera from the Baroque period, will be presented, with the participation of young singers from the Simón Bolívar National Choir in the cast and The National System of orchestras from Carora.
 In parallel, the premiere will also take place in the center-west of the country of "Faust" by the young Venezuelan composer Diana Daniele.
 In this last piece, there will be the participation of two soloists from Carora who are Jorge De Brito and Jesús Herrera, both tenors, along with other singers who are members of the Simón Bolivar National Choir, also with the participation of the National System of orchestras from Carora and the members of the main choirs of the Torres municipality such as the Orfeón Carora, the Youth Choir of FUNDAMUSICAL from Carora and the Orfeón UNEXPO Nucleus Carora
 The date of the presentations will be on thursday 29th of august for "La Serva Padrona" and Sunday 1st of september  for "Fausto", all at the Alirio Díaz Theater from Carora.
For the realization of this project there is the collaboration of all the people previously mentioned in the artistic and logistic work, however, the money for the financing of this project must still be obtained.
The money raised will be used to:
· Pay the unit for transportation for the orchestra and the choir· Pay for lodging and food for the 15 people who make up the project (singers, pianists, stage directors, costumes and makeup) for two weeks· Pay the props, makeup, lamps and hand program to use for the functions· Payment and maintenance for the use of the Alirio Diaz theater· Maintenance of the Alirio Diaz Foundation
The person in charge of the gofundme will send us the funds by changing the pounds to bolivars and depositing them to the account of Carlos Torrealba and Jorge de Brito. We are musicians supporting the project that will be carried out in Carora for the benefit of the people in its 450 years of foundation, since otherwise it would be impossible to cultivate the lyrical culture in Carora and in the rest of the country.
 We can all help this great project that will be written in the history of the region. The call is to raise the name of our people supporting this initiative to achieve this goal. Every penny counts.