Ayuda a familias de Panajachel sin trabajo
English below *** Français plus bas *** Deutsch untendrun *** Italiano sotto
Debido a la crisis sanitaria y época de  calamidad sin precedentes que se está viviendo a nivel mundial, miles de familias en Guatemala se han quedado sin trabajo. 
Este es el caso de Lesly Elizabeth Buch García de Morales, y Concepción Esquina Quieju quienes trabajaban como empleadas de limpieza en uno de los hostales de Panajachel que tuvo que cerrar sus puertas a partir del mes de marzo. Es por esto que ambas se encuentran actualmente en una situación límite, teniendo que mantener a sus familias  sin ayuda económica por parte de ninguna entidad estatal. 

Con su ayuda podremos ayudar a estas dos familias.
Al superar el objetivo de los 1000 Euros, el excedente irá destinado a otras familias de Panajachel que requieran del apoyo económico.  
¡Muchas gracias por su colaboración!

Historias de vida

Hola  todos y todas, mi nombre es Concepción Esquina Quieju de 38 años de edad, soy guatemalteca y vivo en el municipio de Panajachel, departamento de Sololá.

Soy mamá de 3 preciosos hijos. Mi hija se llama Nadia Nahir, tiene 7 años y necesita que se le extraigan dos muelas debido a caries.  Está cursando segundo grado de primaria, es una niña feliz y divertida que le gusta hacer manualidades. Les dejo un video para que la conozcan.

Mi hijo de 5 años se llama Landers Eliel y estamos juntando dinero para su chequeo médico. Por último está el bebé Yaser Ibrahim de 8 meses de edad. Estamos necesitando conseguirle un cochecito y andador. 



Hace dos meses me quedé sin trabajo, el hotel tuvo que suspender su personal debido a la pandemia que estamos vivenciando, por tal razón le pido una colaboración a usted que tiene el corazón generoso. Debemos pagar 6 meses de renta y seguir comprando alimentos y productos de higiene para mi familia. ¡Desde ya los 4 les estamos muy agradecidos!



Hola! Mi nombre es Lesly, soy una madre joven de 26 años. Con mi esposo tenemos 2 niños, Aaron de 5 añitos que cursa el preescolar en una escuelita pública y es muy amigable, cariñoso y atento porque se preocupa mucho por los demás; luego viene Matías de 3 añitos que es un poco travieso y juguetón pero bien amoroso.


Vivimos en Guatemala, en un pueblito llamado Panajachel donde está el lago más hermoso, rodeado de 3 volcanes.

A Matías y Aarón les gusta jugar en la orilla del lago, pero por la  situación de pandemia, hemos tenido que quedarnos en casa y sin empleo. Tanto el trabajo de mi esposo como el mío, dependía del turismo por lo que les pedimos ayuda, tocando su corazón, ya que han pasado dos meses sin trabajo y el gobierno y autoridades locales no nos brindan ayuda. Con su ayuda estaremos comprando leche, cereales, arroz y productos básicos para sobrevivir. Desde ya, en nombre de mi familia se lo agradecemos de todo corazón.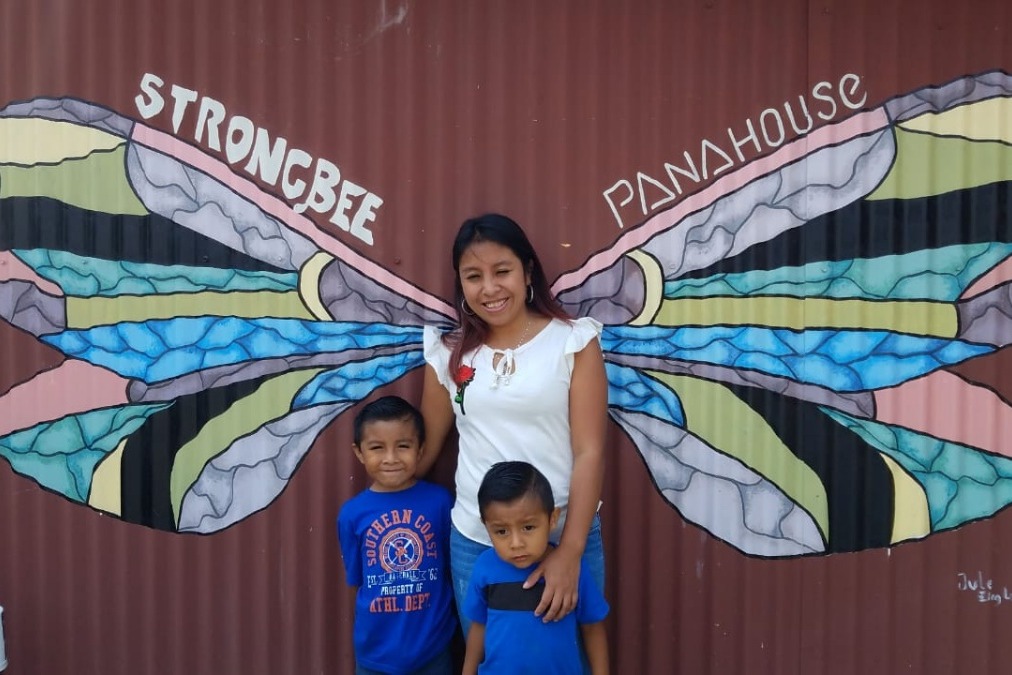 __________________________________________________
ENGLISH

Due to the health crisis and unprecedented period of calamity that is taking place worldwide, thousands of families in Guatemala have been left without work.
This is the case of Lesly Elizabeth Buch García de Morales, and Concepción Esquina Quieju who worked as cleaning staff in one of the Panajachel hostels that had to close its doors from March. This is why both are currently in a limit situation, having to provide for their families without financial help from any state entity.

With your help we will be able to help these two families.
Upon exceeding the goal of 1,000 Euros, the surplus will go to other Panajachel families who require financial support.
Thank you very much for your help!

Life stories

Hello everyone, my name is Concepción Esquina Quieju, 38 years old, I am Guatemalan and I live in the municipality of Panajachel, department of Sololá. I am a mother of 3 beautiful children. My daughter's name is Nadia Nahir, she is 7 years old and needs to have two teeth removed due to cavities. She is in second grade of elementary school, she is a happy and fun girl who likes to do crafts. I leave a video for you to know. My 5 year old son is called Landers Eliel and we are raising money for his medical check-up. Lastly is 8-month-old baby Yaser Ibrahim. We need to get you a stroller and walker.

Two months ago I lost my job, the hotel had to suspend its staff due to the pandemic we are experiencing, for this reason I ask for your collaboration with a generous heart. We must pay 6 months of rent and continue buying food and hygiene products for my family. From now on the 4 of us are very grateful!

Hello! My name is Lesly, I am a 26 year old young mother. With my husband we have 2 children, Aaron, 5 years old, who is attending preschool in a public school and is very friendly, affectionate and attentive because he cares a lot about others; then comes Matías, he is3 years old, who is a bit naughty and playful but very loving.

We live in Guatemala, in a small town called Panajachel where the most beautiful lake is, surrounded by 3 volcanoes. Matías and Aarón like to play on the shore of the lake, but due to the pandemic situation, we have had to stay home and without a job. Both my husband's work and mine depended on tourism, so we asked them for help, touching their hearts, since they have spent two months without work and the government and local authorities do not offer us help. With your help we will be buying milk, cereals, rice and basic products to survive. From now on, on behalf of my family we thank you with all my heart.

__________________________________________________

FRANÇAIS

En raison de la crise sanitaire sans précédent qui sévit dans le monde, des milliers de familles au Guatemala sont restées sans travail.

C'est le cas de Lesly Elizabeth Buch García de Morales et de Concepción Esquina Quieju qui travaillaient comme personnel de nettoyage de Panahouse á Panajachel, qui a dû fermer ses portes à partir du mois de mars. C'est pourquoi elles sont actuellement dans une situation précaire, devant subvenir aux besoins de leur famille sans aucune aide du gouvernement.



Avec votre aide, nous pourrons aider ces deux familles.

Après avoir dépassé l'objectif de 1 000 euros, l'excédent ira à d'autres familles de Panajachel qui ont besoin d'un soutien financier.

Merci beaucoup pour votre aide!

Leurs Histoires



Bonjour à tous, je m'appelle Concepción Esquina Quieju, j'ai 38 ans, je suis guatémaltèque et j'habite dans la municipalité de Panajachel, département de Sololá. Je suis maman de 3 beaux enfants. Le nom de ma fille est Nadia Nahir, elle a 7 ans et a besoin de se faire enlever deux dents en raison de caries. Elle est en deuxième année du primaire, c'est une fille heureuse et amusante qui aime beaucoup le bricolage. Mon fils de 5 ans s'appelle Landers Eliel et nous collectons des fonds pour son examen médical. Enfin, Yaser Ibrahim, un bébé de 8 mois. Nous devons nous procurer une poussette et un trotteur



Il y a deux mois, j'ai perdu mon emploi, l'hôtel a dû suspendre son personnel en raison de la pandémie que nous connaissons, c'est pourquoi je vous demande votre généreuse collaboration. Nous devons payer notre loyer, l'électricité et continuer à acheter des produits alimentaires et d'hygiène pour ma famille. Nous sommes tous les 4 très reconnaissant pour votre aide.



Salut! Je m'appelle Lesly, je suis une jeune maman de 26 ans. Avec mon mari, nous avons 2 enfants, Aaron, 5 ans, qui fréquente l'école maternelle dans une école publique et est très affectueux et attentif car il se soucie beaucoup des autres; vient ensuite Matías, il a 3 ans, est une petite canaille, joueur mais très affectueux.



Nous vivons au Guatemala, dans une petite ville appelée Panajachel où se trouve le plus beau lac(du monde), entourée de 3 volcans. Matías et Aarón aiment jouer au bord du lac, mais en raison de la situation de pandémie, nous avons dû rester à la maison et sans travail. Le travail de mon mari et le mien dépendaient du tourisme, mais a cause du COVID 19  cela fait plus de deux mois que nous sommes sans travail et le gouvernement ainsi que les autorités locales ne nous proposent aucune aide. Avec votre aide, nous achèterons du lait, des céréales, du riz et des produits de base pour survivre. Au nom de ma famille, nous vous remercions de tout mon cœur.


__________________________________________________

DEUTSCHE


Aufgrund der beispiellosen Gesundheitskrise in der Welt sind Tausende von Familien in Guatemala arbeitslos.
Dies ist der Fall von Lesly Elizabeth Buch García de Morales und Concepción Esquina Quieju, die als Reinigungspersonal von Panahouse in Panajachel arbeiteten .Die ab März ihre Türen schließen mussten. Aus diesem Grund befinden sie sich derzeit in einer prekären Situation und müssen ohne Hilfe der Regierung für ihre Familien sorgen.

Mit Ihrer Hilfe können wir diesen beiden Familien helfen. Wen das Ziel von 1.000 Euro überschritten wirt, geht der Überschuss an andere Panajachel-Familien, die finanzielle Unterstützung benötigen.

Vielen dank für eure Hilfe!

Ihre Geschichten

Hallo allerseits, mein Name ist Concepción Esquina Quieju, ich bin 38 Jahre alt, ich bin Guatemalteke und ich lebe in der Gemeinde Panajachel, Departement Sololá. Ich bin die Mutter von 3 schönen Kindern. Meine Tochter heißt Nadia Nahir, sie ist 7 Jahre alt und muss wegen Hohlräumen zwei Zähne entfernen lassen. Sie ist im zweiten Jahr der Grundschule, sie ist ein fröhliches und lustiges Mädchen, das die schule wirklich mag. Mein 5-jähriger Sohn heißt Landers Eliel . Schließlich Yaser Ibrahim, ein 8 Monate altes Baby.

Vor zwei Monaten habe ich meinen Job verloren, das Hotel musste sein Personal wegen der Pandemie, die wir erleben, einstellen, weshalb ich Sie um Ihre großzügige Zusammenarbeit bitte. Wir müssen unsere Miete und den Strom bezahlen und weiterhin Lebensmittel und Hygiene für meine Familie kaufen. Wir 5 sind sehr dankbar für Ihre Hilfe.

Hallo! Mein Name ist Lesly, ich bin eine junge Mutter von 26 Jahren. Mit meinem Mann haben wir 2 Kinder, Aaron, 5, der den Kindergarten in einer öffentlichen Schule besucht und sehr liebevoll und aufmerksam ist, weil er sich sehr um andere kümmert; Als nächstes kommt Matías, 3 Jahre alt, ein kleiner Schlingel, verspielt, aber sehr liebevoll.

Wir leben in Guatemala, in einer kleinen Stadt namens Panajachel, wo sich der schönste See (der Welt) befindet, umgeben von 3 Vulkanen. Matías und Aarón spielen gerne am See, aber aufgrund der Pandemie mussten wir zu Hause und ohne Arbeit bleiben. Die Jobs meines Mannes und meiner sind vom Tourismus abhängig, aufgrund von COVID 19 sind wir seit mehr als zwei Monaten arbeitslos und die Regierung und die lokalen Behörden biten keine Hilfe an. Mit Ihrer Hilfe konnen wir wir Milch, Getreide, Reis und

Grundnahrungsmittel kaufen um zu überleben. Im Namen meiner Familie danken wir Ihnen von ganzem Herzen.


__________________________________________________

ITALIANO


A causa della crisi sanitaria senza precedenti nel mondo, migliaia di famiglie in Guatemala sono senza lavoro. Questo è il caso di Lesly Elizabeth Buch García de Morales e Concepción Esquina Quieju che ha lavorato come personale di pulizia da Panahouse a Panajachel, che ha dovuto chiudere i battenti da marzo. Questo è il motivo per cui si trovano attualmente in una situazione precaria, dovendo provvedere alle loro famiglie senza alcun aiuto da parte del governo.

Con il tuo aiuto, possiamo aiutare queste due famiglie.
ce ariviamo a superare l'obiettivo di 1.000 euro, l'eccedenza andrà alle altre famiglie di Panajachel che hanno bisogno di sostegno finanziario.
Grazie mille per il vostro aiuto!

Le loro storie

Ciao a tutti, mi chiamo Concepción Esquina Quieju, ho 38 anni, sono guatemalteca e vivo nel comune di Panajachel, dipartimento di Sololá. Sono la madre di 3 bellissimi bambini. Mia figlia si chiama Nadia Nahir, ha 7 anni . È al secondo anno di scuola elementare, è una ragazza felice e divertente a cui piace molto il fai-da-te. Mio figlio di 5 anni si chiama Landers Eliel . Alla fine, Yaser Ibrahim, un bambino di 8 mesi.

Due mesi fa, ho perso il lavoro, l'hotel ha dovuto sospendere il personale a causa della pandemia che stiamo vivendo, motivo per cui chiedo la tua generosa collaborazione. Dobbiamo pagare l'affitto, l'elettricità e continuare a

comprare cibo e igiene per la mia famiglia. Noi 4 siamo molto grati per il vostro aiuto.

Ciao! Mi chiamo Lesly, sono una giovane madre di 26 anni. Con mio marito, abbiamo 2 figli, Aaron, 5 anni, che frequenta la scuola materna in una scuola pubblica ed è molto affettuoso e attento perché si prende molto cura degli altri; Poi arriva Matías, 3 anni, un po 'mascalzone, giocoso ma molto affettuoso.

Viviamo in Guatemala, in una piccola città chiamata Panajachel dove si trova il lago più bello (del mondo), circondato da 3 vulcani. Matías e Aarón piace giocare in riva al lago, ma a causa della situazione di pandemia, abbiamo dovuto rimanere a casa e senza lavoro. Il lavoro di mio marito e mio dipendeva dal turismo, ma a causa del COVID 19 siamo senza lavoro da più di due mesi e il governo e le autorità locali non ci hanno offerto alcun aiuto. Con il tuo aiuto, compreremo latte, cereali, riso e graffette per sopravvivere. A nome della mia famiglia, ti ringraziamo con tutto il cuore.


Fundraising team: Christophe Esch (2)
Pana House 
Organizer
Raised €200 from 8 donations
Christophe Esch 
Team member
Raised €240 from 4 donations
#1 fundraising platform

People have raised more money on GoFundMe than anywhere else. Learn more

GoFundMe Guarantee

In the rare case that something isn't right, we will refund your donation. Learn more

Expert advice, 24/7

Contact us with your questions and we'll answer, day or night. Learn more