Sepsis Trust UK - LLHM 1st August 2021
For those of you who do not know me:
My name is Kyle, I'm a 36 year old father of 3  beautiful girls. 
Two and a half years ago, one month before she turned 2 years old, my middle daughter got Chicken Pox, this quite quickly got worse and her skin looked like it was rotten and had the most horrific smell. We went to the out of hours clinic where we were told to use ibuprofen, which we had already seen was not supposed to be used for chicken pox as it makes the scarring bad, we then went to the Dr's the following day where we were told to use calpol and piriton. Things were still not right and Lola was getting worse. 
The following day I was due to travel to Scotland to go offshore the next day, but we were extremely worried about Lola and so decided to take her to A&E, within 20 minutes of being seen, Lola was admitted into a single room on the children's ward.

The Chicken Pox had indeed become infected, causing a bacterial skin infection and worse still Sepsis.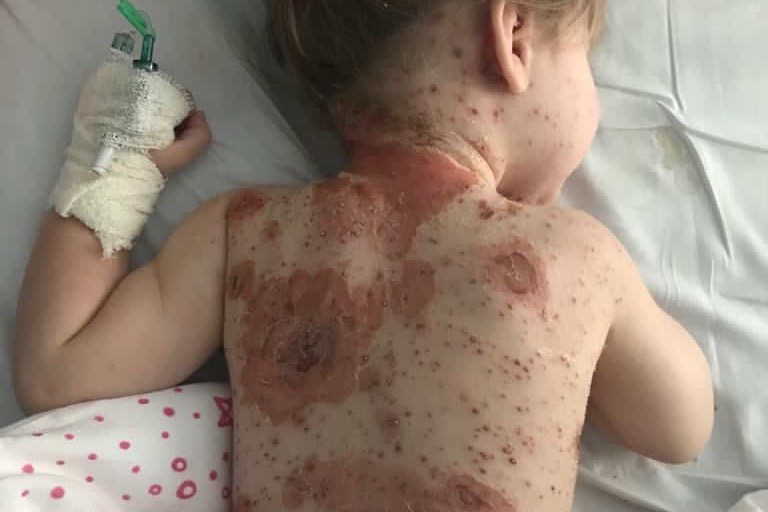 Luckily it was caught early enough, but was still traumatic for my little girl, having multiple cannula's and being stuck in hospital for two weeks. She was then allowed to complete the treatment at home but the cannula's just wouldn't work and so it was finally decided to give her the treatment via Intra-Muscular injections.

After three weeks of treatment, plus a heart scan she was given the all clear and luckier still the skin had very little scarring when it finally healed. 
We dread to think what would/could have happened if we had listened to the first two Dr's we saw. We are so very thankful to A&E and the children's ward for the amazing work they did and how well they treated my daughter and us as a family, they truly were amazing. 

I aim to raise this money for Sepsis Trust UK, to help raise awareness about Sepsis and also how to spot the signs and symptoms early to allow quick treatment and limit the damage that it can cause. 
#LLHMSEPSIS_KFD

More information about UNITED KINGDOM SEPSIS TRUST LIMITED: Our team seeks to save lives and improve outcomes for survivors of sepsis by instigating political change, educating healthcare professionals, raising public awareness and providing support for those affected by this devastating condition. Our critical expertise is based on the charity's grassroots origins our doctors and nurses have front line, first hand experience of the sepsis problem; their passion is born of a uniquely comprehensive understanding of what needs to be done.
Fundraising team (2)
Kyle Faraday-Drake 
Organizer
Raised £2,220 from 63 donations
Gorleston, East of England, United Kingdom

UNITED KINGDOM SEPSIS TRUST LIMITED
Registered nonprofit
Donations eligible for Gift Aid.
Jodie Perkins 
Team member
Raised £60 from 2 donations