Another day for Addie May
*Daily updates located in the updates portion of the gofund me fundraiser page. Thank you!
Addie (Adelle) May needs someone like you and so do I. On February 28th, 2020 I made the exciting leap to adopt my first, furry friend. The shelter had named my Siamese beauty queen after the singing queen herself probably because of how much she likes to sing(talk). I thought- "Helloooo, it's me. I'm your new mom/best friend/ or maybe just a bigger kitty gurl friend. Whatever you want." 
After adoption, we visited a nearby community vet to get a check-up. Adelle had just recently gotten spayed a few days prior and we soon had to introduce her to the enemy, the cone, or as the vet calls it so politely- the Elizabeth collar due to her spay starting to come open. . . She also was still struggling with a kitty cold, common when they enter/leave shelters. 
During the assessment, I mentioned she had been fussing with her eye. We find out on Monday morning that she had a small ulcer, maybe stress-induced. Later we find out our newly adopted baby was positive for kitty herpes and microplasma felis. We started our doses of all the antibiotics for the kitty cold, infections, anti-virals, and eye drops. On Wednesday, her eye was seeming to get worse- even while on antibiotics. I called and expressed concern but was directed to wait it out. By Friday we had been able to get in with the vet and the ulcer had now gone through 90% of her cornea. Flying now, actually flying in my car- Sorry Drivewise, to the ophthalmologist we go--where we saw the ulcer up close and saw the flesh-eating bacteria on the outsides. We received stronger antibiotics and started the war on how do we preserve this eye. 
(March 15th) Fifteen days later we had a follow-up appointment and were blessed to find out that after eight drops a day, four times a day. I had a healthy, new, eye-seeing kitty! Still running through our liquid antibiotics and pills but that was okay! It was the start of good news.
The moment we came home and took the cone off-- it became Christmas morning. Running, exploring- room to room, more running and her favorite place to play hide and seek- near or sometimes inside the fridge and/or the bathtub. My kitty was a girl who seemed like she had just walked out of a salon- feeling brand new. Karaoke with mom every morning is a must-do on our agenda. She loves being held and always dancing around with mom while I sing in my pink robe. Oh, did I mention fetch? Her FAVORITE game and she is good, real good. Tug a war too, can't forget that. No, No, No, we aren't talking about a puppy- We are still talking about my Siamese superstar, Addie May. 
On April 18th- What seemed like out of nowhere. My kitty gurl with a bigger personality than all of us, suddenly became paralyzed, not moving, hunched over and unable to lift herself up. I brought her to the emergency room veterinary clinic at 1 AM. To find my girl experiencing a fever of 106.8°F. The average temperature for a feline is 100.5°F to 102.5°F. For a Addie or any cat, this is life-threatening. 
On top of experiencing this fire breathing fever- her whole abdomen was swollen with discharge coming out of all of her mammary glands, bruising developing within the caudel glands. 
You are confused now because we already talked about how she was spayed. Yes, you aren't the only one confused.
As of today 4/20/20- Addie has visited three different vet clinics, with sleepovers for the past three nights with doctors and support staff who are working to do everything they can to bring the fever down. As of now, we haven't been able to keep the fire down the past two hours. But we also have no idea what's causing the severe inflammation within her breasts. The days are long and the nights are longer.
Our girl's journey into our world started with antibiotics and just when we thought we were out of the woods and starting to enjoy our giant jungle gym of a world. We find ourselves right back to where we started. As of now, on Saturday night I spent $1,580.00 just in fluids and antibiotics at the emergency shelter. At the primary vet, I spent $70.00 and had to put a deposit down of $2,000.00, 75% of the diagnostic charges estimate at the AVS Internal Medicine hospital today. This money that was put down today has given us slim to none answers, just the ability for the doctors to continue to run more tests, more antibiotics and more fluids, diagnostics. If Addie is put in a situation where she needs to have the mammary glands removed surgically or more testing to find out if this is an autoimmune disease. I don't want to have to deny her treatment just because I cannot afford it at this time due to being out of work. 
Me, myself, Alea Baftiri- for your friends who do know me, don't know me, maybe will never meet me; hopefully, we do, or just a complete by standing stranger who just GETS IT, don't know that I've lost a lot. I lost my mother, who was my best friend, and my cheerleader in 2016- suddenly and very tragically. 
I find myself hanging out in the dark, sometimes in the light. But that's how it is for most of us nowadays. I spend more time alone due to my anxiety that's developed over loss and grief. Whereas before, before the loss- that wasn't me. I was my own light, my wittiness, humor, and friendships carried me through all of my days, and hopefully for others as well. But now, sometimes it seems like maybe just a light bulb needs to be changed- or maybe the light switch is stuck- doesn't work.
I will tell you all, honestly, when I laid my eyes on this beauty, available for adoption. I felt a feeling that I couldn't live without. A feeling I haven't felt in such, such, such a long time.
Within these two months of having this sweet girl, my heart has been so full. Love that I had thought I had lost- My gosh was I wrong. She was able to show me how much love I can pour out and that there is so much love to give, always. Even though she's been experiencing so much of her own pain, a pain that she can't communicate with me. 
I will continue to fight for her because she's one year old. She's not twelve or twenty-five. She's a one-year-old girl who just got to open both of her big, beautiful, blue eyes and experience the world. She needs a mom who's willing to do whatever it takes to ensure she gets the care she needs and is able to see the birds and bees again out our window here in downtown Orlando. Call me crazy, but this little girl has become my best friend. I will do everything in my power to ensure she is able to get the best care she needs to see this through. I cannot and will not give up on her even if I don't have the funds. I and I hope you will help me pull together the opportunity to help this beautiful soul. 
Setting my anxiety and humiliation aside for not having more money set aside during this time, that we are all experiencing, of being unemployed with going on five weeks now of no pay and no sense of how my job will be or what the hospitality industry will look like, but even with a college degree. How is this possible? But in reality, it is, it's real. 
This isn't about me though. This is about Addie. This little girl is raw, real, and beautiful and full of so much light. Please help me keep this light shining brightly through the long weeks to come. Stand next to me and help me give my baby a fighting chance she deserves. Pet's are family, you guys know that. They complete the circle. 
We appreciate your time and kindness-- More then you will ever know. 
Thank you. 
Alea and Addie. Xoxo.
Some people have mentioned expressed concern for the go fund me percentage that they pull out. If you feel more comfortable my Venmo is available for Addie as well. I am so grateful and my heart is so full. Thank you to everyone. @Alea-Baftiri 
***Updates are now being updated regularly on the go-fund-me page verse in this section. 
**4/21/20 around 11:30 AM I got word Addie's fever has been subsiding for the past twelve hours. Hanging out around 102-101. She ate a little bit more for them today but I didn't hear if she's been able to use the restroom. She hasn't had a stool since Saturday morning. The plan is to slowly, today and tonight try and ween her off the IV antibiotics and fluids and work towards oral medication and see how the fever reacts to this push. 
Unfortunately, they noted there has still been no change in the mammary gland area. The area is still bruised, due to the pressure of the swelling underneath, within her tissue. 
As of 4/20/20 at 5:30 PM- Addie's fever was at 103.6 and she had her first bit of food since 4/20/20 at 4:00 AM. AVS is monitoring her fluids and antibiotics overnight and I hope to know more in the morning. 
Keeping the fever is down is the number one goal but trying to figure out this specific type of infection.  Is it an infectious disease/immunity? The doctor said the pain is similar to us women having cramps so she is uncomfortable. I am struggling with that portion of this piece because pain is the last thing I want for her. The doctor said hopefully they are on the right track with the antibiotics and that won't be her case forever. She has mentioned a comment, wondering if her body is attacking her own body. However, she has been tested negative for kitty aids and kitty leukemia. Some of those main driving forces for things like that. 
Does anyone know of a Doctor House for kitties? Asking for my best friend. Thank you for the prayers, these amazing donations and just being a god dang superhero. WE THANK YOU.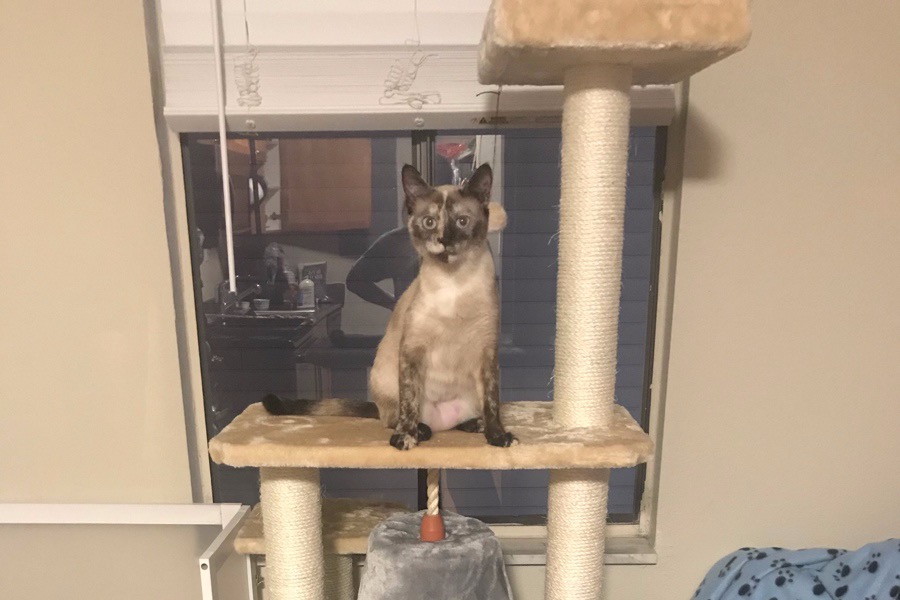 Organizer