Animal Sanctuary Compassion Tour
Help us raise awareness about animal welfare and support animal sanctuaries who are dedicated to this work!
Everyone has the power and potential to positively change the world. As humans become more aware of our interconnectedness with the world around us, we can develop the courage to live more compassionate lives.
Many people have the desire to live more compassionately yet might not know where to begin.
Living compassionately looks different for everybody but ultimately it's about finding ways to make the world a better place. For us at The Seva Life, our journey towards a more compassionate life has included adopting a plant-based diet and finding opportunities for more sustainable, earth-friendly ways of living.
Visiting a farm sanctuary a couple years ago was a major catalyst for us to open our hearts and our minds enough to want to make meaningful changes in our life that served a greater good.
Meeting people who were brave enough to stand up for the protection of animals and create safe spaces for them to live freely was absolutely inspiring. Spending time with the sentient beings who called these spaces home created a deep and lasting impression that shifted our beliefs and influenced our worldview.
Shortly after that first visit we became inspired to live a more compassionate life, and now we are on a mission to inspire others to do the same...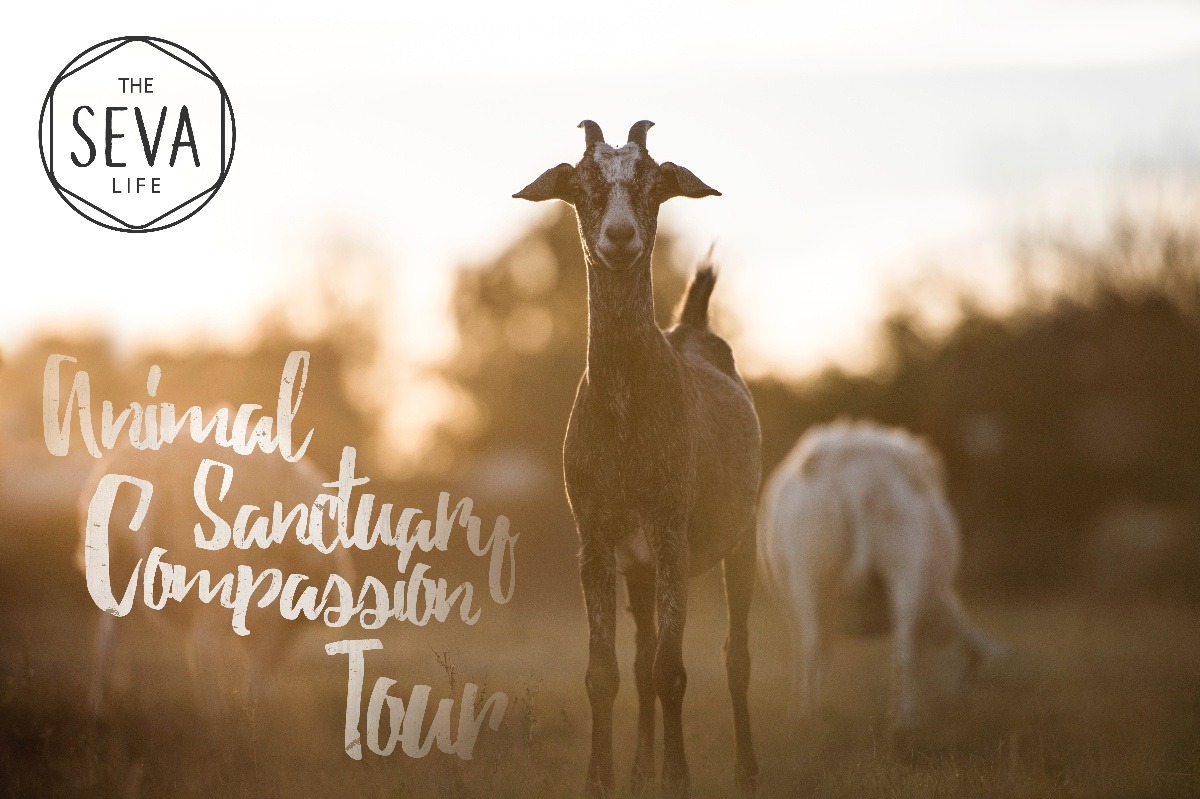 The Seva Life's Animal Sanctuary Compassion Tour
We are embarking on a cross-country road trip to profile some of the people who are committed to compassionate living.
We plan to visit and volunteer at more than a dozen animal sanctuaries
to meet the wonderful people who own and operate the spaces, and their furry and feathered residents.
Our goal is to learn more about how these inspiring individuals embarked on their journeys, what motivates them and their work, share their stories in the hopes of inspiring others to consider making lifestyle changes that reduce the amount of harm that humans do to animals.  
Our journey starts in Hamilton, Ontario. From mid-September to the end of October we will be traveling West across Canada and back East via the US in our minivan, which we are converting into a cozy yet functional mini camper.
What else?
While on the road we want to live as carbon neutral and zero-waste as possible, while living off of a plant-based diet. We'll actually be offsetting our carbon footprint by working with trees.org to plant trees and build sustainable forests!
Along the way, we'll document our travels with photos, videos and blog posts on
www.thesevalife.com
 . Ultimately, the research and experience we gather from this trip will shape the content for our first book about compassionate living, which will be released in 2019!
What's the money for?
Great question. We are fundraising to help cover a portion of the costs related to this trip, mostly fuel and campsite costs, so that we can focus on the work of profiling animal sanctuaries and promoting compassionate living. We are stepping away from our current jobs and volunteering our time at the sanctuaries, so any amount truly helps us.
Our biggest expense on this trip will be fuel, coming in at over $2500. We will be car camping throughout the trip, staying at basic campsites which will cost around $2000.
We are taking seriously the advice to "expect the unexpected," so the rest is to cover minor car maintenance that we expect to incur along the +10,000 kilometre journey.
Any money we receive over and above our target amount (what a dream!) will go towards the publication of our book.
Any amount helps
Without a doubt,
your contribution helps make this journey possible
. In supporting this trip, you're really helping to support animal welfare advocacy, which ultimately results in a more compassionate world.
Thank you so much
for helping us volunteer, raise awareness about animal welfare and promote compassionate living!
We are SO grateful for your support.
In kindness,
Nicole Catenazzi & Chris James Ryan
Co-Founders, The Seva Life
***
About The Seva Life
The Seva Life is dedicated to helping compassion warriors find a sustainable path toward living in better alignment within themselves, with others and with this incredible planet we all share. Chris and Nicole launched The Seva Life in 2018 with a goal to inspire people to make more mindful everyday choices (from the foods we eat, to the products we buy) and empower them to make positive changes for a better world.
To live The Seva Life means to live in a way that honours the interconnectedness between ourselves and others; by remembering our humanity and infusing our actions in the world with kindness and respect.
www.thesevalife.com
Donations

Organizer
#1 fundraising platform

People have raised more money on GoFundMe than anywhere else. Learn more

GoFundMe Guarantee

In the rare case that something isn't right, we will refund your donation. Learn more

Expert advice, 24/7

Contact us with your questions and we'll answer, day or night. Learn more