Taylor Family Medical Fund
Written by Amy's sisters, Jen & Cat:
For those of you who don't know what the last several months have looked like for our sister, Amy Taylor (32, mother of 4 precious kiddos) and our family, let us quickly catch you up.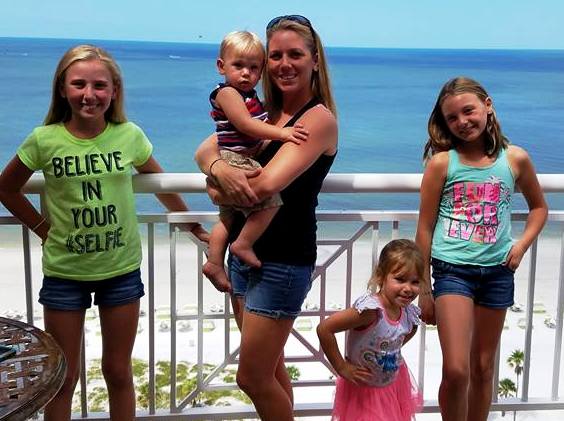 In November 2016,  Amy told us about some symptoms she'd had and it spurred her to have some tests done.  Turns out she had tumors (thankfully benign) growing on both of her carotid arteries in her neck.  Steroids would be administered to shrink them but inevitably they would have to be surgically removed. 
February 6 was the day she had her first tumor removed. Surgery took about 2 hours, and the doctor was confident all went well.  She was in the hospital about a week, recovered at home for several weeks and awaited time for surgery #2.

April 6th was the day her second tumor was removed. Once again surgery went well. But this time post-op was different. She was in the ICU for 2 weeks with scary high blood pressures. Her blood pressures got to 230's/160's with a heart rates of 158+...randomly, often while simply sitting there. She's also an experienced ICU nurse and felt like no one was listening to her. So she took her life and care into her own hands and started researching, reaching out to the cardiologists and team members she worked with, to get the ball rolling in the right direction.
Since being discharged in late April (only because the doctors trusted her experience and that she would be able to manage her care from home,) she still battles intense hypertension spikes and hypotension bottom out which leave her on the verge of losing her vision, hearing and nearly passing out. She wears a blood pressure cuff 24/7 to monitor these spikes, which happen about 10 times a day. How her body has been able to withstand a massive stroke, seizure or other major complication is nothing short of a miracle.

As a physically active person, running a busy household, her life has had to drastically change over the last few months. Her days are spent sitting or reclined back in bed instead of chasing after the little ones or jumping on the trampoline, playing at the park, or doing simple things such as laundry or making meals for her family...basically anything that could cause a rise in her blood pressure. Not to mention, she hasn't been able to go back to work due to her unstable blood pressures. They leave her tired, dizzy, and miserable. And some days, feeling like there is no hope for a "normal life" again.  
It was determined she is suffering from an extremely rare condition called baroreflex failure syndrome - something none of the doctors in Las Vegas know anything about.  So she has been referred to specialists at USC in Los Angeles.  No idea how long she will be there or if/what they will recommend for treatment at this point. If they can't help her, the next step is to go to Mayo Clinic.  
We will post updates on her progress, but that's where we are today. So we've started this fund to help her family with these unexpected expenses of travel, lodging, co-pays, child care, etc. that will truly relieve some of the financial burden facing their family. 
Insurance coverage has been challenging, and Amy's husband, Ronnie, is doing an amazing job holding down the fort, along with the support of local friends and family.  Thank you for making a gift to help Amy and her family in this very difficult time. We are hopeful your support will ease their minds enough to focus on her getting fully recovered and back to the fun-filled, active lifestyle she's always loved. Thank you, from the bottom of our hearts, to strengthen hers. 


Organizer and beneficiary
#1 fundraising platform

People have raised more money on GoFundMe than anywhere else. Learn more

GoFundMe Guarantee

In the rare case that something isn't right, we will refund your donation. Learn more

Expert advice, 24/7

Contact us with your questions and we'll answer, day or night. Learn more