Alonel CANCERvive Stage IV Drive
Hi Everyone! My name is Mygie Masayon – Bongoyan currently living in an island province here in the Philippines and
I am knocking at the doors of your hearts to help my father, Alonel Masayon, in his battle with Cancer.
So here's the medical story of my father:
Last October 2015, my father complained of black tarry stools that persisted for one month. He did not tell us anything about it up until experiencing it again a month after. As soon after knowing it, I immediately took him to the hospital for consultation. We live in a province with limited medical facilities so the doctor referred us to the nearest tertiary hospital in Dumaguete City, which is a 2-hour slow boat ride, to have an endoscopy. He had endoscopy last December 2015 and a tumour was found in his stomach. A biopsy was taken from the tumour yielding a malignant result. He then had a surgery which confirmed that the cancer was already in the late stage and has already spread to his liver and esophagus. The doctor gave us an option to allow him to undergo chemotherapy which would weaken his body and immune system or to just let him live his life for a maximum of 6 months. When I heard what the doctor has said, I couldn't process everything. I couldn't believe how everything happened so fast. How a man once very much alive and healthy 3 months ago only has 6 months to live. My family and I were devastated.
My father showed us that he wanted to live. He wanted to see our youngest 15 – year old brother go to a university and be successful so we opted to let him have the chemotherapy. He had undergone one cycle of chemotherapy and a radiation procedure. Even though the procedures are taking its toll on his body, he would really show us that he wants to win his battle with cancer. A CT scan after the first chemotherapy revealed and declared him negative of cancer last July 2016. We we're relieved and overjoyed with the news. However, 3 months after during his follow up check and CT scan, there has been a tumour regrowth. He then had an additional two cycles of chemotherapy.
Currently, he's admitted in the hospital for more than a week now because of an active bleeding from the tumour wherein he needs to have blood transfusion every day to replenish the blood lost from his vomiting and bowels. Additionally, it was also found that he had a blood clot on his right leg which can kill him anytime as this clot can block the arteries in his heart and lungs. In order to stop the clot from blocking his arteries, he needs to have an IVC procedure done. This is a very costly procedure on top of our daily expenses. My family's expenses are already exhausted after a year and a half of battling cancer. Two days ago, when I saw my father getting restless and his blood pressure dropping, I told him he could already have a rest if he's indeed tired of the fight, but, he faced and told me that he will never surrender.
He will fight cancer for his family. He's still in the hospital right now and fighting. Let's help him win this battle from cancer.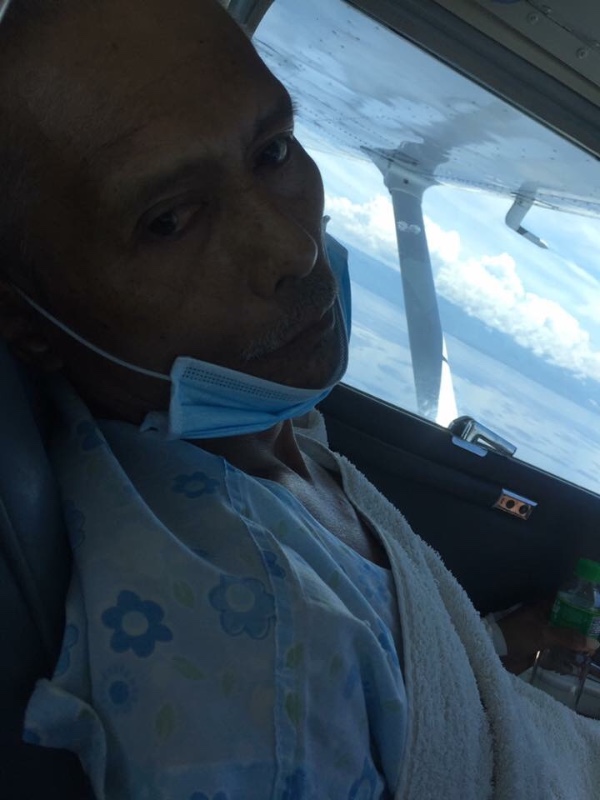 Organizer
Niña Joyce 
Organizer
Pompano Beach, FL