The Journey of a Dream...Though Not Exactly a Dream Journey

This is the story of a girl who loved the harp, and longed for one of her own...
[the girl in her father's arms]
This love started at the early age of three when her father had brought home a book on the cover of which was portrayed an elegant, dreamy lady playing an ornate golden harp. That image had become perpetually impressed on the little girl's mind, and so the harp dream began to grow small roots in her fragile heart...
The years passed, interests came and went, and even her father left this mortal land...
[tragic car accident in '95 took her daddy away]
 ...yet her love for the instrument never wavered but rather served as a link to her father, and grew along with her small frame. When she had finally come of school age, her mother, being keenly aware of her daughter's desires, enrolled her in a music school in Chisinau, Moldova. Here at long last the little girl had, for the very first time, set her little hands upon the strings she so dearly longed for... 
[harp professor Ana Mahonin at harp]

[first grade in MD]

This euphoria however was short lived, as halfway through first grade this little girl, along with her family, had been uprooted and immigrated to the land of opportunities, to sunny California. Truth be told, when you start from scratch the opportunities can be hard to come by, even in the land of opportunities.  Money was scarce and the culture shock very real, but the little girls dreams continued to manifest themselves in her artwork, her daydreams, and in thoughts penciled down in half filled journals... 
[3rd grade art work & prize - take note of the harp in the draft..]
When sweet sixteen came about, her mother had made arrangements and surprised her not-so-little-anymore girl with a trip to a harp teacher, a lesson, and a rented harp...
[playing at a retirement home on a Dusty Strings harp]
A few years later the girl was upgraded to a (rented) pedal harp. She practiced, played in church, and was slowly learning the ropes of gigging... 
[accompanying Diva Dolce Vocal Ensemble in a Christmas recital] 
At the age of 19, she was uprooted yet again and transplanted into frigid Chicago to be near her older sister... And this is where the door of harp opportunities really burst open, especially with the Lyon & Healy harp factory right around the corner. In her search for a teacher, the girl found Marguerite Lynn Williams, with whom she restarted lessons. Meanwhile, she worked full-time in an office in order to raise funds for the purchase of a student harp. In a year's time the girl managed to raise enough money for a petite student model... 
Thereafter, she would work by day and practice by night, play with the church orchestra, join the Chicago Harp Ensemble, meet more amazing teachers, form strong bonds and friendships with other young harpists, and explore the beauty of ensemble playing along with new exciting repertoire... 
[Chicago Harp Ensemble @ Architectural Artifacts]
There was also the desire to pursue and finish a BA, possibly in music, and at the right time the girl auditioned and received a generous scholarship to attend Trinity International University in Deerfield, IL... 
[Leading up to Half Recital]

During her 4 years there, the school rented a full pedal harp and the girl continued her studies with Chicago Lyric Opera's principal harpist,  Marguerite Lynn Williams, and  completed a victorious half recital... 
[post half recital]
During that time, the girl played with the Trinity orchestra, occasionally the band or choir, school functions, as well as many other smaller milestones in between. Finally, at the end of four gruelling years, Mirela performed her capstone, the senior recital!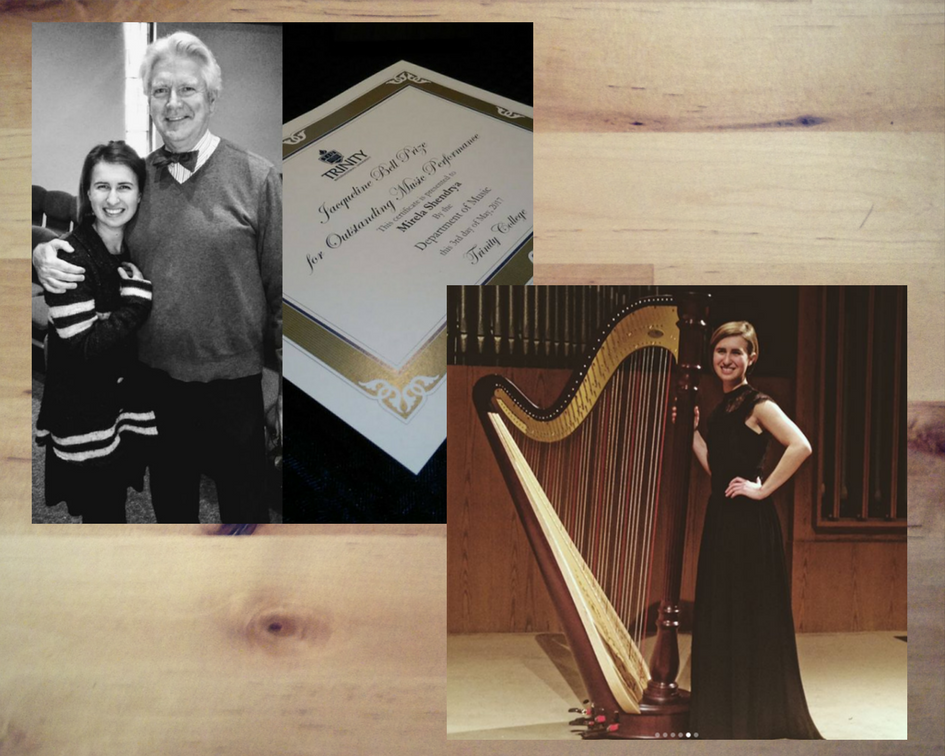 [Dr. Paul Satre, a mentor, inpiration and organist with whom Mirela collaborated in the Sr. Recital]

[Mirela with harp professor Lynn Marguerite Williams]
Since her graduation in May of 2017, she has been working as a music instructor at Logos School of Music, and freelancing in the greater Chicagoland Area...
[Mirela's biggest fans & supporters]
From the beginning of her journey, Mirela experienced God's guidance and providence.  The most evident of these was in September of 2017 when her California harp teacher, Pamela Pamerin, had contacted Mirela after having fallen out of touch for roughly 6 years. Pamela informed her that she would like to donate her golden harp, the harp that Mirela used to rent back in her "West Coast" days. That was a long awaited answer to a long standing prayer becuase she needed a full sized instrument… 
In fact, she still needs one, the only problem being that the donated golden harp (upon the careful inspection of a certified harp technician) would need $18K worth of repairs. That may seem like a lot of money, and it is, but the truth of the matter is that a new, quality instrument would cost around $20-$30K anyway.
Mirela has raised a portion of the funds, but there is still a considerable amount that she needs in order to complete the repais. If the Lord puts it on your heart to give any amount, no matter how small, it WILL make a difference, and it will make a little girl's dream come true.
"Mirela's desire is to live a disciplined & humble life in the pursuit of excellence, with perseverance in the face of trials, in continual gratitude toward God & peers.She strives to be a creative & life-long learner, a catalyst for positive change at home, work, church & community, enriching & touching people's lives through music & kindness, in all things bringing Glory to God."

Organizer
#1 fundraising platform

More people start fundraisers on GoFundMe than on any other platform. Learn more

GoFundMe Guarantee

In the rare case something isn't right, we will work with you to determine if misuse occurred. Learn more

Expert advice, 24/7

Contact us with your questions and we'll answer, day or night. Learn more