Man Rescued Fire Victims of Queen St Building Fire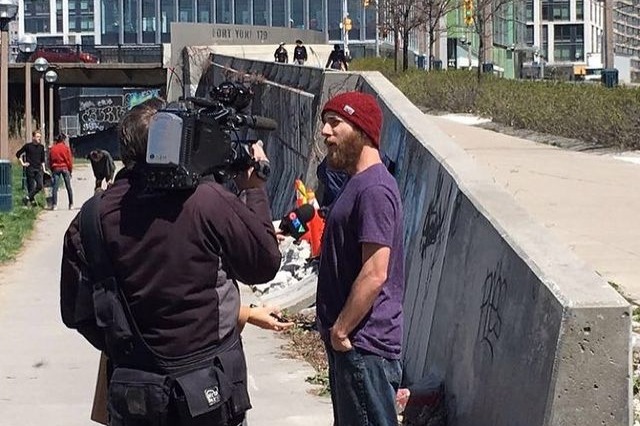 Last night our friend Aaron risked his life to heroically save his friend Althea who was lying on the ground disoriented and could not find her way out of the fire. He went back in fearlessly to carry an elderly woman trapped in her apartment.
They spent the night recovering in East general hospital suffering from smoke inhalation. And luckily suffered no major injuries.
Our friend Aaron is a beloved skateboarder and DIY skatepark builder in the Toronto and GTA area. He is a friend to all and has created some of the best communities in the skateboarding scene.
We started this Go-Fund-Me to raise a bit of money to support this local hero.  He has built so many skateparks at a professional level. He is a teacher to many, and always gets everyone involved to help and learn about building.
He has selflessly helped many over the years and now it is time for the community to give back to this hero.
We hope to help him get an apartment or house of his own. Currently, he is living from couch to couch, this money will go towards helping him achieve a basic need and security most people are lucky to have.
Anything and everything helps.
Thank you Aaron for your courage and for risking your life to save others.
We appreciate and thank everyone for the support they give to Aaron and all the donations.
If you would like to donate anything other than money (tools, clothing, etc.), then contact us through the Go-Fund-Me website.
Here are the reports of the event occurred down below.
https://globalnews.ca/news/7698765/queen-street-east-apartment-fire-toronto/
https://toronto.ctvnews.ca/four-taken-to-hospital-after-fire-at-residential-building-in-the-beaches-1.5348596
https://www.cp24.com/news/four-taken-to-hospital-after-fire-at-residential-building-in-the-beaches-1.5348594
https://twitter.com/TPSOperations/status/1371613978288390148
https://twitter.com/TPSOperations/status/1371623006578081792
Organizer
Jacob Fleischmann 
Organizer
Richmond Hill, ON