Great-Grandparent's Survival Fund
My name is
David Cohn
. This fund is being set up to help in the financial survival of my two elderly parents,
Arnold & Shirley
Cohn
. Mom & Dad are in their late 80's and have been married for 65 years. They have lived long enough to see their children and their grandchildren grow up, and to be blessed with
two Great-Grandchildren
. They have been living on their own, in Florida for for over 20 years. Unfortunately,
a series of financial and health issues within the last two and a half years, have devastated their ability to make ends meet.
The situation has gotten so bad
that
they often find themselves
unable to pay their monthly bills
or even have enough money for food
. The money raised with this fund will hopefully help them to survive, help them to keep a roof over their heads, pay some medical bills and put food on their table.
To everyone who has elderly family members who fight everyday to make it through, and to everyone who loves their parents, grandparents or great-grandparents, please do what you can to help my Mom & Dad.
ON BEHALF OF MY ENTIRE FAMILY, I'D LIKE TO THANK EACH AND EVERY ONE OF YOU, IN ADVANCE, FOR ANY AND ALL ASSISTANCE YOU CAN PROVIDE.
(please read on for further details. Thanks)Dad serving his country during WWII
My Mom when I was a child.
The happiest day
Back in the day. Mom, Dad and their boys.
Four Generations of COHN "men".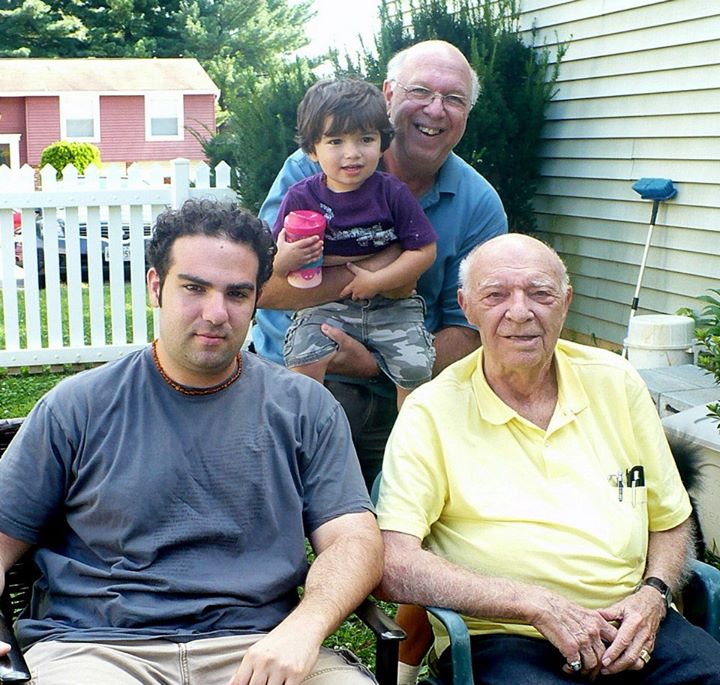 We are all truly lucky to still have them in our lives. When I say "in our lives", I don't mean "near us". You see, they live in Florida while the rest of us are spread out along the East Coast.
GG Arnold and GG Shirley have lived in Florida for over 20 years. Enjoying life under the tropical sun. When they reached retirement age, they still continued to work, earning money to help supplement the
limited income they get from Social Security.
Life for my parents would seen to be idyllic. What more could they ask for. They have a place to live, a car, friends, family and no more winters like they had back home in Brooklyn, NY.
Unfortunately, in todays world, the elderly and those who basically live on a fixed income, have a hard time surviving.
So, this is where our problems began. In the Fall of 2011, Mom & Dad found themselves in a deep financial hole. The creditor wolves were at the door, in the mailbox, and on the phone. After months of duress and looking for a way out, they decided to file for Bankruptcy in December of 2011. This action helped them keep the creditor wolves at bay. And since Dad (at the age of 85) was still working part time, they were able to make the monthly payments to the Bankruptcy trustee, and live their lives. So, their financial crisis was at the very least, temporarily under control.
However, in December of 2012, Dad had a terrible fall at home, breaking the femur in his right leg. He was rushed to the hospital and underwent emergency surgery to repair the break. Unfortunately, he ended up being in and out of the hospital several more times for additional surgeries and to treat a MRSA infection he contracted along the way. Each hospitalization was followed by weeks in rehab facilities. Ultimately, it took until October of 2013 for him to literally get back on his feet.     
   This accident and extended recovery had two detrimental effects on my parent's financial lives. The first was, thousands of dollars in medical bills not covered by Dad's Medicare. The second was, Dad lost the part time job that he had which helped to supplement their limited income from Social Security. They now found themselves back in that deep financial hole.
        Not only did their financial troubles return, but the whole ten month ordeal had taken a tremendous toll on Mom's physical and emotional health. She wasn't feeling well for several months and then in December of 2013, SHE was rushed to the Emergency Room, where the doctors discovered that she had internal bleeding from a raging infection. They had no choice but to perform immediate surgery to save her life. Now MOM had to face weeks of hospitalization and subsequent medical rehab.
        The fact that my parent's didn't have any family living nearby, and the fact that their financial situation didn't allow them to pay for any In Home Care, Dad was home alone, despite the fact that he wasn't fully recovered from his accident. Mom didn't return home until the end of January 2014.
This brings us to today. Here we are two and a half years since this terrible nightmare began. Fortunately, with time and God's grace, both Dad & Mom are doing better. They are both progressing nicely. I'd have to say their Physical Health is good. Unfortunately, I can't say the same for their Financial Health.
Mom's illness created more medical bills not covered by her Medicare, they were added on to the bills still out there from Dad. Plus, it's now been over a year that Dad hasn't been working and that additional income is sorely missed.
And they still have that monthly payment to the Bankruptcy trustee. With all this, they are desperately trying to make ends meet, having only their Social Security checks to live on.
With each passing month it's become harder and harder to pay their bills, even skipping important payments, like their Mortgage, which create more issues. Often, by the end of the month, they don't have enough money for food. And of course, there's always those major unexpected expenses that have devastated their lives.
Since this ordeal began, I have spent every day and every sleepless night, trying to come up with ways to help my Parents. I have contacted every government agency and program that supposedly supports the elderly, but was unable to get any help there. My siblings and I find ourselves in the unfortunate position of being in "The Sandwich Generation", stuck between raising our children and helping to support our parents.  We have been able to help Mom & Dad, sending money or gift cards  and on rare occasions coming to visit at which time we will take them shopping. We have even been able to pay for a short period of In-Home-Care. But even as a team, we can't support our families and support them too,
their monthly expenses are just
overwhelming for us all.
We can't move them to an Assisted Living facility because they can't afford to live there. We can't even sell their house and/or their car because it is tied up in the Bankruptcy. It would seem that we are all "stuck between a rock and a hard place".
        Then I noticed stories all over the media, about a way that individuals can raise money for those in need. It's called "CrowdFunding". There are companies that help you do this. One such company is GoFundMe.com. That is why we are here.
Many of you know me or know my family.  Many of you knew about Dad & Mom's medical problems when they occurred. During those times we asked for your prayers and positive thoughts to help them through their problems. We are eternally grateful for all the support you gave us at that time.
I realize that this kind of support is a little more difficult to give. I know that so many of you have your own issues that require your full attention. That is why we are going this route.
Every little bit will help and if enough people can contribute a little bit, hopefully we can meet Mom & Dad's needs.
So to everyone out there who receives this request, to those who have known my family, individually or as a group, either for many years or for a short time. And to everyone who has elderly family members who fight everyday to make it through. But above all, to everyone who loves their parents, grandparents or great-grandparents, whether they are still in your lives or have passed on. Please do what you can to help our Mom & Dad, our Grandma & Grandpa and our Great-Grandma & Great-Grandpa, to survive. To make it possible for them to live and enjoy the rest of their lives.
ON BEHALF OF MY ENTIRE FAMILY, I'D LIKE TO THANK EACH AND EVERY ONE OF YOU FOR ANY AND ALL ASSISTANCE YOU CAN PROVIDE.

Organizer
#1 fundraising platform

More people start fundraisers on GoFundMe than on any other platform. Learn more

GoFundMe Guarantee

In the rare case something isn't right, we will work with you to determine if misuse occurred. Learn more

Expert advice, 24/7

Contact us with your questions and we'll answer, day or night. Learn more