Owen's story is both heartbreaking and inspiring. Despite the struggles he has faced in his young life, he is a beacon of joy and laughter, and touches the heart of every person who is privelaged to meet him.
Owen and his family live in Labrador City, NL. At just 19 weeks pregnant on their second baby, Owen's family found out they were having a little boy! A couple of days later they were told to rush out to the Janeway in St. John's for further tests because it looked like his brain wasn't developing properly. After more testing it was determined he was going to be born with Spina Bifida (a type of birth defect called a neural tube defect. It occurs when the bones of the spine (vertebrae) don't form properly around part of the baby's spinal cord) and Hydrocephalus (accumulation of fluid on the brain)
Owen came 3 weeks early via c section and had to have his first surgery at 16 hours old to repair and close his spinal cord and remain in the NICU for 2 weeks.
He and his family stayed close to the Janeway away from home for 3 months following Owens birth just to make sure there were no complications and for further testing and follow up appointments. January 21, 2016 they returned to Lab City after getting the all clear that Owen was doing great. After just one month Owen was air lifted back to the St. John's Janeway for Owen to have a shunt placed in his head for his hydrocephalus.
The family and their precious baby boy stayed for 3 more weeks, and flew back to Labrador City yet again with the hopes that they were done for now; this was not the case, as Owens shunt had clogged up and they were air lifted out AGAIN to replace his shunt. Everything seemed to be going well, however the incision on his head was not healing so they had to cut him open again on May 10 to see what was happening only to find out the shunt tube was lodged against his abdominal wall and wasn't draining. After being released again, 48 hours later they were back in the Janeway emergency with what looked like an infected incision, but a further look at the report from his surgery 6 days before showed he had an infection in his cerebrospinal fluid and had to be admitted to have his shunt externalized and high dose antibiotics(surgery 3 on May 16). What usually is supposed to be 7-10 days ended up being 4 weeks externalized and a 4th surgery to move the shunt in between that 4 weeks. Finally, they were able to internalize his shunt on June 8 (5th surgery). Three hours after returning from the OR he was rushed down again because a severe hematoma on his head where the shunt was placed (surgery 6). Owen was released from the hospital on June 15 and has been doing absolutely amazing ever since.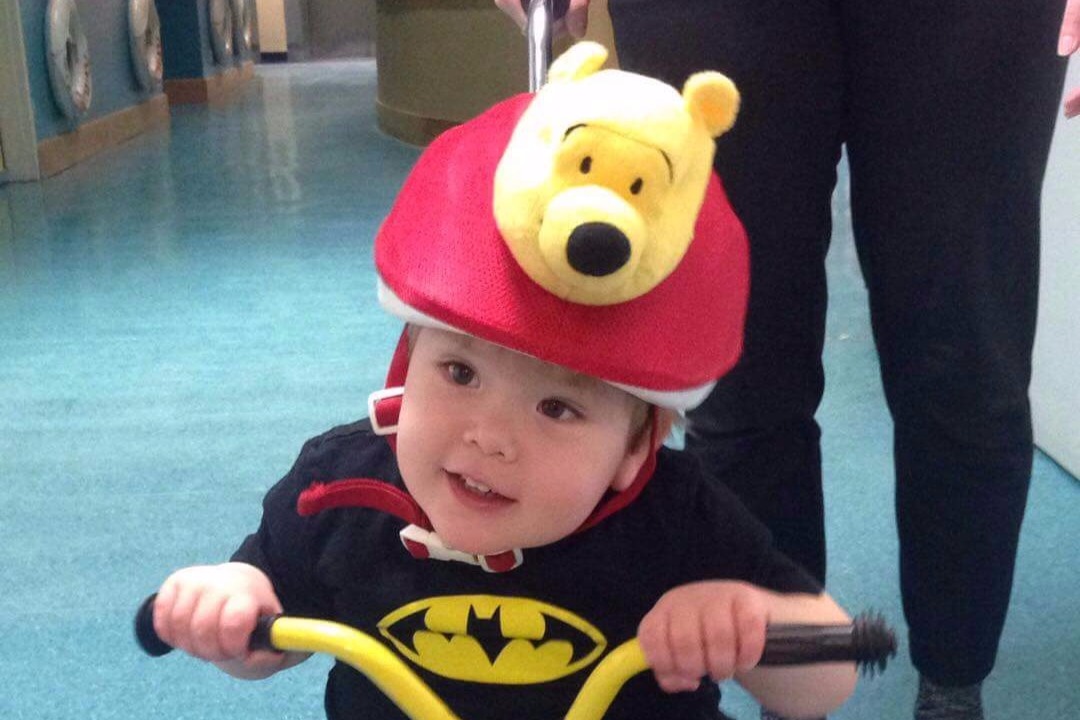 The location on the where Owens SB is located affects his legs from the thigh area downward causing him to have some sensation loss as well as a lot of weakness so he cannot walk...yet. With the help of afo's (braces) and physio therapy he is learning to bear weight on his legs.
Owen and his family travel to the Janeway twice a year for specialist checkups as well as a 2 week day patient stay where he does physio twice a day as well as speech and occupational therapy almost daily. At his current stay his "team" feel he is ready and he's excited to gain some independence with the help of a wheel chair and have started the steps to get one ordered.
Owen and his family have already been through so much, and we would like to help them raise money to ease the financial burden. Our target goal will cover the cost of his wheelchair and some minor modifications that the family will require to make their house accessible.

Organizer
Holly Hill 
Organizer
Labrador City, NL