Eng Version:
----------------
A Home in the Jungle
A Home in the Jungle is a project to help our neighbor Shiju to build a simple, but strong house for his family.  
What to do if you live in a dilapidated jungle hut with a family of five with South India's infamous monsoon coming up? And what if your roof was leaking and you were in no position to even pay for a proper roof, let alone a new house? This may sound like a reason to despair, but not for our neighbor. Without having any savings to fall back on and making just enough to feed his family, he started hacking out rocks from the cliff beside his hut with a pick-axe and began building the foundations for his new house, with optimism and solid faith that somehow their needs would be met.
Meet Shiju, his wife Sreena, their two bouncy boys Alan and Aron who catch crabs in the jungle and climb cashew trees, and little Anaya, the queen of the house, who loves to dance and pick flowers. This wonderful family from a remote valley in the mountains of Southern India lives a life of happiness and joy.
'But, wait, weren't they a struggling family living in lacking conditions?'
Yes, to western standards, they are indeed. They barely make a few thousand dollars per year and live in a crumbling home without electricity. Yet, their lives are abundant in simplicity, ease and joy, and they give freely from their resources, not worried about whether or not there will be enough for next month or next year. Every night Shiju sings local hymns to his children before bedtime, he optimistically builds his home one stone at a time, and reassures his neighbors during the lockdown, saying: 'don't worry, there's enough rice and chili for months out here, so we'll be just fine.'
We, their neighbors, are a small group of people from all over the world who chose this quiet mountain village as our home. We would like to offer our help to Shiju, and we want to contact our communities, families and friends in the West to ask for a small donation to help Shiju purchase the materials needed to build his home before next year's monsoon hits.
Shiju and his family would be able to live in an adequate and well-built house for many years to come and would be grateful to all their Western friends for receiving the same help they are used to giving to others.
----------------------------------------------------------------------------------------
Ita Version:
--------------
Una casa nella giungla
 'Una casa nella giungla' è un progetto per aiutare il nostro vicino Shiju a costruire una casa semplice ma robusta per la sua famiglia.
 Cosa faresti se tu vivessi in una capanna fatiscente nella giungla con una famiglia di cinque persone e con il famigerato monsone del sud dell'India in arrivo?  E se il tuo tetto perdesse e tu non fossi in grado di ripararlo adeguatamente, figuriamoci poi avere una nuova casa?  Questo potrebbe essere motivo di disperazione, ma non è così per il nostro vicino Shiju.  Senza avere risparmi su cui contare e guadagnando solo il necessario per sfamare la sua famiglia, Shiju ha iniziato a rompere rocce dal dirupo accanto alla sua capanna con un piccone per costruire le fondamenta dell sua nuova casa, con ottimismo e grande fiducia che in qualche modo i suoi bisogni sarebbero stati soddisfatti.
Vieni ad aiutare il nostro vicino Shiju, sua moglie Sreena, i loro due ragazzi Alan (9) e Aron (5) che catturano i granchi nella giungla e si arrampicano sugli alberi di anacardi e la piccola Anaya (2), la regina della casa, che ama ballare  e raccogliere i fiori.  Questa meravigliosa famiglia di una remota valle tra le montagne dell'India meridionale vive una vita di gioia e serenità.  
"Ma non erano una famiglia in difficoltà che viveva in condizioni sfavorevoli?", potresti chiedere.
 Sì, per gli standard occidentali lo sono davvero.  Guadagnano a malapena qualche migliaio di dollari all'anno, vivono in una casa fatiscente senza elettricità dove durante il monsone tutto diventa buio, umido e ammuffito per settimane.  
Ma questa è anche la storia di un uomo modesto con un cuore grande e genuino che vive la sua vita in semplicità, facilità e gioia e dà generosamente quello che possiede agli altri, non preoccupato se ce ne sarà abbastanza per lui il prossimo mese o il prossimo anno.  Shiju vive allegramente insieme ai suoi figli e costruisce con ottimismo la sua casa, una pietra alla volta, rassicurando i suoi vicini durante il lockdown e dicendo: 'non preoccupatevi, c'è abbastanza riso e peperoncino per  mesi prossimi, quindi staremo bene '.
 Noi, i loro vicini, siamo un piccolo gruppo di persone provenienti da tutto il mondo che hanno scelto questo tranquillo villaggio di montagna come casa propria. Vorremmo offrire il nostro aiuto a Shiju e desideriamo contattare la nostra famiglia, i nostri amici e le nostre comunità in Occidente per chiedere una piccola donazione per aiutare Shiju ad acquistare i materiali di costruzione necessari per realizzare la sua casa, prima del successivo monsone.
 Shiju e la sua famiglia riuscirebbero così  a vivere in una casa adeguata e ben costruita per molti anni a venire e ringrazieranno tutti quanti i loro amici occidentali per aver ricevuto lo stesso aiuto che loro sono abituati a dare agli altri.
Legend / Legenda
Photo/Foto 1: The house - La casa
Photo/Foto 2: Bedroom - Camera da letto
Photo/Foto 3: Living room - Soggiorno
Photo/Foto 4: Bathroom - Bagno
Photo/Foto 5: Kitchen - Cucina
Photo/Foto 6: Rooftop - Tetto
Photo/Foto 7: Children with dog - Figli con il cane
Photo/Foto 8: Shiju - The Family man -Â Padre di famiglia
Photo/Foto 9: All Family - Tutta la Famiglia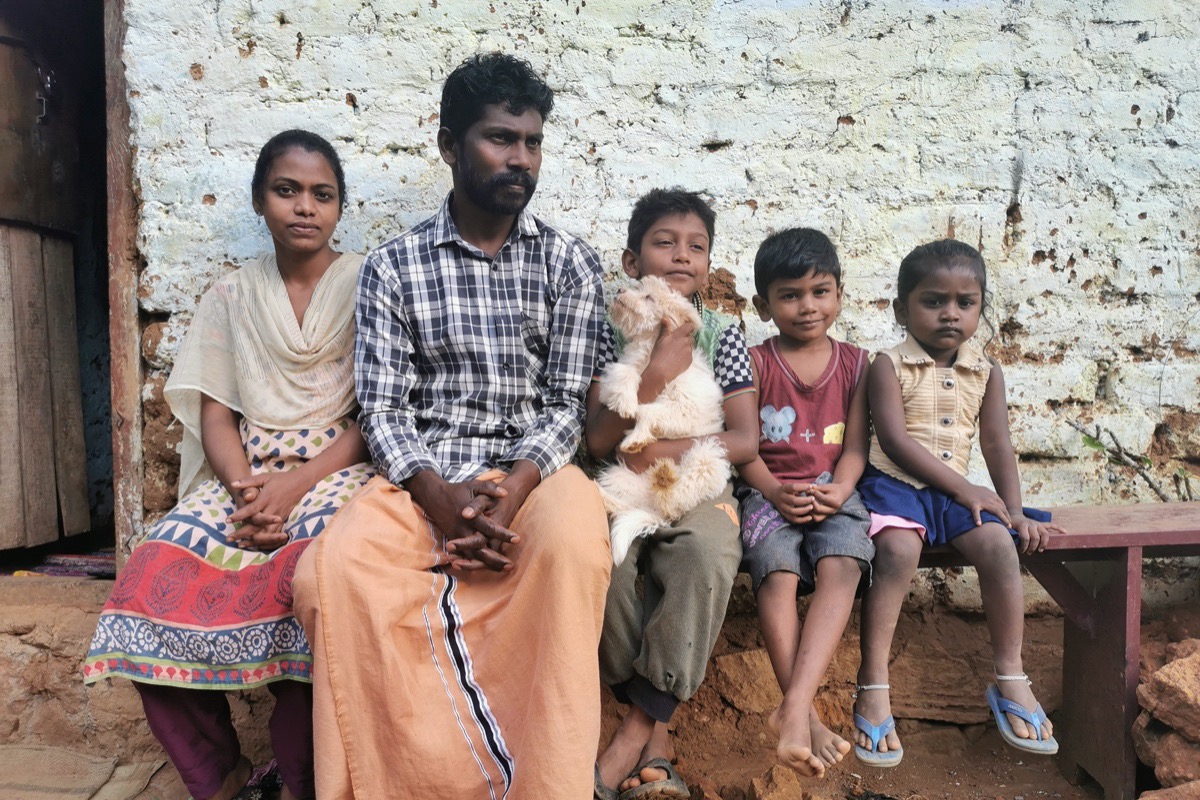 Organizer
Organizzato da Giovanni, Tieme, Will 
Organizer
Torino, PM, Italy
#1 fundraising platform

People have raised more money on GoFundMe than anywhere else. Learn more

GoFundMe Guarantee

In the rare case that something isn't right, we will refund your donation. Learn more

Expert advice, 24/7

Contact us with your questions and we'll answer, day or night. Learn more