Help my family & friends in Ecuador
Hello everyone!
This is Veronica Condemi (also known as Veronica Acosta Santos prior to getting married). I live in Calgary city, province of Alberta in Canada. 

Being born and raised in Manta city in the province of Manabi in Ecuador
, on April 16th I was completely shocked and devastated when I heard the news about my home town Manta city and  the province of Manabi being hit by a powerful and destroyful 7.8 Earthquake.
This tragedy left a few of my relatives and closest family friends homeless.
My  uncle Isaac Santos and his family of 4 are now homeless; the building were they used to lived collapsed and it had to be completely demolished.
 My uncle's apartment was built on top of his mother in law Ramona Vera's home whom also lost everything plus she is a vidow.  Maria Vera and her family of 5 used to lived on the third floor of the house and they lost their apartment as well. These families own two puppies who thankfully also survived the earthquake (Conan/male and Linda Luna/female).
My reason to start this fundraising is because, unfortunately in Ecuador, many people can not afford buying home insurance as was my uncle's case plus Ecuador is normally free of natural disasters and nobody ever expected to loose their homes and belongings to an Earthquake of this magnitude and my uncle and his family are very hard working, honest and humble people who truly deserve and need the relief right now and as the year 2016 progresses.
The money raised will be used to help these three families  to cover basic expenses as such as  groceries, clothing, medicines and school expenses for their girls while getting settled after such terrible experience. However after passing all the risks after the Earthquake my uncle, his wife and the rest of the working adults of the family were able to go back to work but they have to start from scratch  and to rebuild a new home for all of them while also trying to overcome the main trauma during the Earthquake.
My goal is to raise money in Canadian dollars and convert it into US dollars with 100% of the profits going to these three families in need
( there are  fees deducted/8% by gofundme.com / wepay.com  for their services in order for me to receive the money you donate; this is my first time doing a campaign throuhg gofundme.com and I just want you to know how things work,
I will do my best to update the info as needed).
I will personally make sure  that the money raised goes to these families in need throuhg bank transfers or through Western Union, plus I will cover the transfer fees. Even thouhg my goal is to raise $10,000.00 american dollars;
any money donated will be highly appreciated and used towards supporting these 3 wonderful families in need.The money will be divided as follows $ 3,000.00 for my uncle and his family; $ 3,000.00 for his sister in law and her family and $ 4,000.00 for their mother/grandma since she is an elder and a widow.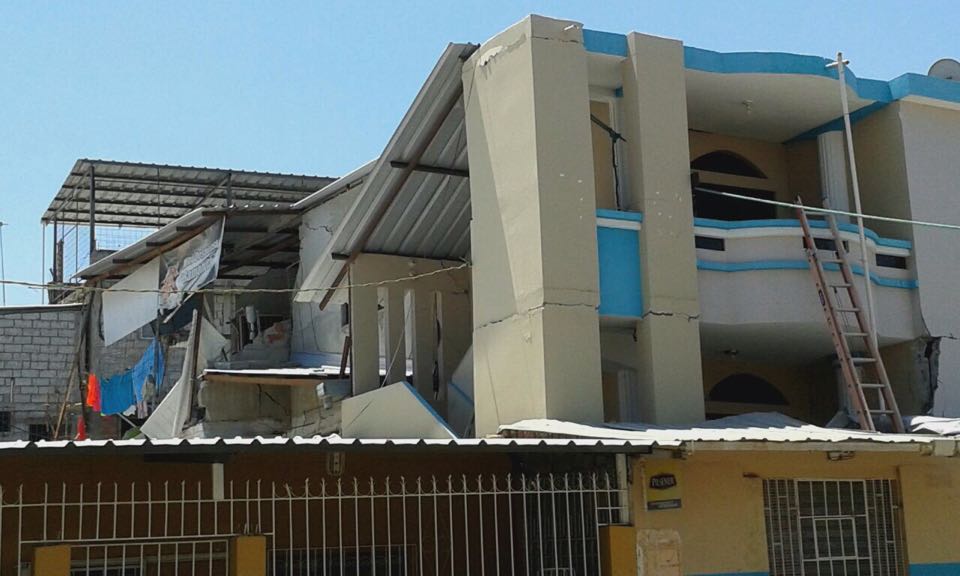 As you can see the main floor of the house dissapeared completely as it collapsed bringing down the second and thirds floors; the walls from the sides and back of their homes fell off as well.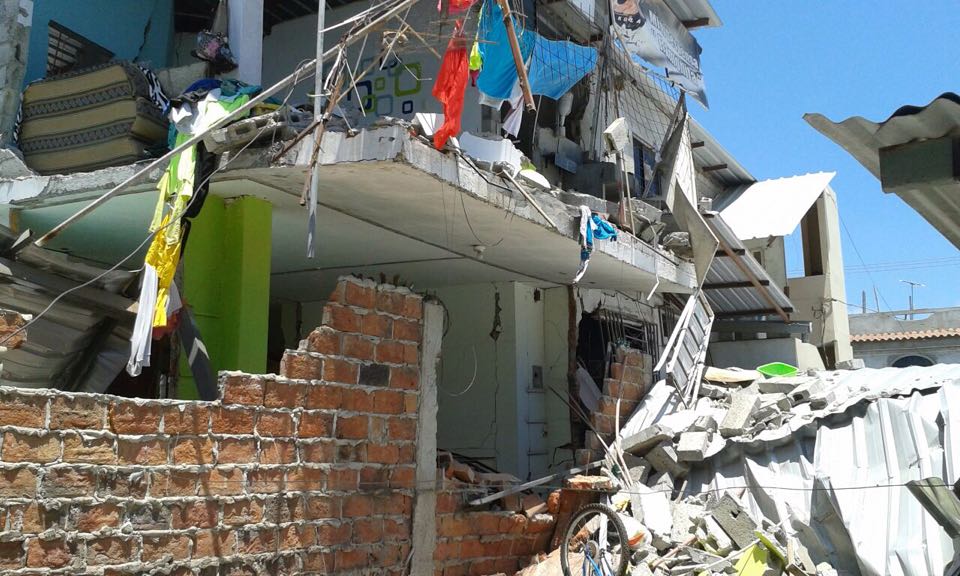 This is the back of the house where you can clearly see part of  the damage and loses they suffered.
This is how their homes looked before the Earthquake; that was the result of a family life time of humble and honest work . The main floor was located behind the fence/bars. Each level was a home for each family/3 levels in total; the flags belonged to a local soccer team since all of them share love and passion for their family and sports.
It will mean so much to me and the rest of our families your contribution to help these three families to somehow go back on their feet. Their homes are now gone and it is unclear whether or not the goverment will finantially help them and they are living out the generosity of family members in Ecuador whom are providing them with temporary shelters and food.


Sincerely yours,
*Veronica Condemi (also known as Veronica Acosta Santos prior to getting married)
*I am from Manta city, Ecuador but I have been living in Calgary city in Canada since 2008.
*My goal is to raise money to support my relatives and closest family friends affected by the Earthquake in Ecuador.

Organizer
#1 fundraising platform

More people start fundraisers on GoFundMe than on any other platform. Learn more

GoFundMe Guarantee

In the rare case something isn't right, we will work with you to determine if misuse occurred. Learn more

Expert advice

Contact us with your questions and we'll answer, day or night. Learn more