We have come into a blessing of a lot of supplies for Standing Rock. We now need $ to rent a U-haul truck to get the items there ASAP. 
We have a volunteer able to drive the 22+ hours to Standing Rock to deliver these needed supplies and make sure they get into the hands of the medics and council. The truck rental and gas cost money. And we need the money now. The goal is to get this truck packed Thursday eve and on the road early Friday morning. We need to raise $3,030 in the next couple of days.
Please help if you can - any amount will help. 
Here is what happened...
This was the small good idea: put out a donation box at a yoga studio to suppourt Standing Rock medics and to help with winter for the protectors. We thought we would get a box or two of items being requested by the medics/camp.
So the call went out and what happened was pretty incredible.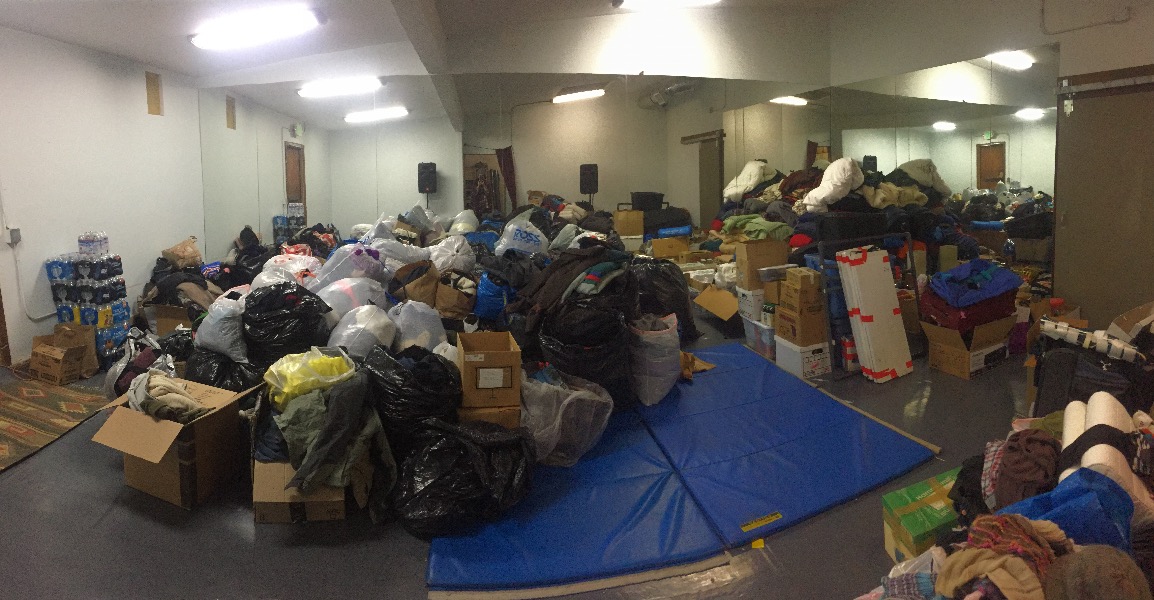 Within 6 days an entire yoga studio room was filled with supplies.  And then it spilled out into another room.    Those large plastic bins? We filled 2 bins of first aid materials and kits, 1 bin of cough drops, 1 bin of emergency blankets, hand/feet warmers & emergency C, one box of safety and ski goggles, masks + hard hats and a few more boxes of needed misc medical supplies.


Bags and bags of winter supplies have been sorted including thick winter jackets, sweaters, gloves, hats, thick socks, sleeping bags, blankets, fire wood, and sturdy boots. Needed infrastructure like multiple tarps, solar panels, and camping gear were gifted as well.

This is where you come in. Obviously we can't ship all of these supplies to Standing Rock and it's not as simple as handing a few boxes to someone already headed there to help.  Help us rent a truck and get it to Standing Rock!
What the  donation pays for:
We met our goal below & there is still room in truck - further donations will go to:
FIREWOOD - super important - the camp is low and the stores in the area are either not selling it or have run out
Propane tanks & outdoor heaters
Winter infrastructure
$1880 - one way trip of a 15' foot truck for a 6 day rental inclusive of a certain amount of mileage, truck insurance + a few packing boxes
$200 for mileage overage
$800 for gas
$75/night for 2 nights for a modest hotel for 2 drivers
$85 for a large cooler + 20 pounds of dry ice for a donation of 50 pounds of vegan food for the water protectors
 *any additional money collected will be given directly to the medics at Standing Rock
*venmo at photogibson is an option if easier
PLEASE DONATE IF YOU CAN!
Because gofundme is asking to state who I am & who is collecting this money - my name is Alexandra Gibson - just one of many people that cares and thinks that what the water protectors are doing is heroic and essential. The kind yoga studio that helped with this incredible collection is Kinship Yoga in Highland Park/Los Angeles. There have been a group of volunteers making this happen & a lot of love coming in from every donation. Thank you. Deep gratitude.
A special thanks to the yoga teacher Sam who had this simple idea and then coordinated everything when that idea blossomed into an outpouring of love/support for Standing Rock..... & thank you to the drivers that will personally see these supplies get into the right hands. And now - to you reading this - thank you for donating if you can.
We need your help to make this happen. Let's get the supplies and support to the protectors and medics. Being sent with so much love.