Casper The Friendly Mutt came into the world in late July 2015 on the rez in Montana. He was brought into a rescue as a mangey 10 week old puppy with a bellly full of worms. He was the dog I never knew that I wanted, after losing my last husky mix of 14 years, I swore that I would not have another one, yet I just happened to see a picture posted of this little piglet-looking puppy on facebook, and within a day, he was handed over to me to get treated for his mange and begin a life full of adventures. This dog has seen more of montana, and has had more adventures in his (almost) two years than most dogs have in a lifetime. He was active in backpacking, hiking, camping, fishing, kayaking, training and competing in agility, he had gotten his Canine good Citizen certification as a puppy as well. He was everything to me and more, his social network through
Casper's Facebook
and
Casper's Instagram
grew into a large community of dog-lovers who admired Capser as he grew into a beautiful young dog. This healthy, vibrant, amazing dog tragically was taken away too soon, just a week away from his second birthday. We had big plans to have him become a therapy dog, he never met a person he didn't love unconditionally. 
Casper was taken into work (I am a vet tech) last week with some odd symptoms, after a couple of days of monitoring, he was back to normal and came home. He was full of energy for a hike on Sunday, one of his favorite things in the world was fishing with us, we hiked 4.5 miles up to a mountain lake and fished the day away. He showed no indication of having any health problems, just a week earlier, he embarked on a backpacking trip with us over 26 miles on the Montana wilderness and loved every minute! Last night, he took a turn for the worse and we admited him to an ER clinic after he had been vomitting up water and acting lethargic. After more lab tests, it appeared that Casper was in acute kidney failure, he was kept overnight on IV fluids, and began to have seizures in the early morning. A week before, his lab work appeared fairly normal except for a few off values, the plan was to recheck a panel this week just to make sure. I took him down to the veterinary clinic that I work at this morning, the doctors tried everything in their power to  get his kidneys working again, but he simple could not produce any urine, his kidneys were damaged beyond repair. After having even more seizures, we decided to humanely let him go in the presence of those who loved him. He was on heavy pain killers and sedatives since last night, and did not feel any pain, but this was still the hardest decision of my life. If we had kept him going, his quality of life for the short time he would have had remaining would have been painful and he would not have been able to enjoy any of the activites that he loved, like digging up gopher holes, chasing butterflies, or climbing mountains.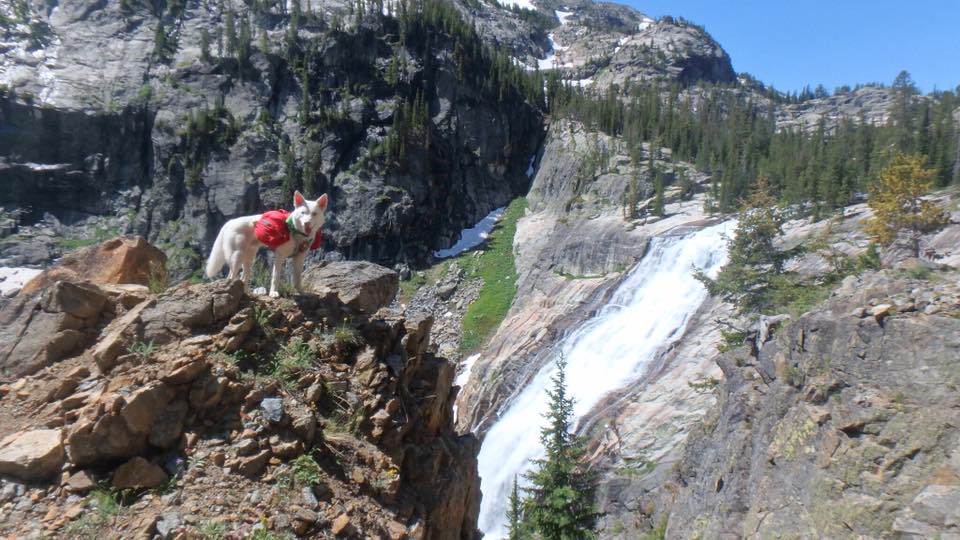 Even though  I do get discounted veterinary care through work, the ER visit at the after hours clinic set me back $1,000 for the night he spent there. On top of that, there will be fees for everything we tried at work along with his cremation service. Casper will still continue to be with me on all of my future hikes and his ashes will be spread slowly with every adventure. He leaves behind his dog brother, Vince, who will have a hard time with this loss, he and Capser, were best buds.
What I am hoping to do is offset the ER visit costs, and raise a little more to donate back to the rescue organizations that made it possible for me to have had the pleasure of being Casper's human for this short time. Any amount of donation is welcome toward continuing this Friendly Mutt's love for all of those who knew him, and for all of those who have been affected by his love.  We thank you all for your support and kindness in this difficult time. 
Run free, my tiny polar bear, thank you for being the perfect puppy that I never knew I wanted. Your life may have been short, but it was full of more love than imaginable. 

Organizer
Rhiannon Laird 
Organizer
Billings Metropolitan Area, MT