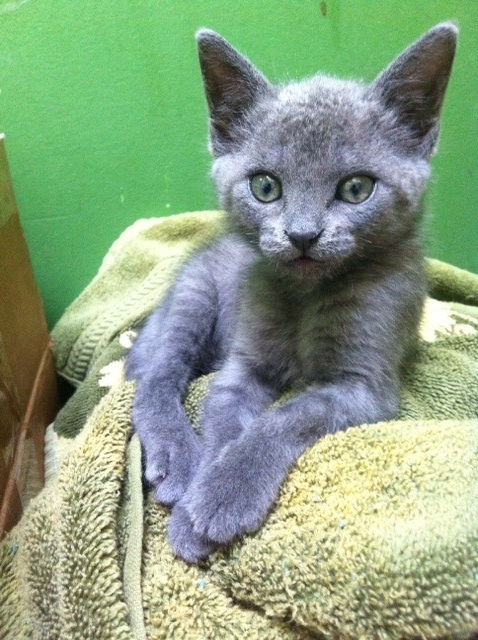 *Gofundme deemed her current condition to be too graphic for the cover photo so keep in mind that the photo with the red eyes and the video are photos of her actual condition. The other photos are to show you just how cute she is and why she's worth saving.
-THE BEAUTIFUL SOUL WHO CANNOT SEE MY SMILE:
I'd like to introduce you to my better half, my best friend, my room mate, & companion! Her name is Sidney. It's spelled with an 'i' so that she can put something cute in the dot's place of course. Sidney seems to be part Russian Blue. She's different than any cat I've ever met or had the pleasure of living with! She's got a super-fuzzy undercoat that you can rub any which way like a stuffed toy! She's more like a dog than a cat. She greets me at the door when I come home; she cuddles with me at night like a little doll, and she talks in "chirps". She wears little outfits and costumes and we even take baths together. Yeah, I know. Everybody loves their little animal children but Sidney's MY animal child! She accidentally fell into my life when I needed her most and became my little angel in disguise. I had just recently lost my job of ten years and was in a bad place. She brought a sense of joy to my life and even now, always brings me hope and laughs! All 5 1/2 pounds of her!
-A BRIEF HISTORY OF HOW MY LITTLE CUTE-ATTACK CAME TO BE:
Two years ago on the 15th of August this little blue furball of a creature was found in the wheel well of a car abandoned by her mother and riddled with fleas. I had to rescue this teeny thing as it would open it's mouth & nothing would come out because it was so weak. It turned out to be a she that was being eaten alive! It was an awful process but I managed to clean all of those nasty predators off of her with Dawn dish soap. She weighed in at a measly 9oz! She had an upper respiratory infection, tape worms, round worms, & then tape worms again! She lived in the bathtub for a month until we could cuddle properly! She was such a good girl though! She used her litter box from the second day and she only needed to drink from a bottle for a short time. Basically she recovered super fast and was a little whirlwind wonder!
-THE HORRIBLE HAPPENSTANCE:
On the 14th of August I had a normal night, came home to my bright little baby and I gave her a bath and clipped her nails. Everything was fine. She slept under my covers that night while she dried off and was just super cute all around!
The next morning I got up, saw her tucked in a little cubby and said bye to her. When I came home at around 3 in the morning with a new toy for her birthday she wasn't right there to greet me at the door with kisses and purrs like she usually is. When she showed up something was off. I then saw her eyes! To my horror there was blood in her eyes and I soon realized she was blind! She didn't even respond to her present! I had no idea what to do. Within the next few hours I took her to VSEC the new emergency vet center in South Philadelphia. They looked her over and kept her until the next day. She was dehydrated and anemic. She had blood work done and an ultrasound, among other tests. She had no hypertension, no kidney problems, and no lymphosarcoma. I took her home with antibiotics and steroids over $1000 later.
The next day when I woke up Sidney's eyes were bright blood red. It was horrifying so I took her in to the University of Penn. They looked her over and wanted to keep her for blood transfusions but wanted to charge upwards of $3500! She went for an appointment with the ophthalmologist. She gave me an eye ointment because there are adhesions in her eyes. She said that her blood was a little bit better but she needs more tests to see if she has some sort of virus or cancer in her bone marrow. Apparently there's no evidence that her bone marrow is producing more platelets. It's inexplicable! Her eyes are still blind but her appetite is huge! In fact, she's getting a little chubby so I have hope that she can live a long life. (I've been feeding her meats and things that are high in iron.) The doctor wants me to become friendly with the internist and get a sample of Sidney's bone marrow to test. Even if I can't figure out what's wrong with Sidney I can at the very least figure out what's happening in her body so that I can treat it.
-THE MISSION TO SAVE A BEAUTIFUL LIFE:
I know this a long-winded explanation of what's happening. I'm definitely not the master of being concise but I tried to paint you a picture of what's going on and why Sidney is so worth it! Basically she's my baby and I can't love without this bright ray of sunshine in my life! The blindness is unfortunately, most likely, irreversible but she can adapt
easily being a cat. I just need to make sure that I can fix whatever the underlying problem is. The doctor has surmised that what needs to be done is estimated to be $1[phone redacted]. I still owe on the other bills because I had to borrow money and she may end up needing a blood transfusion which costs a grand. (This is a bit less than what the University of Penn was charging but still more than I can afford.) I have already spent $1400 and do not know where to turn. I have two jobs but it's barely enough to pay the bills as it is. I hate to put a price on my baby's head but I do not know what to do and this is where you come in. Anything you can do will be greatly appreciated! I, unfortunately, cannot do this on my own. Please help in any way that you can! At the very least, say a prayer for my daughter Sidney and keep her in your heart! She needs all the help she can get! She's only two and has her whole life ahead of her! Thank you so much!!! XO
*Keep in mind that this site also charges 5% and I am still buying meds and need to take her in for visits as well. Each specialist visit is $200. Her profile pic is no exaggeration either. It's very frightening and I'm hoping to help my little daughter get better or at least gain some insight as to what could be wrong.
Loridee & Sidney 
philadelphia, pennsylvania
*I noticed that it says 5 months and that this page was created in March. I am not the most technologically savvy being out there I admit. I tried to create a gofundme page a while back for something stupid that never came to fruition.
When I made the Sidney page, I just edited that old page not knowing how to make a new one. This is why it seems as if I started it in March. She just turned 2 and this problem started on August 14, 2014. This is why I'm trying to act fast to stop whatever is happening inside her poor little mechanics. 
 Thank you so much!





Organizer
#1 fundraising platform

More people start fundraisers on GoFundMe than on any other platform. Learn more

GoFundMe Guarantee

In the rare case something isn't right, we will work with you to determine if misuse occurred. Learn more

Expert advice, 24/7

Contact us with your questions and we'll answer, day or night. Learn more