Maxillary and Mandibular Reconstructive Surgery
THE BREATH OF LIFE
Our beautiful daughter Soncia McBride, was born with a congenital condition, which caused her throat and jaw to be underdeveloped.  This makes breathing, chewing and swallowing very difficult for Soncia.  But she has always been a determined little girl and has had miracles that gave her the ability to overcome many of the obstacles that she has had to face.
When she was just a couple months old, complications from her condition nearly took her from us.  She was rushed to the emergency room and I held her limp body in my arms as the doctors worked to save her life. Just after this, the doctors told us that she would probably never talk and most likely never walk or run.  But Soncia has defied everyone's expectations and grown into a beautiful, talented and caring young woman.  She is now attending college and hopes one day to become a landscape architect, a wife and a mother.
But her serious health challenges have persisted and make even simple tasks an enormous effort.  Her constricted windpipe makes it very hard to breathe, which limits her physical activities and makes sleeping difficult and even dangerous.  Eating enough food to stay healthy and keep her energy up are also a struggle. The lack of oxygen inhibits her concentration.
However, there is a solution which has a remarkable success rate, especially for unique circumstances like Soncia's.  Since Soncia is still in her youth, it is essential that she receives an extensive throat and jaw surgery now while doctors can still reverse and correct her condition.  We have been denied coverage by our insurance company over and over for this surgery.  We have tried every avenue that we can think of, and have spent years and thousands of dollars to prepare for and gain access to this life-altering surgery.
So now we are turning to you for help.  We need to raise $29,000 for the medical expenses.
A specialist in reconstructive oral surgery will perform an extensive operation where a cross-section of her upper jaw will be completely removed. They will then re-attach the pieces of her upper jaw.  This will allow space for the lower jaw to extend and swing forward, opening the windpipe.  They will cut into both sides of the lower jaw and add extension plates and screws which will extend the lower jaw forward.  This will bring the entire jaw structure into proper alignment, thus allowing her to breathe, chew, and swallow normally.  (See the picture below.)  She will also need rehabilitation therapy as well as other therapies for complete healing.
We are deeply touched and greatly appreciate all the support given so far, but we are far short of our need, and time is short.  Soncia is scheduled to have this surgery in May, 2019.  We are not sure how everything will work out, but we have seen many miracles on her behalf, and are praying for a few more.
Please help bring this miracle to Soncia.
Normal
Soncia's is abnormal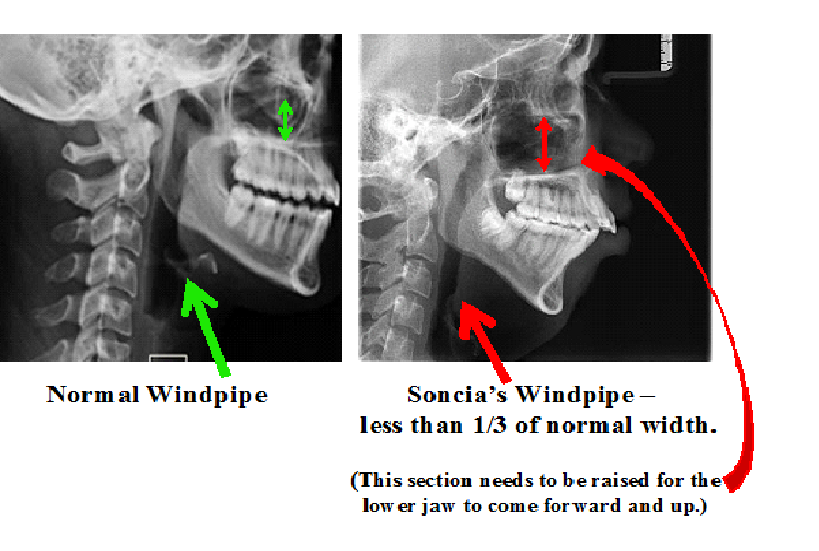 Organizer and beneficiary
Kris McBride
Organizer
Emmett, ID