Help Create An Organic Movement
Taaru Askan Intern at the Farmer's Market
WHO WE ARE
Taaru Askan is a 3-hectare organic farm and non-profit association that is located along Senegal's Petite Cote. While we are best known for the large variety of fresh greens that we sell at local markets and through our CSA, we also grow a diverse variety of organic vegetables and fruit trees and work to reintroduce tree species that protect and restore the region's biodiversity. In addition to our commercial farming activities, Taaru Askan is also an instructional farm that is dedicated to growing Senegal's organic farming movement by supporting local farmers, with a focus on youth and women.
Check out our webpage: www.taaruaskan.com


Staff and interns at the Farm

 MISSION STATEMENT
In Wolof -a language predominantly spoken in Senegal- Taaru means beauty and Askan means community.  We believe our mission is to beautify (enhance) the environment that we inhabit, bring together a community around the themes of preservation of our bio-diversity, and promote sustainable farming practices throughout Senegal. 

 WHAT WE DO
As a model instructional farm, Taaru Askan works to:

Volunteers and staff

Safeguard and restore biodiversity in Senegal by farming a variety of vegetables and re-introducing native fruit and medicinal trees that have been disappearing from Senegalese landscapes.
Collaborate with educators and local, national, and international partners to develop standards for growing organic crops and marketing organic produce grown in Senegal.

Build a community of farmers, consumers, researchers, and volunteers that promote organic farming methods and sustainable economic development. 
Lead a study abroad program that facilitates dynamic cultural exchanges and new partnerships for the next generation of actors in the worldwide organic movement.

OUR STORY
We bought the land in 2010. It was bush, scattered Baobab and Accia trees ~  in large part just stubs.

Our dreams started small. Enclose the 3 hectares and protect the trees. Establish a water source and a small livable structure where we could escape for the weekend, away from the pollution of Dakar.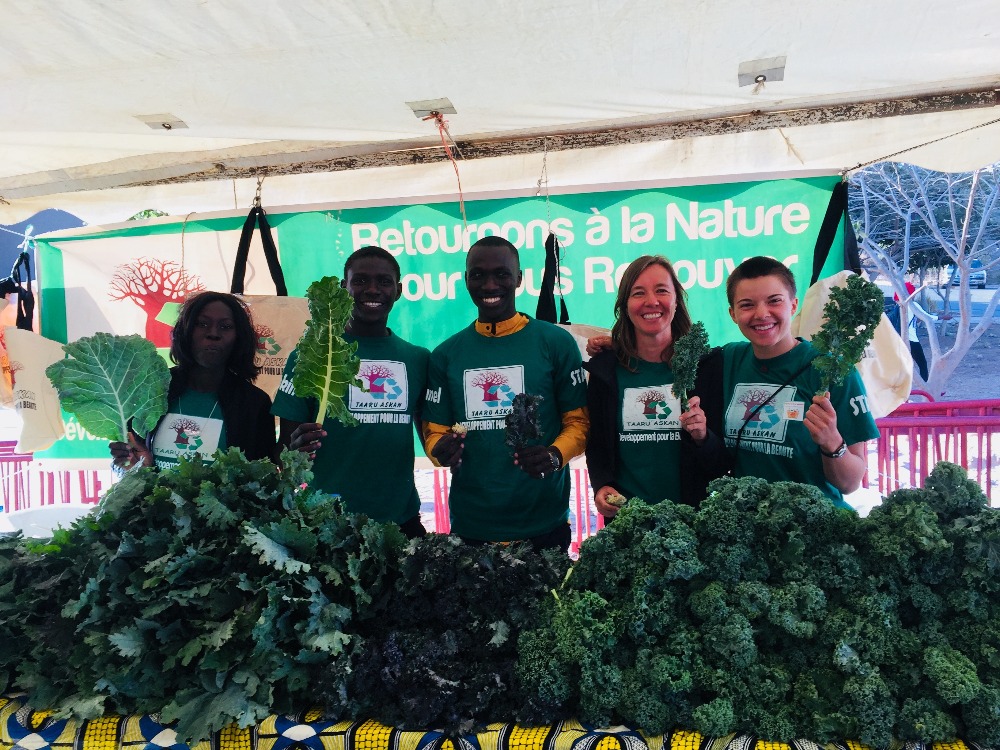 Taaru Askan at the Dakar's Farmers Market

The first year we slept in a tent under the stars with our dreams growing larger and larger. The peacefulness and the wildness lulled us to sleep each night. Under the light of the stars, intense in their luminosity our plans began to form.  A few trees were cut, the rest left to regenerate. Water was the greatest challenge. 3 wells dug and just a sparse amount of water percolated.  After digging the third well labored by hand piece by piece to 23 meters and no liquid gold that we desperately needed; we decided we would have to invest big. Without a consistent supply of water, nothing we planted could survive. A bore hole was drilled. At 97 meters deep, this new well extended below the water table and sweet water came out. The newly planted fruit trees flourished upward to the sun and our small vegetable garden produced luscious greens. Our philosophy: for every tree we cut down, we plant 3 fruit trees; mostly traditional fruits that Mamadou knew as a child growing up on the Petite Cote in Senegal that have been lost to that area. 

Collecting firewood
As we became more and more aware of the amount of chemicals being utilized on the vegetable crops in Senegal, we were determined to make our vegetable garden succeed.  A visiting friend from Arizona State University shared with us how farmers were using and applying pesticides. Farmers argued that insects had become resistant, which increasingly led them to mix 3 to 4 different types of insecticides together to repel the pests. Our friend also explained that farmers often harvest the crops just days after spraying. Word about these practices was also getting out to the public through the media and by mouth. People wanted organic and before long the monthly Dakar Organic Farmer's Market was created by a young Senegalese-American medical student. The first Saturday of each month, we started selling our vegetables that could not be found in Senegal or only at the luxury super markets at twice to three times the price, imported from France. And these vegetables are produced by conventional and large farming means thus no one knew how much pesticide residue remains.

Our Curly Kale
We sold kale, Rainbow swiss chard, fennel, bok choy, broccoli, collard greens and traditional fruits (many which had disappeared from the region) and started to make a name for our Farm.

We are building a network of supporters for our venture. Would you be a part of our organic movement? Share in the dream to create an eco-farming training and cultural exchange center to promote sustainable agricultural and ecological practices in Senegal and beyond. 

Below is a 5-minute video that we produced of our Farm in Senegal.  As you can see we are having a tremendous success and are ready to go to the next level.
www.youtube.com/watch?v=hJkTjOV1WF0

For that we need help purchasing a greenhouse at a cost of 5,000 USD and three ~ 20 foot containers to house students and our volunteers. The containers are converted into sleeping space for up to three people.  The total cost of this purchase and renovation to dormitories is 18,000 USD

If you are able to help with acquiring a greenhouse or our lodging needs, in part or in whole, ~ we would be grateful for whatever you may be able to provide and being part of our movement. 

Thank you and sincerely. 

Nicole Dewing & Mamadou Sarr
Become the first supporter
Your donation matters
See all
Organizer