Suzanne's Chemotherapy Fund
Suzanne's Story


I had just gotten out of hospital after an ongoing battle with a chronic mental health condition. It was a difficult time in my life, and I was relatively new to Sydney, with very few friends and family nearby. I needed something to wake up for, something to think about other than myself, something to live and fight for. That's when I started volunteering with a local cat rescue organisation. And through this, I soon met Suzanne and her brother, Oliver.
They were two scrawny, scruffy little black cats with giant, terrified eyes, wary and untrusting of humans. I sat down in the quarantine room with them and learned their story.
Suzanne and Oliver had been rescued from an extreme cat hoarding situation in an outer Sydney suburb. They were found along with over 250 other cats in severely overcrowded and filthy cages. Many of the cats were so malnourished and/or sick that they didn't survive the rescue. Suzanne and Oliver were found starving and sickly in a small cage with a couple of other cats, one of which had passed away due to the extreme conditions. The remaining cats in the cage, malnourished, desperate, and starving, had been forced to eat their dead companion. Needless to say, these cats were traumatised and terrified of human contact. It was an easy decision to make. I decided to adopt both of them.


Both Suzanne and Oliver were in terrible condition when I took them home; malnourished and riddled with ringworm. Oliver hid under my bed for days, too scared to come out unless I gently coaxed him and offered him food, and Suzanne would sit by the window, silently staring out at the street for hours each day. She would cower and hiss if someone she didn't know came too close. It took a lot of hard work and perserverence to gain their trust and show them that they were safe and loved in this strange new environment, but it was one of the most rewarding journeys I've ever experienced, and as they healed, I did too. After a routine vet check, I found out that they had both tested positive for Feline Immunodeficiency Virus (FIV). FIV is very similar to HIV, both in the ways that it can be contracted, and the effects it has on the body. I understood at the time that this could mean Suzanne and Oliver could live shorter lives than healthy cats would, and would need ongoing special care, but by this point I had fallen in love with them, and they had put their trust in me. 
The bond that Suzanne and Oliver had with one another was something only they could understand. A brother and sister who had endured a horrific trauma, and had known nothing outside of that. I was amazed every day with how well they'd adjusted to their new life; full of curiosity, joy, and bravery. While both cats settled into their first and only forever home, discovered life outside of a cramped, filthy cage, and learned how to trust humans, I continued to make sure they were happy and healthy. Suzanne put weight on, her coat became shiny and smooth, but Oliver just wasn't thriving. After months of trial and error, the vets still couldn't seem to get on top of his condition, and he continued to lose weight and fur. One day, I woke up and saw Oliver struggling to walk. I called the vet immediately and they took him away. I received a call a few hours later informing me that Oliver had gone in for emergency surgery due to a secondary infection and had passed away on the operating table. He could not be revived. 
I was shattered. I still am. But I still had Suzanne.
Suzanne was visibly distressed over the loss of her brother, but with a lot of love and care, she continued to grow into herself and thrive. Later down the track, I adopted two more rescue cats - Manfred and Hesher. To this day, the three of them are like peas in a pod. Although each of them have their own troubled past, individual special needs, and have had to move around a lot with me, they've lead lives full of happiness and love.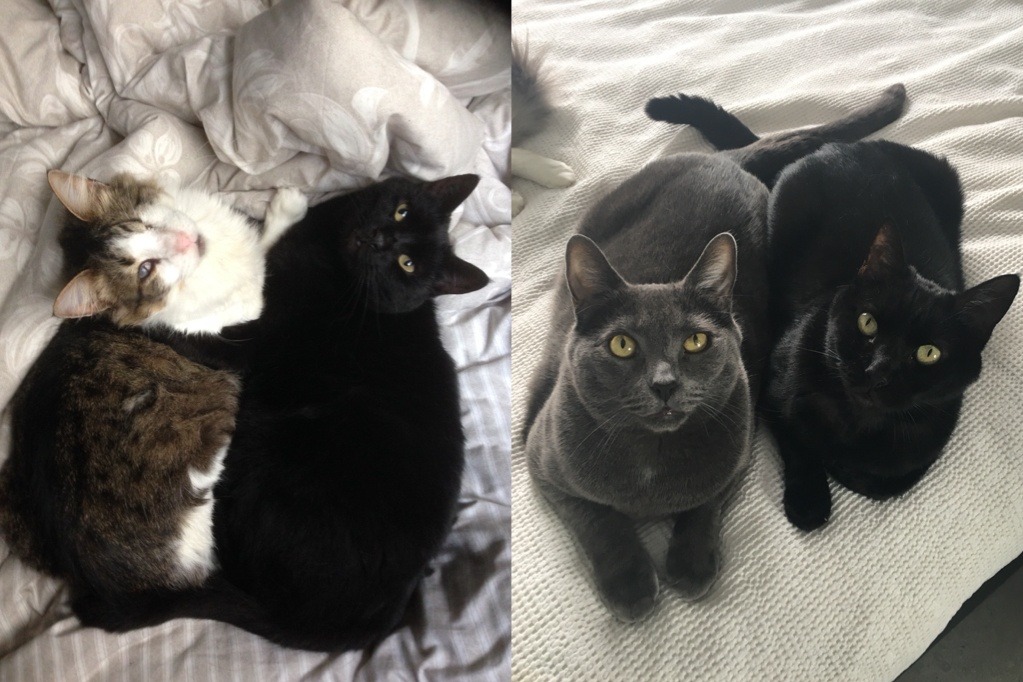 Suzanne is very much her own person. She's an independent take-no-shit type of girl, and nothing phases her. You can take her anywhere, do anything; she will take absolutely anything in her stride like it's no big deal. She's the coolest person I know. While she's a little too cool to play like some cats do, she's never too cool to steal a warm lap or cuddle up in bed under the blankets at night. She's even known to partake in the occasional zoomie when she thinks no one is looking, and has been known to pop up sitting proudly in random high places, like the top of the shower door, or the fridge. One of my favourite things about Suzanne is her conversational skills. She is the most talkative cat I've ever known; she will happily banter back and forth until the cows come home. She's bright, cool, sassy, chatty, and affectionate, and I love her with every piece of my being. I see her brother in her every day and it makes me so happy. Suzanne has been a real life angel to me over the years throughout my ongoing battle with chronic mental illness. She has always been a reason to keep fighting. 







Suzanne's Diagnosis 
Recently, Suzanne began to vomit daily. At first we thought it was just a seasonal hairball problem, but when the hairballs stopped, we reassessed. After running some tests and having them come back clear of anything obvious, our vet told us to try changing her diet. That failed too. It was when Suzanne started visibly losing weight and had become quiet and flat that I knew something was terribly wrong. She had dropped around 300 grams in a matter of days and she hadn't said a word in that time. She was not herself.
I knew she was very sick, but also stoic, so I insisted that her situation was thoroughly looked at by her vets. She went in for a CT scan and had a specialist assess the results. The news was bad; feline lymphoma. It had affected her stomach and her kidneys. The only thing to do next was to find out how advanced the cancer was. Suzanne went in for a small needle aspiration (a biopsy)  under an ultrasound, and her results were, once again, sent off to be assessed.
On Friday, we got the worst possible news. Suzanne has been diagnosed with large cell lymphoma. It is an aggressive and incurable cancer. Without chemotherapy, she won't have long. Her only chance of remission is through chemotherapy. We have been told by her vet that chemotherapy for cats these days is not as horrible as it is for humans; it's a slow, low dosage process with fewer nasty side effects. If Suzanne can undergo this treatment, the quality and duration of her life may be improved, and remission may be achieved. While she likely won't live longer than a couple of years with this diagnosis, she is only 6 years old, she still loves her life, and she deserves a chance. 
We are currently managing Suzanne's symptoms with daily anti-emetics to stop her from vomiting, extra food to keep her weight up, occasionally including her favourite treat - soy chicken (don't worry, she gets plenty of real meat, this just happens to be her favourite treat), and of course, lots and lots of love.
So far throughout this short journey, we have racked up over $5000 in vet bills, and the chemotherapy is going to cost around $10,000 for a period of 6-9 months. I understand that, to a lot of people, this is probably madness, but to me, it's worth it. I have and always will do whatever I can to give her the chance she deserves. 
Suzanne isn't ready to leave us yet, I know she isn't.





How you can help
I have had a few friends reach out and suggest creating this fund for her, and I've been hesitant out of fear of the backlash and judgment, so please be kind and keep any negative opinions to yourself. This is a difficult time for me and I need to stay positive and proactive. Please keep in mind that she is a special needs rescue cat, and had I not adopted her, the shelter she lived in would have had to raise the funds for her treatments in the same way. I always have and always will prioritise my cats over all; Manfred is also FIV+ and over the past couple of years alone, their vet care has cost around $12,000. Due to their chronic and serious preexisting conditions, I have never been approved for pet insurance, and have had to rely on making sure I have a savings fund for the cats for times like these. Unfortunately I have exhausted those funds already, and while I will continue to do all that I can to cover the costs myslf, some help would be so appreciated. 
Please keep in mind that crowdfunding is designed to share a financial load across a large group of people, so if you can only afford to donate $1, it's still worth it; if everyone who reads her story who is able to donate just $1 does so, her treatment will be covered. Every donation counts.
Please share Suzanne's story. If you are happy and able to donate anything at all, it would mean the world to me and would give Suzanne a chance at fighting this.
Thank you. x


Organizer
#1 fundraising platform

More people start fundraisers on GoFundMe than on any other platform. Learn more

GoFundMe Guarantee

In the rare case something isn't right, we will work with you to determine if misuse occurred. Learn more

Expert advice, 24/7

Contact us with your questions and we'll answer, day or night. Learn more