Social Prophet Ventures: building capacity and co-creating sustainable solutions in low resource communities.


Our Mission:
We are passionate about increasing access to health and wellness services for underserved populations. As a global community, we have a responsibility not only to ensure access to health for the most vulnerable, but to also guarantee local sustainability of any health care initiative. 

Why we need your help:
Your donations will allow us to travel to Africa this summer to build upon previous work. We have been invited back to work with a local NGO in the villages of the Ekumfi district, Central Region of Ghana to use our experience and expertise to build capacity through experiential learning and co-create with local populations to develop sustainable solutions. One of the  organizations we will be working with is Helpers Ghana Foundation.


We will be working throughout June and July 2015 to develop educational resources for the local communities in a plethora of professional areas including:
-public health (building latrines, water harvesting)
-medicine (CHPs zones, clinics, and with CHWs)
-clean water supply
-microfinance (small business loans)
-social entrepreneurship

Incentive for donations:
All earrings are hand crafted and are made from recycled bottle caps from Ghanaian beverages.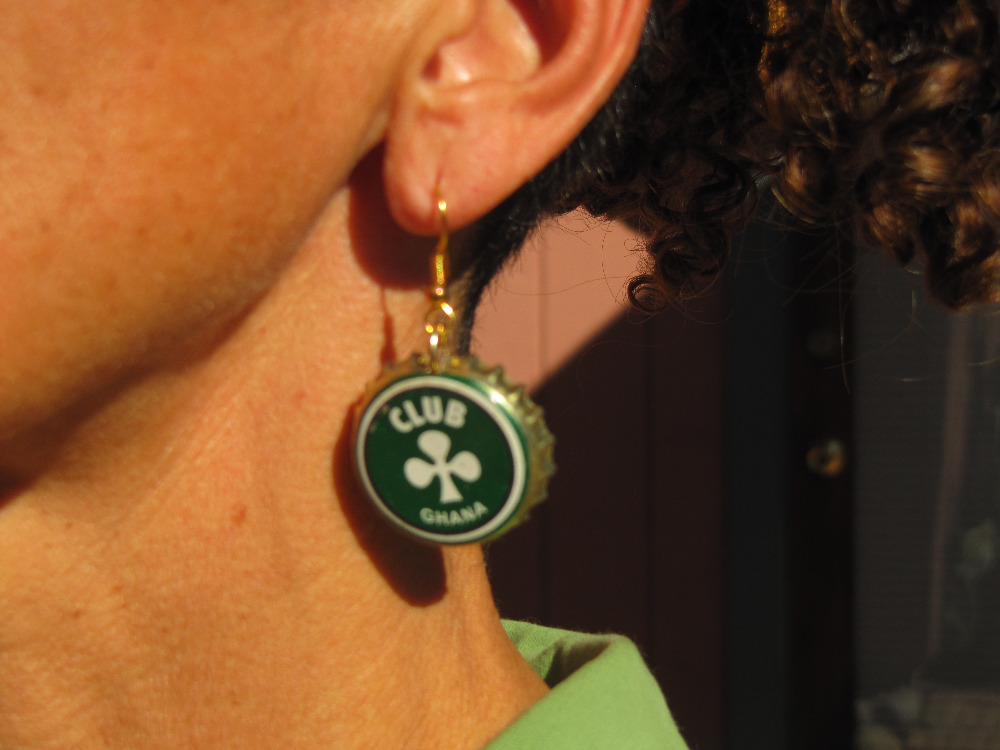 $25- Pair of hand-crafted bottle cap earrings. (21 available)
$50- 2 pair of hand-crafted bottle cap earrings. (6 available)
$75- 3 pair of hand-crafted bottle cap earrings. (10 available)
$100- 4 pair of hand-crafted bottle cap earrings. (1 available)
$125- 5 pair of hand-crafted bottle cap earrings. (1 available)
$150- 6 pair of hand-crafted bottle cap earrings. (1 available)
*updates on number of gifts left will be posted on our campaign website.


Who we are:
Deanna has worked in Central America and Africa  focusing on sustainable develoment and capacity building in low-resource areas.  She has educated community members, local staff and international university students to increase their skills and knowledge in areas such as medicine, public health and workforce development. She draws upon frameworks such as asset mapping which relies on available and accessible resources, therefore decreasing the reliance on external  resources.

Deanna's experience and education include:
-physician's assistant for the past eleven years
-Doctor of Public Health student with emphasis in  Maternal and ChildHealth
-Master's of Business Administration
-20 years of teaching experience in higher education
-Volunteered and consulted for International NGO's in Central America and Africa
-founder of grass roots non-profit for mobilizing healthcare.  http://www.dequenesh.org/
https://www.facebook.com/pages/Dequenesh-Community-Clinic/184795674902802
-founder of Foward Moving Concepts
forwardmovingconcepts.com
https://www.facebook.com/forwardmovingconcepts

Emily has worked in Afghanistan and Africa as a medical technician to care for patients in pop-up clinics.
Emily's experience and education include:
-medical technician for 6 years
-Associates Degree in Allied Health
-Bachelor's of Science in Public Health
-Work with Government Orgs and NGOs to aid in providing and sustaining healthcare





Thank you for visiting our webpage and telling your friends about our visionary work.


Organizer