**An Autism Service Dog for Bradley**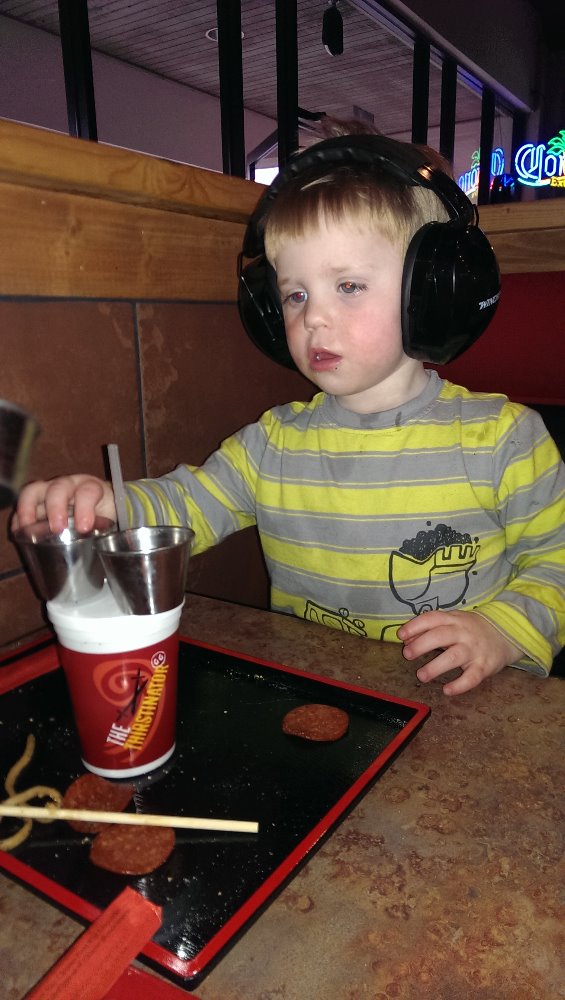 Autism Service Dog:
Another Piece Closer to Completing Bradley's Puzzle

 My 3 (almost 4) year old son is my little hero, he appears completely normal if you happen to glance over during a good moment….what people don't understand is that he is fighting an invisible disability known as Autism, along with a Mood Disorder and Sensory Processing Disorder.

Bradley was diagnosed at 14 months after several other tests and therapies and immediately began early intervention and additional therapies. By the time he was 16 months old he was in 40+ hours a week of therapies. Behavioral, ABA, Speech, Occupational, Physical, and Developmental therapies, that is also not counting the countless doctor appointments. He has been through a lot and it has been beyond difficult to watch my baby boy struggle with so many of the smaller things in his life and strive so hard to make so many steps forward just to slip back and regress. However it has been absolutely AMAZING to watch him make progress that even doctors told me in the beginning that he'd never make; we are thankful beyond belief for the small things that so many people take for granted. He still has several daily struggles in his life.

 Bradley is verbal (speaking on a early 2 year old level) and even speaks in full sentences…until he gets anxious, angry, hurt, or overly tired, then he loses all ways of communication; even pointing. For instance if I'm not standing right over his shoulder and see him stomp his toe on something he instantly goes into a huge meltdown screaming, throwing things, and possibly even head banging or scratching/hitting and biting himself. Could you imagine having to watch your own son participate in self-injurious behaviors knowing there is nothing you can do but wait on him to calm down and that anything you, as his parent, the one person in the world that should be able to HELP, attempts to do will make it completely worse and make his violence, anger, and anxiety sky rocket??

Bradley gets overstimulated extremely easily and starts becoming  more and more wild as things quickly begin to escalate out of control because he doesn't know how to calm himself down.  It is very unpredictable leaving us confused most of the time.  He can be perfectly happy and enjoying himself then in less than a minute be in a full blown meltdown.  I never know how things are going to go, I may plan something that I think he may really enjoy and we end up having to leave because he is having such a difficult time with things; you literally just never know how life is going to go from moment to moment or what to expect.  Loud noises, extreme smells, new people, new environments, social situations, restaurants, even playing overstimulates him and are just such difficult tasks for Bradley to accomplish.  Another thing that makes life more difficult for Bradley is his EXTREME rigidity, over pretty much everything.  His bed has to be the exact same every night or he meltdowns, we have to sit in the same spot in restaurants or he melts down, his food has to be in the same spot on his plate every time or he melts down, just naming a very few.

Routines are not just routines for Bradley, they are rituals that HAVE to be followed exactly the same way or he feels like his world is falling apart!  He has a beautiful 6 year old sister and she has had to miss out on a lot and handle a lot because of her brother's daily struggles. She has taken it bravely, yet yearns to be able to participate in more activities in her life as well. Bradley can be very violent (throwing things repetitively, hitting, kicking, biting, screaming, etc.) not only to himself but to others as well. Another danger that worries me about Bradley is that he darts away and doesn't always respond to his name or directions; he has almost been run over twice in parking lots.

 I have been researching for a year now after one of Bradley's doctors and a therapist brought this idea to my attention about all the ways an Autism Service Dog could help Bradley! The number one reason I began to seriously give this thought despite the significant costs associated was because animals have always had an unbelievable calming effect on Bradley.  When Bradley gets in certain moods he doesn't want to be looked at or hear voices...even if it is mine; yet he turns to animals every chance he can get.  Despite the animal (guinea pigs, horses, dogs, cats, donkey) he seems to be able to click with them immediately and drift happily off into his own world.  He needs this kind of companionship in an animal that can accompany him out in public and in social situations....which are pretty much his most difficult struggles.

 When out in public the dog becomes Bradley's security blanket in some ways so that he can focus on the dog instead of the lighting, noises, people, etcetera and help keep him from becoming so overstimulated, uncomfortable and anxiety ridden. If he happens to begin to get overstimuated or anxious the dog is trained to sense this and will instantly redirect him before it escalates.  These service dogs are trained to find Autistic children if they happen to disappear, Bradley will also be able to be tethered to the dog to keep him from darting and wandering, it will be trained to sense when Bradley is participating in the repetitive or self-injurious behaviors and nudge him with their nose to redirect him, the dogs learn in what stages of children's meltdowns that the child needs them or if they need to sit and wait until they begin to calm down. Having the service dog will hopefully keep Bradley's meltdowns from escalating to the severity that they do so often, which would be HUGE for our family!  Bradley very seldom ever sleeps through the night and it has been proven that these dogs can significantly help improve sleep patterns in children with Autism as well.  Those are just a few of the ways that this Autism Service Dog would be a dream come true to helping Bradley and this family overcome the struggles that accompany Autism.

 We need everyone's help in reaching our $9,900 pledge to Highland Canine Training, Inc.  (any additional funds raised will go to helping with the care of the service dog once it arrives) If you only have spare change everything adds up and our family will greatly appreciate every penny!  Even if you don't have money to donate please consider donating your help with fundraising ideas, your time helping with certain fundraisers, sharing this to everyone you know, and PRAYERS!  YOU will be helping to change Bradley's life and hopefully give him a chance at a happier.

The therapies have helped Bradley make strides I once worried that I'd never be able to see my son make!! I know in my heart that this Autism Service Dog would help him in the areas that he needs and help relieve some of his anger and anxieties!!! Every mom wants nothing more than to see her children happy and thriving…..those are my wishes for my little hero!!!
Milford Hills United Methodist Church 
Organizer
Mary Adkins Nobles 
Organizer
Winston-Salem, NC
#1 fundraising platform

More people start fundraisers on GoFundMe than on any other platform. Learn more

GoFundMe Guarantee

In the rare case something isn't right, we will work with you to determine if misuse occurred. Learn more

Expert advice

Contact us with your questions and we'll answer, day or night. Learn more