Send Teacher Jer to the USA
Jer is the dedicated English teacher to over 100 students from the low-income villages surrounding Luang Prabang, Laos.
Born into a large Hmong family of subsistance farmers in the Phonxay District of Laos, Jer had the opportunity to go to primary school as well as complete his Bachelor degree once moving to Luang Prabang with his family.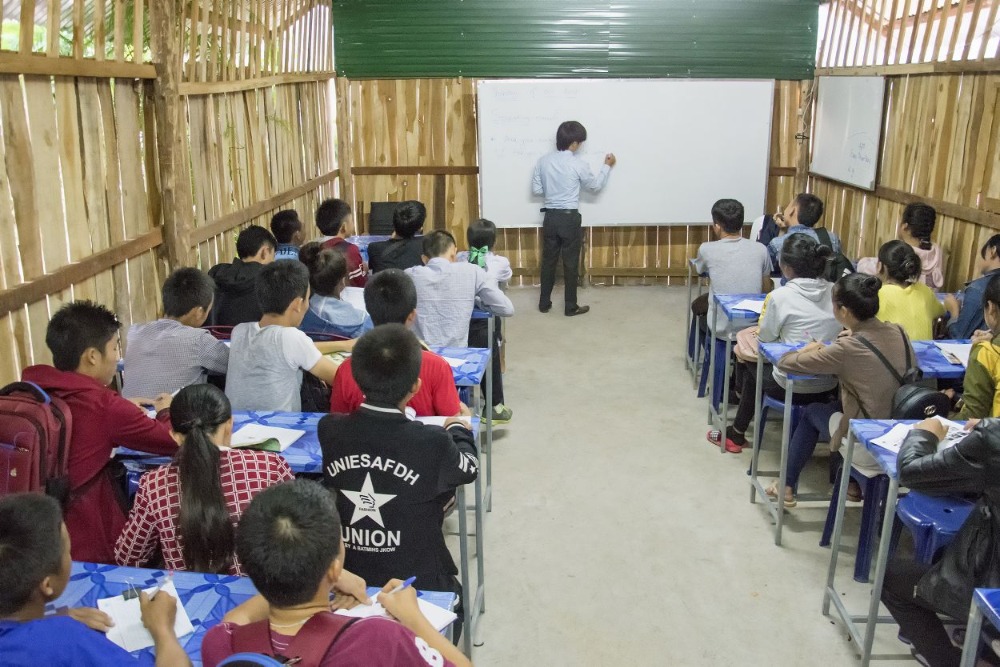 His journey with education led him to an opportunity in 2005 to begin studying the English language. Understanding the immense benefits of learning a language that would open new doors for him, he jumped at the chance. Although he came from a poor background and could not take institutionalized classes to learn English, he was determined to expand his skills in the language. He sought after opportunities to speak with tourists traveling though Luang Prabang, and after continuing this numerous times he was fortunate enough to meet an American English teacher who had started an organization that offered free English classes for poor students.
Today, Jer is the proud  teacher of Phoulek English School, the school that he saw come to fruition despite the financial challenges of his history and from being a recent college graduate. Without Jer's class, these students would not be able to afford English classes, and would likely return to subsistence farming as their families have for centuries before them. With the time Jer volunteers to teaching his students, he could be working in a well paid position in one of the various restaurants or guesthouses in Luang Prabang. Instead, he offers himself as a resource to others, so that they too can find
new opportunity
and feel
empowered
to create a new path.
What is most inspirational about Jer is his willingness to believe in something
bigger than himself
. His unwavering drive to offer these students from poor villages with low cost English lessons stemmed from his own upbringing as a poor villager who, with incredible determination and a little bit of luck, was able to get himself through college while learning the English language for himself. The ability to speak English can open doors to poor villagers like Jer's students, as restaurant and hotel jobs requiring the skill continue to rise in Luang Prabang as it becomes a booming travel destination.
So let's give back to someone who has already given so much of his time to giving the young people of his own community so many pathways to new opportunity! 
Our goal is to bring Jer to the USA.
Jer has never been outside of Laos, and has barely even been able to leave Luang Prabang. He has big dreams to visit the US where he can discover a new world unlike anything he has seen before, giving him an abundance of opportunity to practice his own English skills and perhaps even a chance to open doors for himself to study or work in the USA.
Unfortunately, Jer does not have nearly enough funds required to travel to the US. Without these funds, Jer likely won't be able to make this dream happen.
With our help, Jer can take his life changing trip to the USA, finally realizing his dreams!
With the funding to provide him an airline ticket to the US, Jer will be spending time practicing English and immersing himself in American culture in Portland, Oregon with two American friends. Then he will travel to Boston where he has connections that will help him apply to graduate school there!
If you are one of Jer's friends, you are sure to understand just how deserving he is of an opportunity like this. Someone with the kindness and compassion that Jer displays to his students deserves a path of his own to follow!
For more information about Jer's work, please visit
Laos Learns English
or
read more about Jer's story here
.
The monetary goal for this campaign reflects Jer's flight from Laos to the US and from Portland, Oregon to Boston, MA.   We need to reach our goal by July 2018, in hopes that Jer can return to the US along with two of his American friends after they visit Luang Prabang this summer.
Jer would be grateful for any help, because any little amount would make a huge difference! Please offer anything if you can, or share this campaign with your friends and let's send Jer to the USA!
Organizer
Tanya Zarling
Organizer
Portland, OR