Scott Anderson Family Memorial Fund
Fund to benefit wife and daughters surviving the passing of their loving husband and father.
On February 3, 2018, Scott Anderson passed away suddenly and unexpectedly. The outpouring of love and support to his wife Sonia and their three daughters, Jasmine (15), Ellie (13), and Gabby (8) shows how much he affected others. The immense love he had for Sonia and his girls was evident to everyone that met him and they know that his love is still with them. He will be sorely missed by all who knew him. 
When they were pregnant with their first daughter, Scott vowed to Sonia that she would be a strong, independent woman. Within ten years, when Scott and Sonia were raising three daughters, it was apparent that he had kept his vow to raise strong girls. He was proud of them and lovingly referred to them as his Warrior Princesses.
Scott was a stay-at-home dad for eight years, which allowed him to form a strong bond with his daughters. He adored his job and friends at the game store where he worked and at Raley's Supermarket where he also started working in the past year. Scott lived for gaming and at a very young age found that he enjoyed role playing games as well as console and table top games. That love can be seen in his family, and he would always joke about how he bred his very own gaming group. A common family night was playing D&D or a favorite table top game with his girls.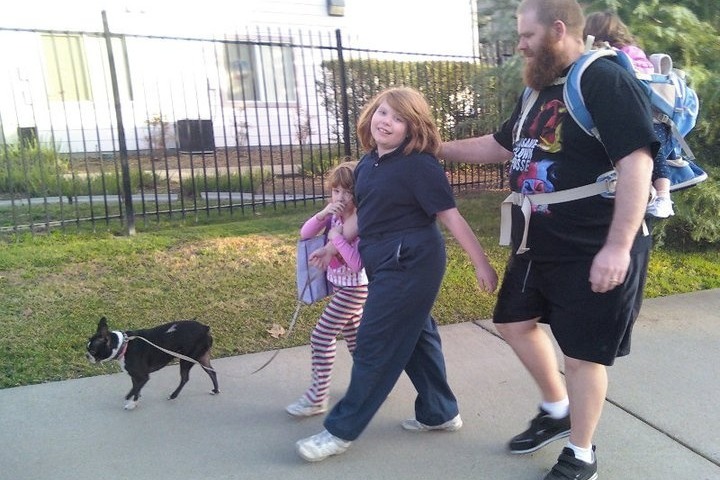 _____________________________________________________

This gofundme was created to help Scott's family during this extremely difficult and overwhelming time.
All donations will go directly to Scott's wife Sonia and their daughters to help with living expenses, counseling, and for the girls' future, health, education, and college. Scott's priority was caring and providing for his girls and the family relied on him for comfort and support. A donation of any size is greatly appreciated and will go a long way. 
Ways to donate:


1) You can donate directly through this gofundme,
2)  if you prefer, you may mail a check payable to 
Sonia Hidalgo Children Donations Savings Account
 to either: 
First Foundation Bank, 1601 Response Road, Suite 190 Sacramento, CA 95815
-or-
1787 Tribute Road, Suite K, Sacramento, CA 95815 c/o Sonia Hidalgo
_____________________________________________________
Sonia and the girls are so grateful for their family and friends, and would like to thank everyone for their outpour of love and support. They are so blessed to be surrounded by so many that loved Scott and his family and thank God for His blessing and protection.
Organizer and beneficiary