Ricky is 7 years old and has a very rare malignant cancer. Due to his life-threatening illness, Ricky was offered a wish through the MAKE-A-WISH FOUNDATION. Although I am the custodial parent and Ricky lives with me, it is the policy of the Make-A-Wish Foundation that both biological parents give consent for his wish to be granted. Unfortunately, his mom will not allow MAKE-A-WISH to fulfill Ricky's wish because his wish did not include her. This means that our son will not be able to get his wish trip with Make-A-Wish.

 I cannot speak for him, but can assure you his reasons are valid. Ricky was interviewed in private and wished to go to Atlantis with his father, stepmother, and his three sisters.  He loves sharks and waterslides, and at Atlantis there is a water slide that goes through a shark-filled aquarium that he was looking forward to experiencing. He also wanted to swim with real dolphins. He was so excited about this wish trip.
GOAL

At the urging of Ricky's family and friends who have been following his story all year and want to help his wish come true, we are setting a goal to raise $13,600.00 to cover all trip expenses and make Ricky's Wish a reality. We have partnered with a wonderful 501(c)(3) nonprofit organization called Heroes Bridge Inc, whose creator's motto is "Honor Your Dream, Live With Purpose." Heroes Bridge Inc has created a program specially for Ricky's Wish. Your donations will be tax-deductible. Additional donations over the actual cost of the trip, or if mom later decides to consent to Ricky's Make-A-Wish trip, will be happily donated to causes that increase childhood cancer awareness and support families of childhood cancer. Even if you aren't able to donate, please press the share button and tell your family and friends about our goal. And remember, your prayers and caring thoughts are always welcomed. 


RICKY

Ricky was diagnosed with a rare, malignant high-grade undifferentiated spindle cell sarcoma in March 2014. Generally speaking, he has a 50/50 chance of a 5-year survival. However, Ricky's tumor's size, location, and growth rate, suggest a poorer prognosis. He has been through a misdiagnosis, multiple biopsies, 13+ hours of surgery, followed by 3 months of walking around with a large, open leg wound after an allergic reaction to the adhesives used to cover the surgical incision caused bleeding blisters and the incision to rupture, multiple blood transfusions, 6 weeks of daily radiation from May-July 2014, more second degree burns from radiation, hospitalizations for fever, and is still undergoing chemotherapy which requires spending 3-4 days in the hospital every 3 weeks for daily chemo. To see him, you would never know it because Ricky has been an amazing fighter, battling through pain, vomiting, and fatigue to play with his little sisters, ride his mini-4-wheeler, play chase with me around the house, jump on the trampoline with his "JaJa", sit at the dinner table with all of us just so he can bless our food, and, most of all, having a trust in God that is so pure and rich that it has touched all of his supporters. His faith in God has not wavered. When he suffers from nausea, vomiting or severe heartburn in the hospital, he asks, "Daddy (or JaJa), can we pray?" We do, and he is better almost immediately. His faith is a joy to behold, and continues to inspire us everyday. 


He's such a strong, remarkable cancer warrior. We are absolutely proud of him and want nothing more than to get him to Atlantis. With your help, I know that we can do this. We are eternally indebted to you.


Thank you and God bless you.


Richard and Jacqueline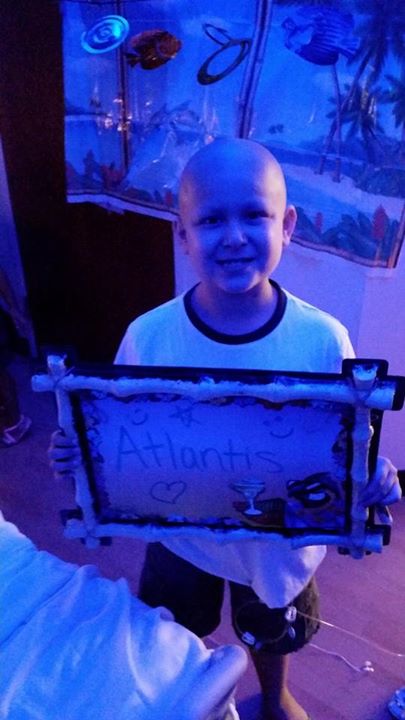 Organizer
Registered nonprofit
Donations are typically 100% tax deductible in the US.
Learn more
#1 fundraising platform

More people start fundraisers on GoFundMe than on any other platform. Learn more

Expert advice, 24/7

Contact us with your questions and we'll answer, day or night. Learn more