OK Corral Stays In The Saddle!
Hi Friends & Family, I am LoriAnn Tully Thompson and my passion is horses. I have a simple, home based, horse boarding facility located in Ridgeland, SC .
On July 18th, 2014, I unexpectedly lost the lease on 200 acres, a barn and a home.  I was in jepardy of losing my income; the horse boarding and hay sales, because I was losing my home.  The land owner wanted to reclaim his property for his personal use.
I moved into a tent on raw land without running water, electricity or a septic system, rather than let go of my dream. Here is my story.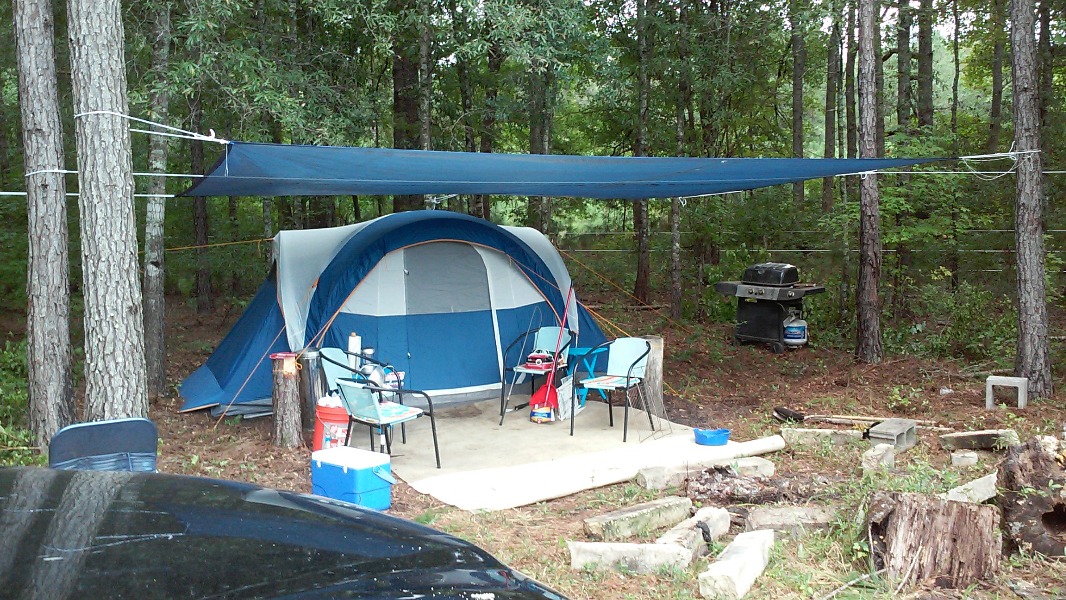 Happy Trails Ya'll,
LoriAnn
It is mid July and I have less than 90 days to find a place to go.  A place for not only myself and my animal friends; but also for the four legged friends who board with me.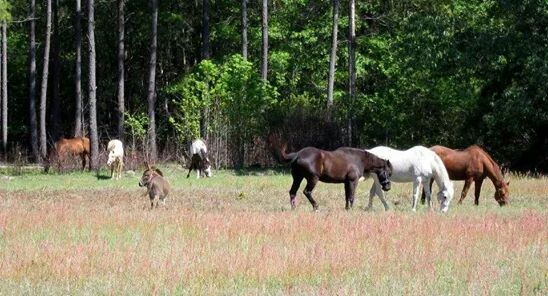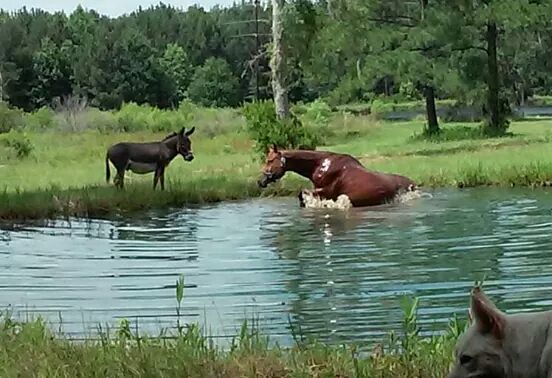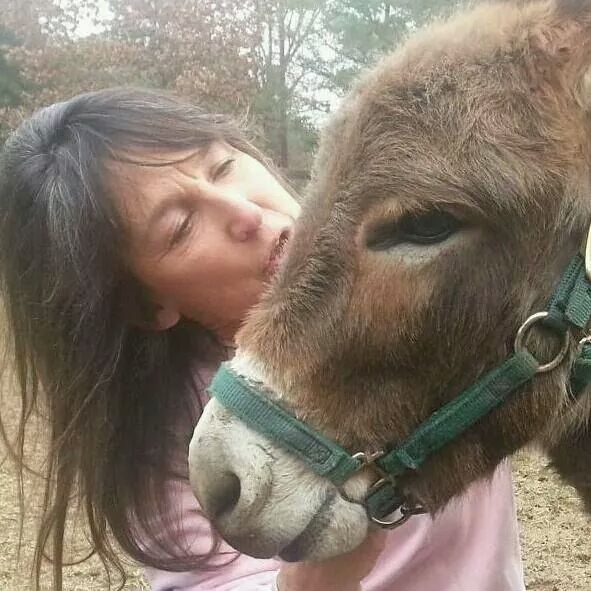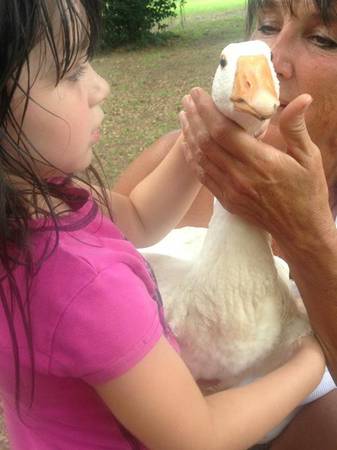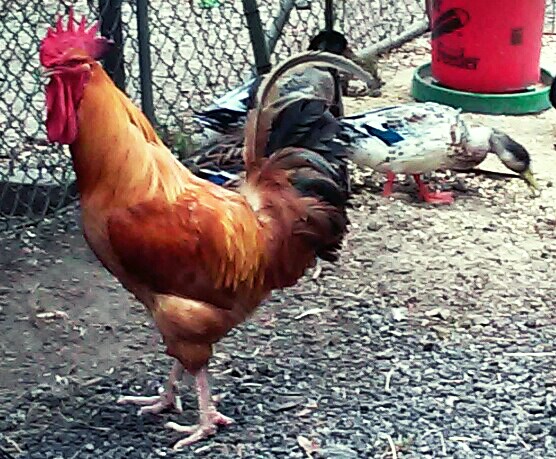 I start looking for options determined NOT to let go of my dream.  My needs are few.  I just want to live a simple life. A life surrounded by my horses, operating a small, self sustainable, farm while boarding horses.  One that has a rustic Old Wild West Feel to it.
I remember just 2 years ago my horses and  I were living in Washington State when I learned my Daddy had cancer.  I packed up and moved here to South Carolina WITH MY HORSES.  3000 miles and 8 days later I arrived.  I got to spend 4 months with my Daddy before he went home to be with the Lord and my first born daughter.  I will see them both again one day.  But in the meantime, I did not let go of my dream then and I will hold on now through this.
First things first.  I will need liquid assets to move.  I NEED $! So, I start selling my furniture and things.  "I don't need all this STUFF", I say to myself.  Soon I realize, it isn't going to be enough.  I HAVE to downsize on my farm animal friends too.  I am so angry tears well up, "I know he just wants back his land to take my idea and pour his cash into it for himself!", I burst out.  Then I feel bad for my accusation and dry my tears.
I start selling my leasing and teaching program horses, my mini donkey, ducks, chickens, and a rescued horse to prepare for the upcoming expense of starting over. "Please God let me keep my personal horses", I pray.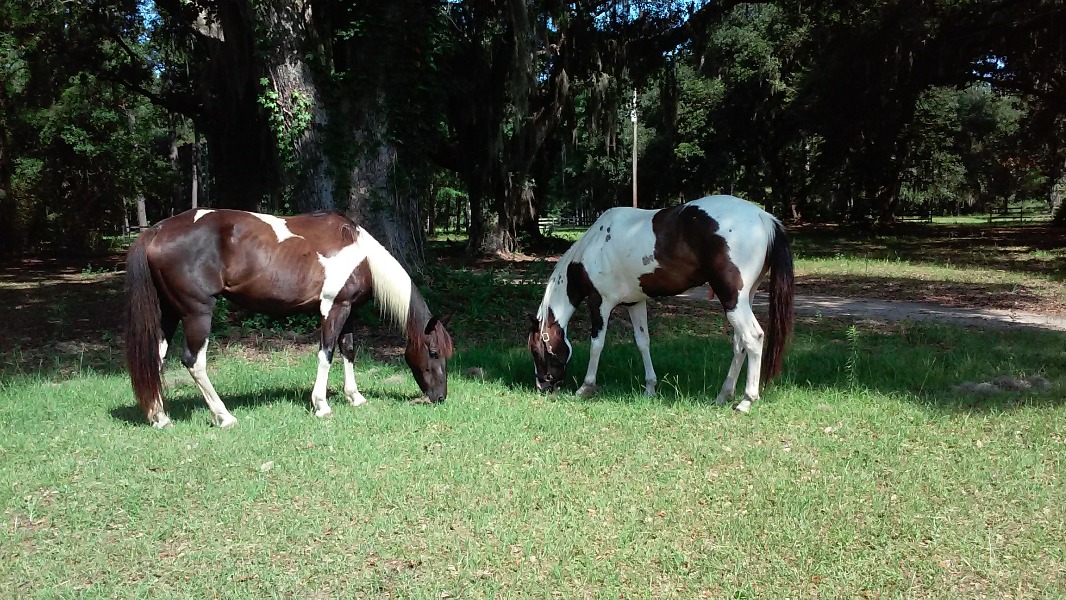 Goodbye Mystic and Ricochet.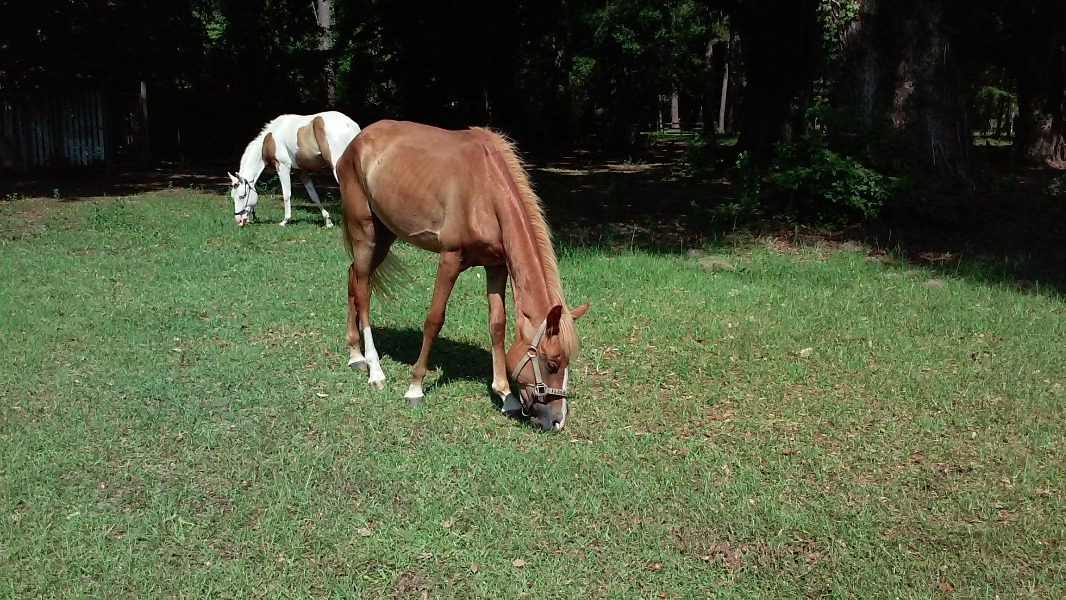 Goodbye Miss Annie Oakley, my lil tough, strong girl, you have come so far since I found you.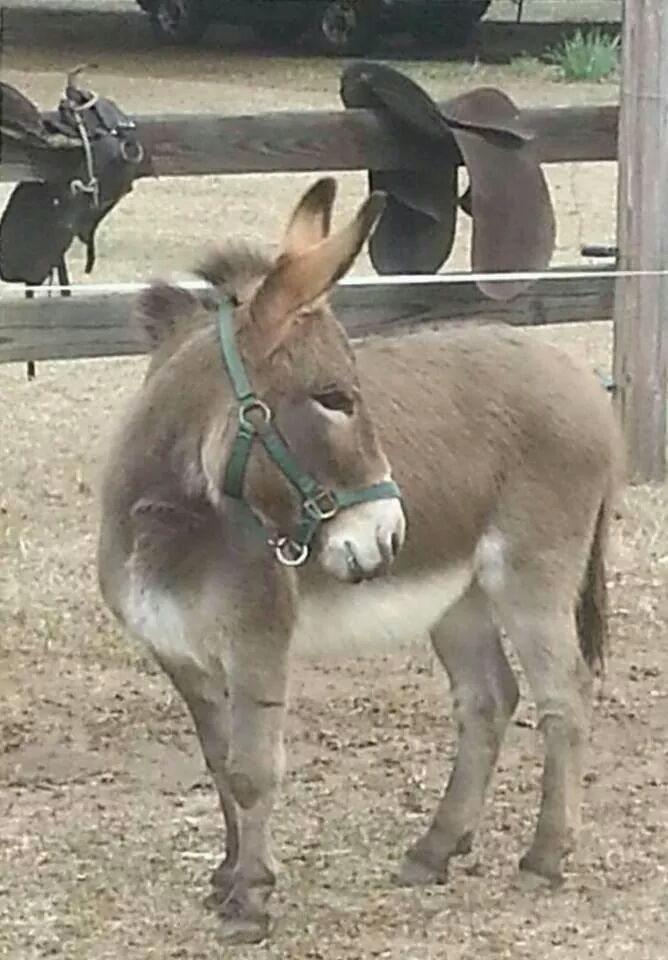 Goodbye my handsome, affectionate Dapper.  "This is so hard", I cry.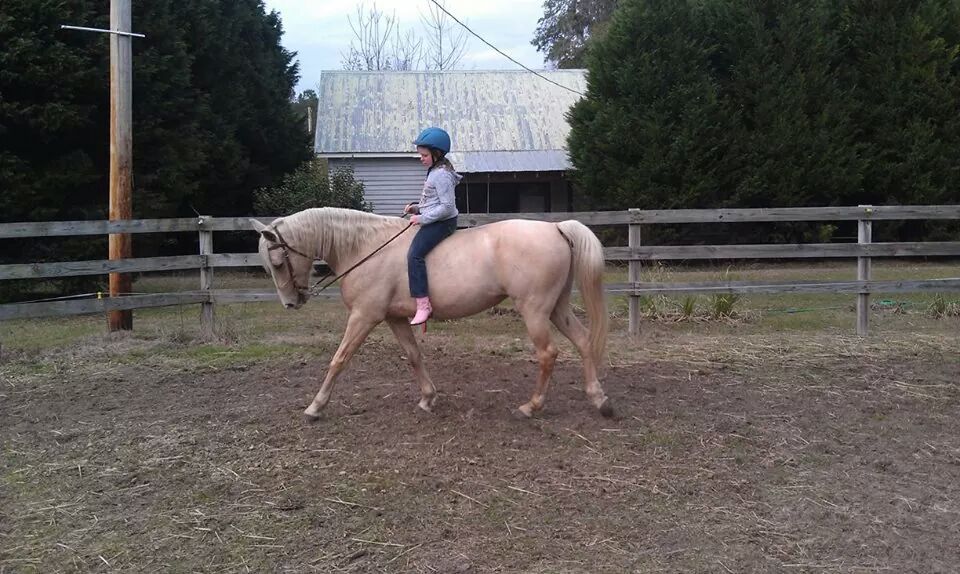 Goodbye Honey, you are an amazing trustworthy teacher children and adults all adore!
My brother, Van, and his wife, Jess, call me with good news, "We found several possible pieces of land for you to look at Sis, within your budget and great for horseback riding!", they exclaim. "Praise God", I shout!
I love you Brother & Sissy!
The land is completely undeveloped. I have to start from scratch.  It is all I can afford.   No house, no barn, just raw land.  But not just any ole land.  This little bit of land is nestled on two sides by over 50,000 acres of a private nature preserve and hunting club that has miles and miles of county dirt roads to freely ride.  Beautiful historic scenery, lush variety of landscape, abundant wildlife, "OMG...it is perfect!", I cry.  "This is it, this is the one!"
I get home, sit down and begin to share today's good news on my Facebook page, LoriAnn Tully.  (My family name in honor of my Daddy, Mickey Tully, even though I am still Thompson by marriage-now divorced) A business associate from WA personal messages me.  "I want to help. I want to 'Pay It Forward' ", he says.  "I can help you get financed and I can contribute toward the 20% you will have to pay down. Pray about it and let me know what you decide".  I hug Roux, my Blue Heeler, "We are going to do it, Roux!  We are going to have our own  farm!"
At this point I am going to summerize a bit to shorten this "Novel", lol.
1. The lender chooses to finance just the land, well and septic, not the house, or barn, etc...
2. Due to the land's remote location, the electricity company can only give me power if I can convince a nearby land owner to release right of way to them.
3. My move date arrives quicker than the property closing date.
I sit in a crumpled pile of defeat.  I have no home.  I have no income. I have lost it all.  I can not get financed for a home or what I need to start over.  I can not get electricity because the land is too remote and the nearest neighbouring land is in probate so the power company can not get Right Of Way from them.  And even if someone else can give them Right Of Way from their property, I have to move NOW and the property is still not mine.  The closing date keeps getting pushed back.
"Father", I pray. "I don't want to give up.  I don't want to quit.  I don't know what to do.  What am I going to do?" Sleep eludes me this long night.
Determination rises within me at the sight of God's glory felt in the break of a new day. I will not let go, I will not give up. I will lay down every weight, I will live simple, I will watch the horses gallop with tails raised as the warm morning sun kisses the tips of the trees on my own property.
I step out into thin air by faith and asked the land owner if I can occupy prior to close.  I will believe they can get a Right Of Way for electricity. I will pitch a tent and haul water.
He agrees!!
So here I am.  I am on the land! It is Setember 30,2014. I have 7 horses, including the horse boarders that are still with me through this transition.
I live in a tent without water, electricity or a septic system for 3 weeks. I haul in water every day and pump it into a holding tank. My dad and I build an outdoor shower.  I learn to shower in cold water, lol.  My dad and I build an Ole Timey Outhouse, complete with a half moon cut out of the door, lol! I put in a portable potty chair over a hole and a bucket. I work out a temporary arrangement that is reasonably comfortable.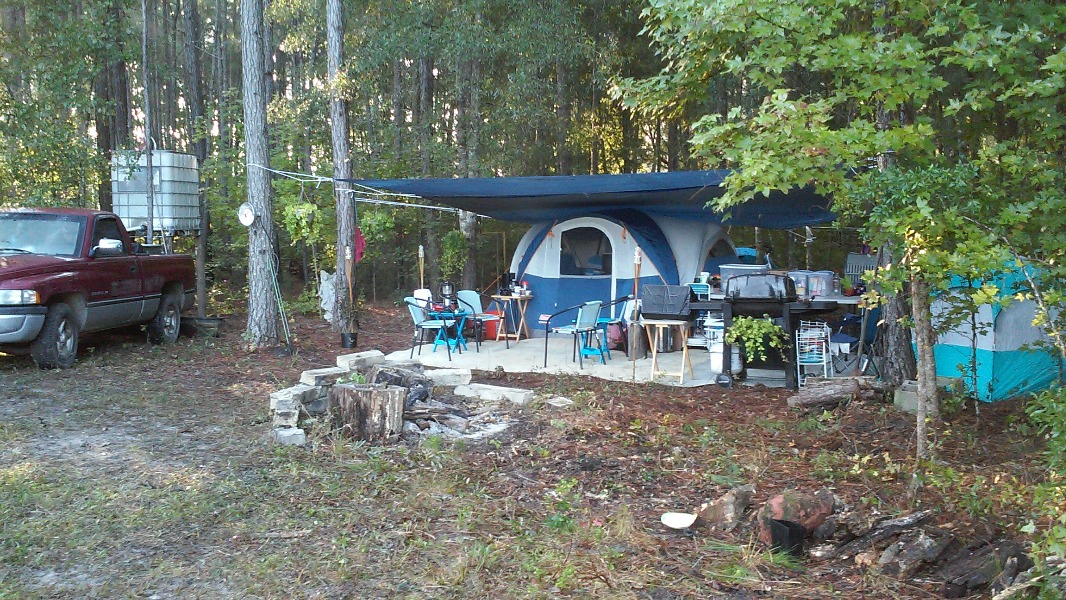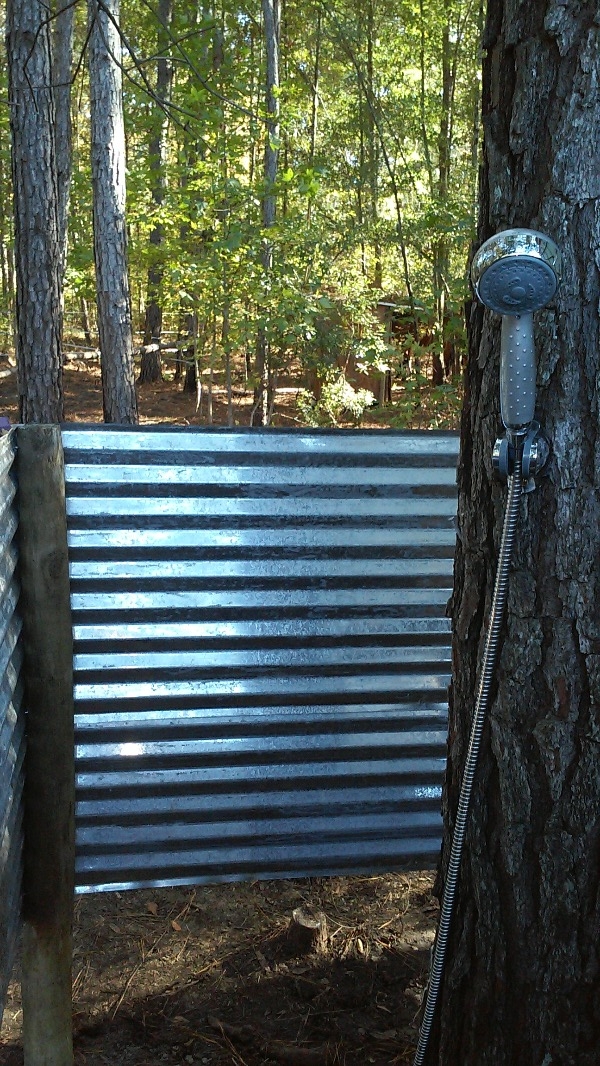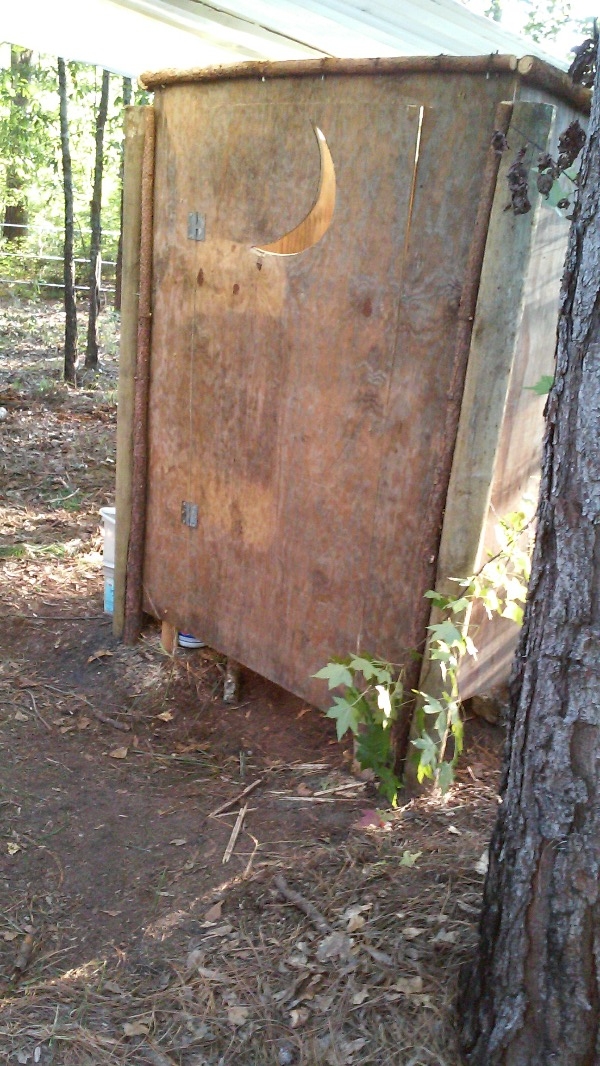 Van and Jess come out to spend the day and ride.  They hand me a booklet with a picture circled.  "Sis, don't sas me or even open your mouth." We sit down.  "That building you see in the picture is on its way here and you can do what you want with it.  Make it into a Tack Room, if you want.  What Mom, Jess and I want is for you to get out of that tent.  Let Dad, John Maxlow- my second dad, close in one end of it, 6x12 for example,  for you to have a bed out of the weather.  Winter is coming."
I am undone. My family is amazing.  "I could kick your butt, Brother, you should not have!  It is totally unnecessary and expensive.  I am fine in a tent!  I like to camp out". I protest.  We exchange bear hugs all around.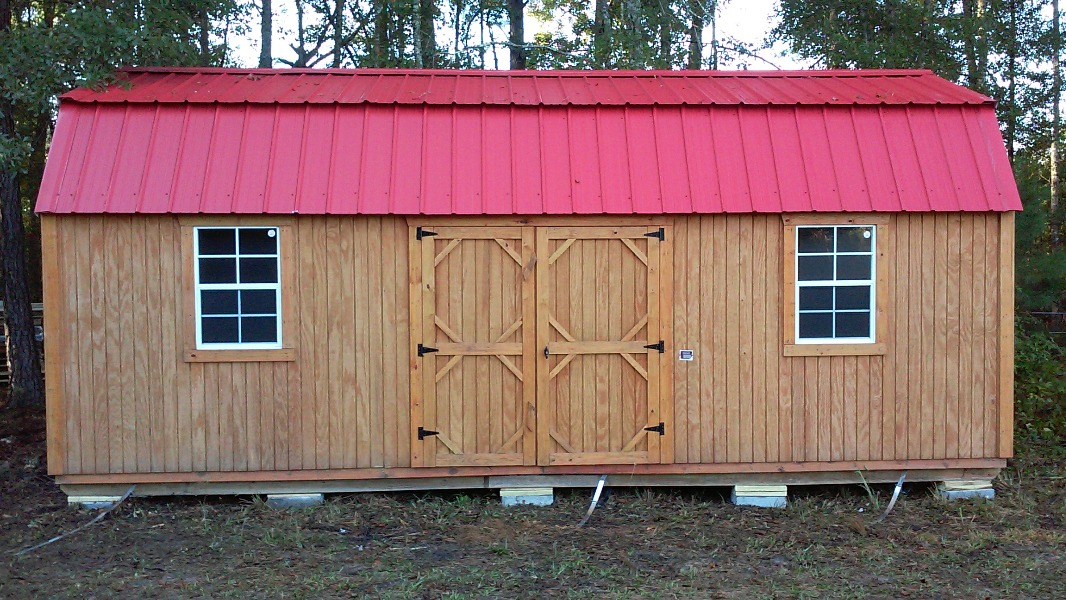 Things just keep getting better.  We get the Right Of Way permission from another nearby landowner and we close on my land!  I am overjoyed.  The tears just won't stop!  "I have turned into a mushball", I complain to myself.  Hahaha.
The well is installed first. No more hauling in water to run the farm, water the horses or bathe in! With a generator's help, I now have running water.
The building permit is approved the Monday after Thanksgiving so now the process for electricity begins! The septic system is on its way to being installed.
At this time I have faced every situation and pressed through.  I look across the pasture and sigh.  The sun lights the fall clothed trees afire as it sets.  Home.  Peace. Beauty.  Simplicity.  I am blessed.
The point I expected to come, has arrived, I am out of $. I will take the days from here on out, one at a time and, "It is all good!"All I gathered, all the lender approved and that my family and close friends have invested has been carefully, frugally used up.  We; myself, my parents, my brother, and my dear friends have come so very far.
To date:
My dad and I cleared the fence line and put up hot wire fencing around two pastures. We have a beautiful tack room. We have wonderful boarders and great rides! We enjoy Friend & Family Potluck Sundays. We offer Trailering In for $10 per horse to come out and trail ride with us. Eventually we will add more cabins for paying visitors to stay in overnight. We offer camping and great simple fun. Our theme, The Old Wild West.  Our Facebook page, OKatee Corral & Stables is updated daily with great pictures, boarder reviews and upcoming events.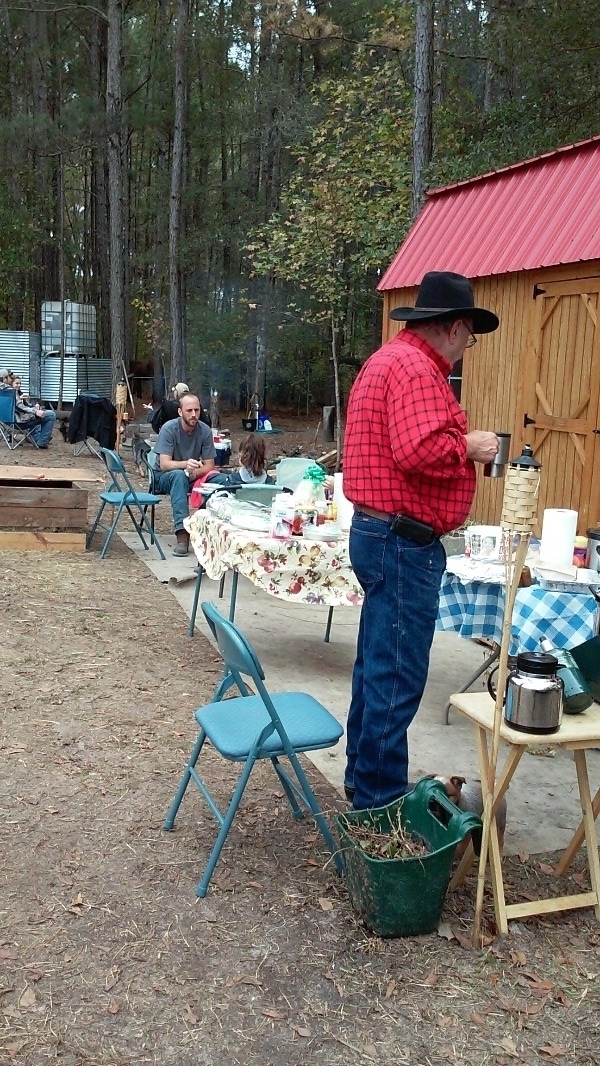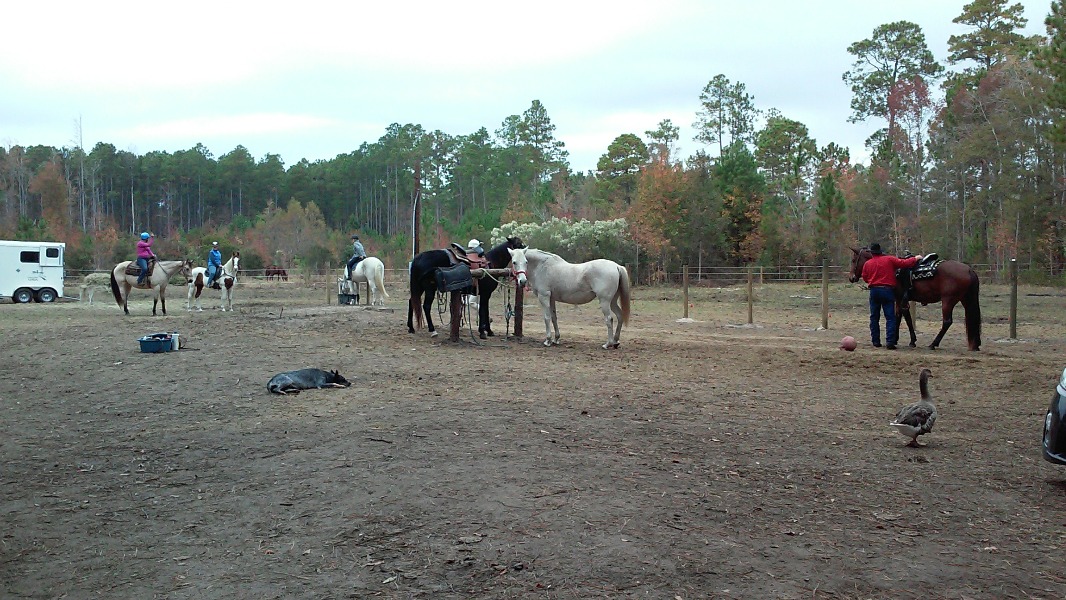 GOD IS SO GOOD!!!
It has been suggested to me to share this adventure with others through GoFundMe.com.  So...I am starting to do just that and will journal my progress.  
Just in case you would like to jump on board and get involved in any way I am listing where we are in the process below.
My current goals are funds for the first cabin so I can have a real home, one with an indoor restroom, a kitchen and more warmth than what the tack room can offer me, lol.
Next, is the small barn. This will offer shelter and feeding stations for the horses as well as hay storage.
My cabin can be built by my dad with a material cost of $5000. It is a simple 300 sq. ft. structure.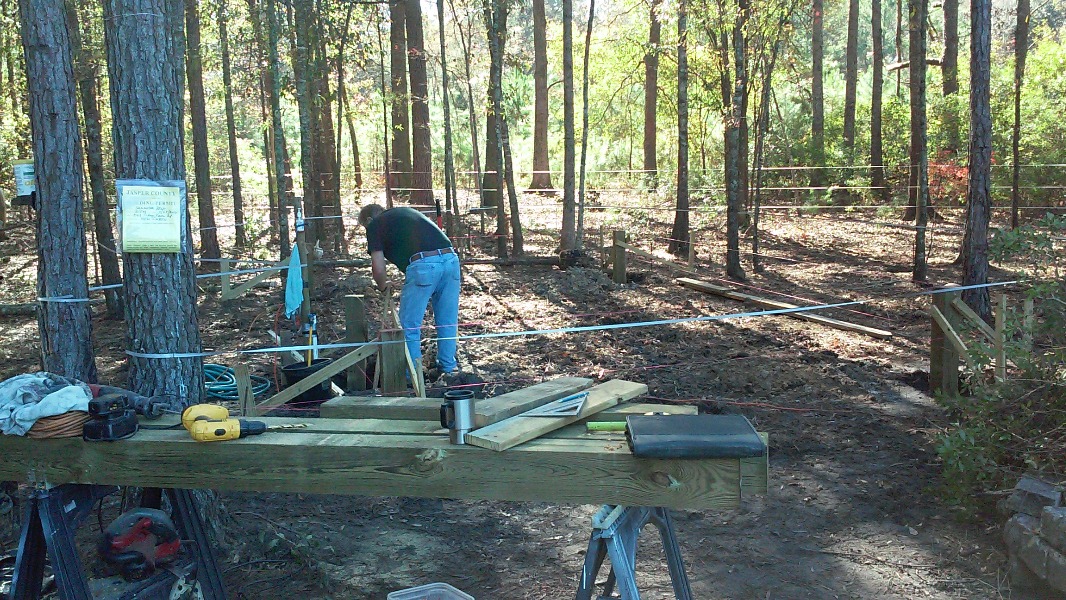 The metal frame and metal roof of the barn can be professionally installed for $4700.  My dad will close it in along the way, later.
The boarder restroom, the driveway & parking, the round pen, the metal panels and the rest of the fencing for this initial phase of the facility goals for funding are $5000.
I am amazed that so many people have followed this adventure with me and offered me encouragement, and a hand. It gives me strength when I am cold, weary and doubting my sanity, lol.
I am told...
I have a pioneer spirit; I am brave; I am strong.  I am told I have given them faith to change their lifestyle and live a simple life; or, I have given them strength to hold on to their dreams.   I laughingly state, "Some people put the cart before the horse, I put the horse before the house!"
Anyway...Wow!  I had no idea my determination and my success was important to others, well...beside my family and a few close friends that is, lol!
I am sure of these few things... I am 53. I lost my eldest daughter when she was 27. I recently lost my Daddy to cancer. I simply want to give my time to the things that matter the most to me, my family & friends.
I love God and I have a dream I believe in.  I will hold fast to it.  I will believe I can achieve what God has given me a passion to do.
I will live a simple life, run a farm as self sufficient as absolutely possible and above all else, I will value the time I have left on God's earth like there is no tomorrow.  
I am vibrantly alive.
Here is to ...Family, Friends, AND HORSES!!!!
Happy Trails Ya'll!
LoriAnn
OKatee Corral & Stables
549 Cottage Farm Road
Ridgeland, SC
Facebook Group: We Ride Okatee Corral!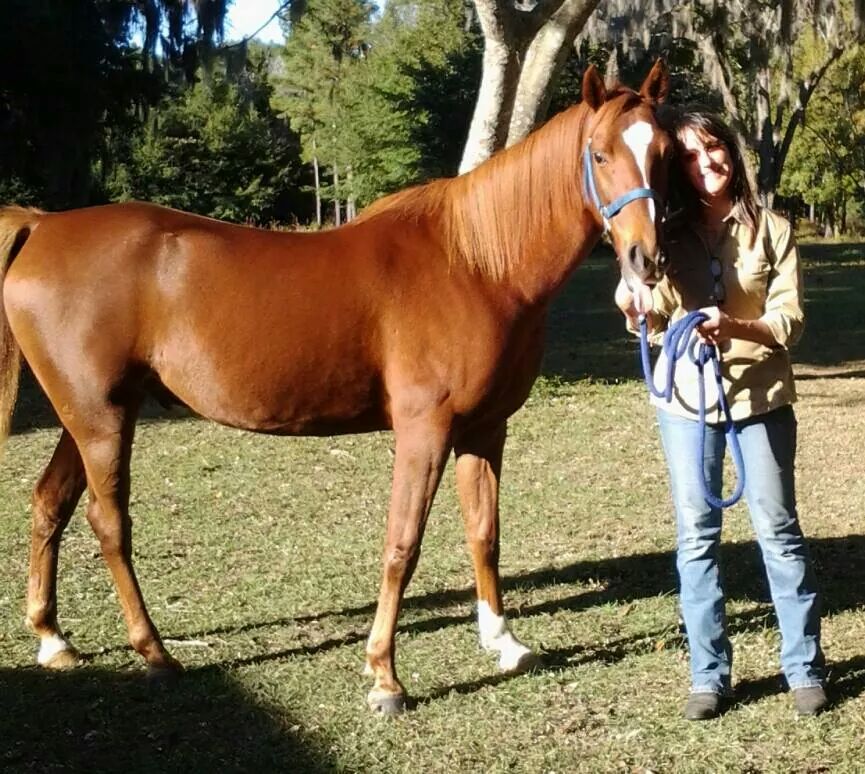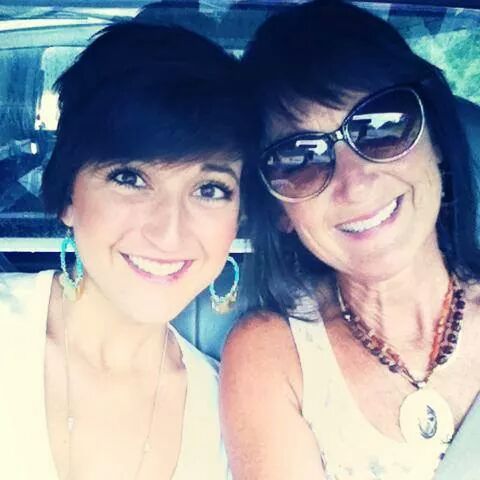 Organizer
#1 fundraising platform

More people start fundraisers on GoFundMe than on any other platform. Learn more

GoFundMe Guarantee

In the rare case something isn't right, we will work with you to determine if misuse occurred. Learn more

Expert advice

Contact us with your questions and we'll answer, day or night. Learn more