Lu Lu is a true rescue dog, who arrived at my home in Tampa, FL, February 2006 when she fell in love with her pack mate, Squirt Dog, through the fence. She had been roaming the streets unclaimed, had multiple health issues, plus she was in heat when she arrived.
(photo above is how Lu Lu looked when she arrived at our home Feb.2006)
After proving consummating her relationship with Squirt, a few times, being treated for about a dozen health issues, she settled into her new home nicely.
(Above: Guesstimated age: 1-2 years, February 2006)
In May 2008, Lu Lu, Squirt, and her human (that's me) traveled for over two weeks as we drove from Tampa, FL to our new destination of Anchorage, AK, stopping at many of the parks along the way. We stayed in Alaska until November 2010, which is when we moved back to CT. Lu Lu is very thankful we are here, as we are close to many people and animals that she loves and that love her, and close to the Veterinary Cancer Center (VCC) of Norwalk.
(See video below re: Cancer Awareness for pets, where Lu Lu is featured in the video several times, as the first and last dog shown.)
Lu Lu was diagnosed with a Mast Cell Tumor, a very aggressive type of cancer, in February 2013. She was diagnosed after a tumor was removed from her paw, and tested positive for this type of cancer. She then had her outer right toe removed to get enough of a margin since it was cancerous. Both surgeries were done by our awesome veterinarian, Kathleen Fearon in Trumbull, CT. Lu Lu healed nicely and quickly, and she was & is still wagging a lot. She showed that didn't even care that her toe was gone after she healed up. She has since undergone several types of Chemotherapy treatments and radiation and continues her fight against cancer, with many wags, and maintaining a quality life.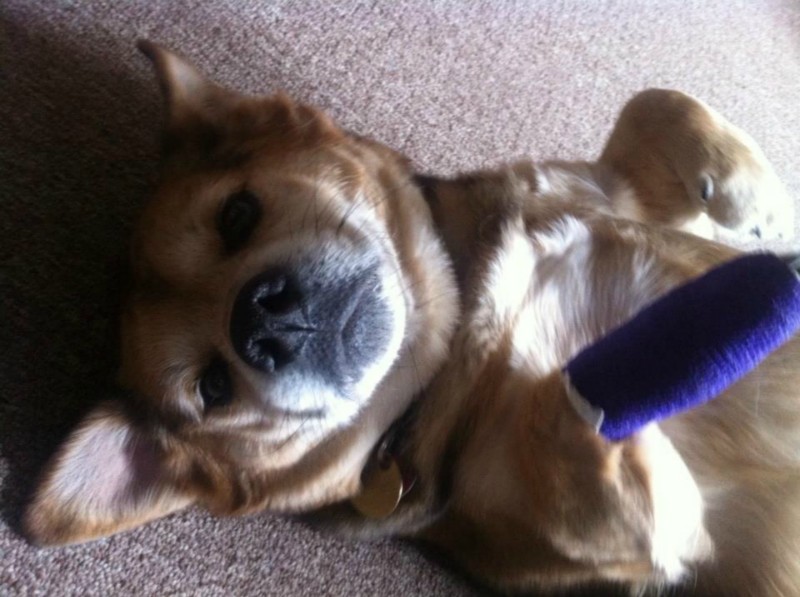 Most people don't see any difference in Lu Lu at all, and she is still playful, happy & wagging a lot. She is doing amazing! Lu Lu continues to show she loves life, and is one strong little bitch (proper terminology) <3
Lu Lu has another tumor, and after almost losing her, as she got sick very quickly in August 2013, we continue to visit the VCC, and she continues her chemotherapy treatment. After discussions with our vet, of having her come to our home to put Lu Lu down in August, if she didn't get better, or if she got worse, something happened that I didn't see coming; Lu Lu's hope. She evidently had more hope than anyone else and more will than anyone was able to see. The only time she wagged her tail, during the time she was sick, was as soon as we pulled up to the VCC, and the entire time we were there. I had not seen her tail wag in almost a week. This was a good sign. Maybe she knows they are helping her? For a dog that can be stubborn when she's scared, or wants to be, she seems to be very comfortable, and happy at the VCC, and loves Dr. Post and his staff. That's as obvious as her will to live.
Lu Lu has gained her strength back, as well as a few extra pounds. I'm proud to say Lu Lu is back to being herself, even though the tumor, although shrinking, is still there.
(Above: Lu Lu showing off the "paw of love". She doesn't notice a toe missing. Did you?)
Lu Lu completed her radiation treatment October 28, 2013, and has now switcher her chemotherapy treatments again.
She continues to show her strength, will to live, her love for life, as well as her love for people, and other animals.
After several months of now nearly $10,0000 in expenses for Lu Lu's treatment, our little family of a human and two dogs are seeking help to continue Lu Lu's chemotherapy treatments. We understand if you can't afford to donate at this time, (we're in that boat now ourselves) & even understand if you don't want to, if you feel other charities are more valued. We understand whatever your situation or belief is. But we also know that there are some who will be touched by Lu Lu's story, and ask that even if you can't afford to, or don't want to donate, that you share this page and Lu Lu's Hope, so that maybe someone who can and wants to, will know about it. If you could afford $1 for Lu Lu's hope, or any amount more, we appreciate it. If not, we appreciate sharing our message, and our hope. Every little bit helps, and sharing is caring. :)
For those of you that are wondering how Lu Lu is doing? This was taken of her the morning of September 11, 2013. This is known as her "Wiggle Dance" and does this when she's happy & feeling good, and she's been doing it a lot lately
This is Lu Lu's Hope. :)
In a benefit to help raise money for Lu Lu's Hope, Lu Lu & Squirt were married on October 19, 2013 at Jennings Beach in Fairfield, CT. Yes it may seem silly, but as two dogs that have shown the true meaning of love over the past several years, what better way to celebrate life and love then a wedding?
In leu of gifts, the happy couple would appreciate donations made in Lu Lu's name, so that she can continue her fight, to live a longer, happy & healthy quality of life and so she can continue to entertain the world with her wiggle dance, which is a lot more attractive than Miley's twerking if I do say so myself.
Below is a copy of the ceremony from the wedding. I hope you can appreciate that we wanted to do nothing but spread love & hope, and try to receive support for Lu Lu's continued battle against cancer.
Thank you for your support & kindness.
Lu Lu's "family".
The Ceremony:
Dearly beloved, of four and two legs, we are gathered here today not in a holy matrimony or a fancy service so two dogs can pretend to exchange vows, but to celebrate love and life, no matter how big or small.
Squirt & Lu Lu have already devoted their lives to each other. They have shown the true meaning of love, without needing any certificates, without needing to exchange words, and without anybody telling them they had to or should. They do it naturally, ever day, and have done so since the day they first met. Their relationship was much like many humans. When they first met, it was new & exciting for them both. They showed their love for each other instantly and consummated their commitment to each other quickly. Within a few days, they were struggling for dominance and snapping at each other, and a couple of times, they even hurt one another a little. But they worked through their issues and became obvious soul mates.
These two little souls, have been together for over seven years, and have been inseparable since meeting. They kiss, cuddle, play, bicker, and sometimes even fight, but they always show they care about each other. They show they are sorry when one hurts the other, by giving kisses. They show they care about each other, and like being near the other. And they have wiggled their ways into the hearts of many people and dogs who have known them over the years, and the many miles they have traveled together across two countries.
We are gathered here to show our respect, for love, and for life, of all kinds. We are gathered to give hope to all souls fighting cancer, and diseases no matter how large or small. And we gather here today to celebrate life, as Lu Lu continues to fight for hers, and Squirt continues to be by her side through hers. We are gathered to honor two spirits that have shown, life is meant to live, by loving, playing, showing we're sorry when we hurt someone, and by just being there for each other, without prejudice, without fear, without control, and without pride. Because living life, by loving, is something they do naturally, and freely, and it's all they want in return.
Through the powers of all of us gathered here today, let us honor Squirt & Lu Lu's love, and their example of love, by honoring them as united spirits, until death will they part. I now pronounce them, Dog and Bitch, Mr. & Mrs. Squirt Dog DiJulio.
You may now share your treats.
Lu Lu & Squirt's Wedding to benefit Lu Lu's Hope 
Organizer
#1 fundraising platform

More people start fundraisers on GoFundMe than on any other platform. Learn more

GoFundMe Guarantee

In the rare case something isn't right, we will work with you to determine if misuse occurred. Learn more

Expert advice, 24/7

Contact us with your questions and we'll answer, day or night. Learn more