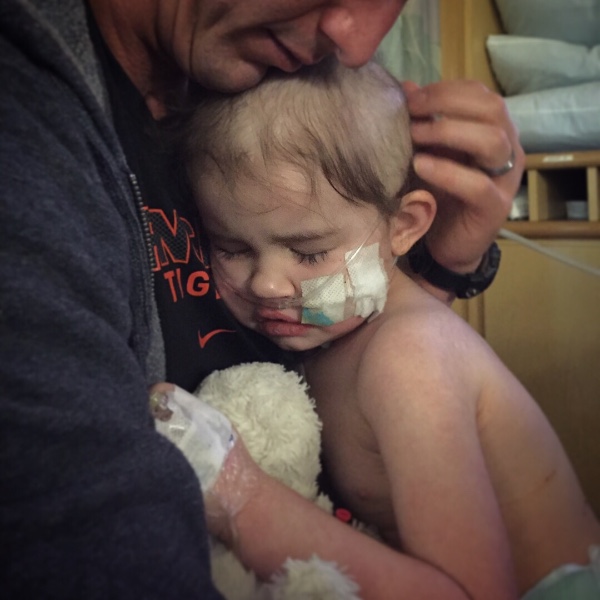 It is with a broken heart that I announce that on March 3, 2018, my 3 year old Goddaughter Leighton Kathryn Bracken was diagnosed with Stage 4 Neuroblastoma, an aggressive form of cancer. 
Leighton's parents, John Bracken & Katie (Cooke) Bracken, have been caring for Leighton at the Winnipeg Children's Hospital alongside many diligent medical professionals. Leighton has already finished her first round of Chemotherapy.  
According to Doctors, the family's road ahead is long and rocky as Leighton will have to endure a minimum of 1.5 years of intensive treatments and surgeries followed by years of followups and other procedures. She will be spending the majority of her time in hospital.
Upon receiving this devastating news, John and Katie both took immediate leaves from their respective careers. John has since lived at the hospital 24/7 by Leighton's side while Katie has split her time between Leighton and raising their 1 year old daughter Hazel.
John and Katie would never ask for help but anyone who knows them would agree that they would always be the first to give it. For this reason, both myself as well as John & Katie's closest friends have decided to create this 'Go Fund Me' Campaign on their behalf.
This young family's road ahead is long and uncertain, with the real possibility of having to explore costly alternative treatment options. It is difficult to predict where this journey will take them or for how long. One thing is for certain however, Leighton is a true "Warrior Princess" and she, along with her family, will fight the good fight for as long as it takes.
The Bracken's are a rare family that both myself and many others identify as altruistic, putting others before themselves. Their love, kindness and generosity to all people in this world is only matched by their love of being a part of it.
This being said, I need your help.
The Brackens need your help.
Leighton needs your help.
Please find it in your heart to support this beautiful family in any way you can.  
**All cheques can be made out to Leighton Bracken and sent to: 150-144 Portsmouth Blvd  Winnipeg , MB Canada R3P 1B6**
Love,
Mike Ogilvie & the Bracken's many friends.
(Leighton's Crusaders)