Single Mother, Daughter, Sister, & Life Long Friend if you've met her.

Kathie Hall Kuenstler moved away from home young, determined to have a great career and to become a mother. She succeeded and became the mother of Erick, Hannah, and Treyte. Treyte still lives at home while the two oldest moved away after joining the U.S. Army. Recently, she has had to endure the recent heartbreak of sending her first born son overseas to fight for our country. Kathie has always put her kids first and will do whatever possible to ensure proper co-parenting with her ex-husbands. She has also made herself successful with management positions throughout her career, once again because she always places needs of others before her own.

A little over a year ago, Kathie bought her first home by herself. She began to remodel the house to her liking to make it just perfect for her and her family. She installed, by hand, hardwood floors, ceramic tiles, added a bedroom, and other interior upgrades in general. In addition to the interior remodels she has made multiple exterior upgrades by herself. She built a shed, gazebo, wooden walk way, and deck for outside entertainment. (Which has now floated away to Lord knows where) She was, as expected, extremely proud of her accomplishment. Kathie spend her life saving on what she thought would be the perfect forever home for her and her family. She had spent her life savings on this little home of hers. This home was her greatest achievement outside of her parenting.

Little did she know that when she was advised by her insurance agent not to "waist" the money on flood insurance, this would take a devastating toll. She was told Zone C has never flooded so it would be a waist to spend the extra money on flood insurance. Her neighbor, who had lived there for nearly 60 years, even confirmed it was not necessary since hurricane Ike didn't affect Zone C what so ever. As Harvey was destroying Houston, again she was being told "your house will be fine". Even the Governor of the area was telling residence there was no need to evacuate because they would be fine.

Monday, knowing the risk, she made her way to the store she manages to ensure the store and employees were ok. She was the only one who made it in to work that day. Kathie's dedication to her company and concern for her employees is unwavering. She is right there for anyone who needs her even through this horrible Harvey time. Kathie has lost everything, she is doing everything she can for her employees and asking for nothing in return.

Tuesday night came and Harvey had shifted over to Port Arthur and Orange Texas, headed for Louisiana. Checking every hour as the hard rain poured into her yard, everything seemed fine. On Kathie's last check before bed at 10pm she noticed water coming into the garage, so she woke up everyone in the house. Within an hour and a half 2 feet of water had rushed in and they had to evacuate. By 3am Kathie went back to try to save her new truck but the truck, Treyte's very first car, and the house were 4 feet under water. By Thursday morning, the city was notified the residences that they had to open 2 nearby dams allowing 3 - 4 more feet of water headed to her home. Total water depth currently is unknown. Everything in the house to include decades of photos, letters, birth certificates, legal documents, family heirlooms, electronics, furniture, collectible antique trunks, and more are all under water.

Even though she can never get her most valuable things back, we can all come together to help her rebuild, not only her house, but her home. If you know her, you know that she has never asked for help nor will she ever ask for help. This time is different. She as lost EVERYTHING she owns. She needs her community, friends, and family to come together and help her rebuild the life she has worked so hard for. Kathie is a woman who NEVER shows weakness, but no human can hide defeat from a natural disaster. We are trying to do everything we can to help her.

Please help our family to help make this horrible Harvey experience a little easier for her. I know she is putting everyone else's needs before hers so we needs to place her needs high for her.  No amount too small, every dollar is VERY much appreciated.

God Bless you, God Bless America, God please bless ALL that have been impacted by Hurricane Harvey!
-----------------------------------------------
This article was written by Kathie's sister, Sheryl and daughter, Hannah.
ALL money will go to the rebuilding of Kathie's home, nothiing else.  


2 feet of water (while evacuating)

2 feet of water (while evacuating)

2 feet of water (while evacuating)

2 feet of water (while evacuating)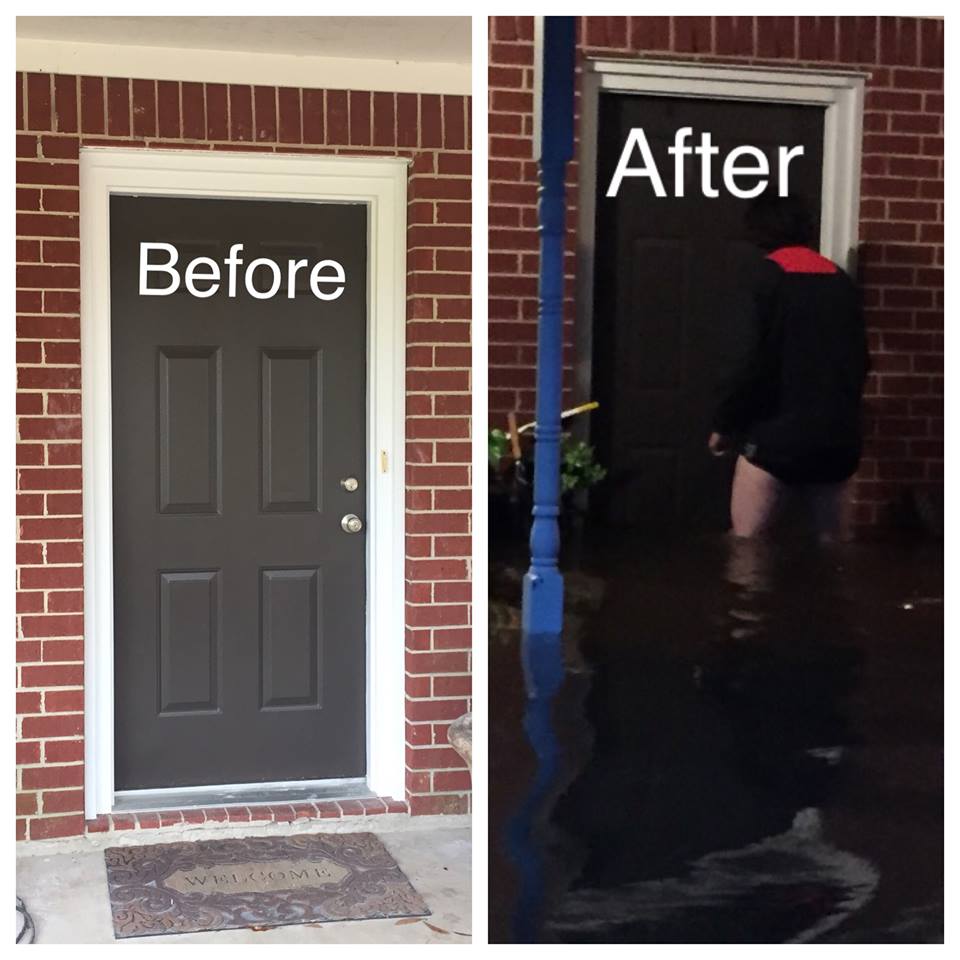 2 feet of water (while evacuating)

The walkway, deck, gazebo, and furniture that is now gone due to floating away.

Kathie with her youngest, Treyte, and two step-grandchildren.
Organizer and beneficiary