Help Jiten Chand Back On His Feet!
Hello everyone,
This page has been setup to help a kind caring hardworking man, Jiten Chand out of a very tough situation.
Whilst visiting his family in Australia from Fiji, Jiten Kaka fell ill.
At first it was thought that he had a severe case of the flu but as his condition deteriorated, he was taken to Liverpool Hospital with a high fever, complaining of numbing pain in his left leg.
He was immediately admitted and diagnosed with Type 2 Diabetes which had caused an infection in his foot. Numerous attempts were made to operate and clean the wound and to treat it with antibiotics without success.
Despite all our prayers and the efforts of the doctors, the decision was made to amputate the left leg from below the knee.
As a result of the infection in his body, signs of poison in the blood and potential of other organ failure such as heart attack or stroke were also found.
Being a humble and modest farmer from Sigatoka, Fiji, Jiten Kaka is a loving father of two daughters, a grandfather and a husband.  The decision to amputate would have been unimaginable for a man who has been a farmer his whole life.
He is a man of the old era, were working hard on the land with your hands was the way of life and a source of income.
Jiten Kaka is not an Australian Citizen or Resident so there is no financial aid available to us to get him back on his feet.
He is currently recovering at his brother's home whilst we investigate the possibility of a prosthesis.
All money raised will help pay for Jiten Kakas medical expenses & the purchase of a suitable prosthesis.
At this stage we are looking at a bill of $39,375.50 which includes 18 days of Inpatient Accommodation at Liverpool Hospital, Pathology & GP visits.
This excludes Theatre costs, Disposal costs & Specialist bills which have yet to be issued by Liverpool Hospital.
In addition to the medical bills we estimate a prosthetic leg to cost $6,000.00.
We will update this page as the remaining bills come in.
Like most struggling farmers, no one including Jiten Kaka was prepared for something of this magnitude. 
We ask you for your assistance in Jiten Kaka's time of need. The targeted amount is the sum required to cover most of Jiten Kaka's medical expenses. Any assistance will be very much appreciated.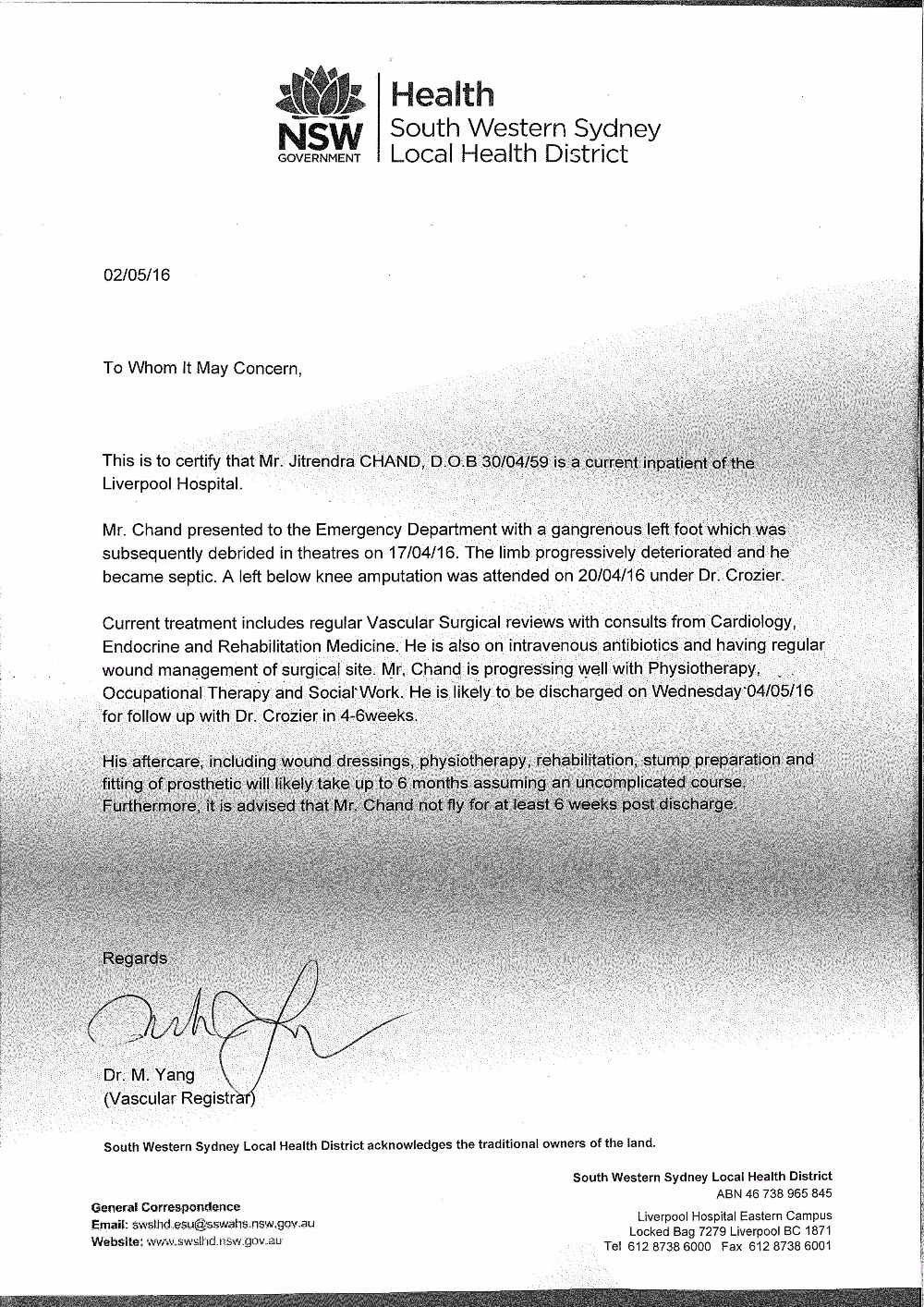 Organizer
Shanal Nath 
Organizer
Mount Pritchard NSW