For those who do not know, Jessica is my sister. She is a wife, a mother of three[soon to be four] and overall one of the most amazing and strong people I have in my life. While celebrating the joy of her welcoming their fourth child into their family she also received the news that while pregnant, she also has cancer..
The money raised from this gofundme will be used directly for my sister's expenses for the coming months. There will be a lot of traveling to Cleveland for our family to visit her as well as help pay any bills or expenses that may appear.
This isn't my story to tell. I believe Jess did a beautiful job telling it on her own: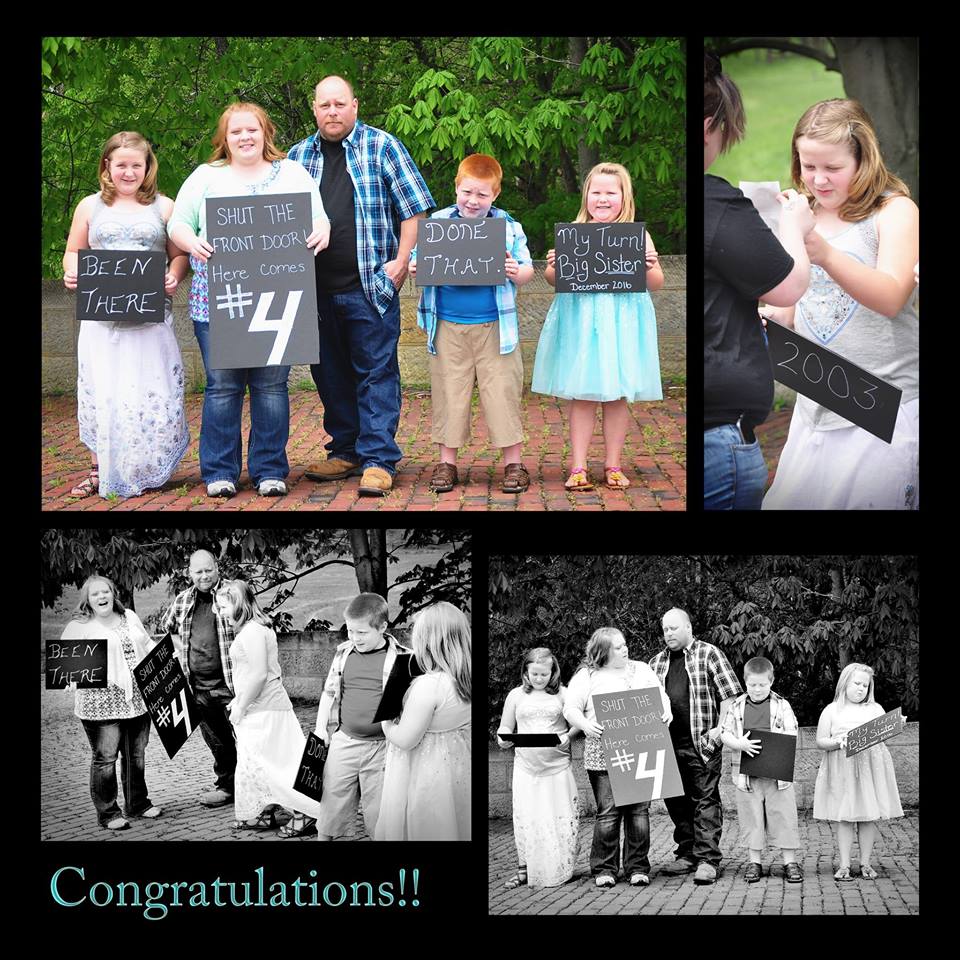 "In
July of 2016
, we were sitting at the kitchen table. I remember allergies were killing me, I was coughing, sneezing, and generally miserable. I was also about 18 weeks pregnant and unable to take much for relief without causing my heart rate to spike. I sneezed. And when I did, I felt something on the left side of my neck sort of pop and move. There was a mass that wasn't there before. I figured it was a lymph node, I probably had a sinus infection. I had an appointment with the baby doctor in two weeks, so I figured if it wasn't gone by then, I would ask him about it.
I can remember sitting at the same table later, joking about having goiter. The lump never shrank and at the next appointment, I showed my doc. We both thought it could be my thyroid so he ordered the appropriate ultrasounds and blood draws. Those came back normal. Now we were concerned. A lymph node should resolve on its own, especially after several weeks. It wasn't my thyroid. We referred to a local surgeon for more testing and hopefully answers.
Dr. O is probably one of the most sympathetic and caring doctors I have dealt with. He was concerned about the mass, its shape and density. When you are a nurse, you notice tells from doctors. I could tell this wasn't something easy to fix and he was genuinely concerned.
July 19
, we went to our baby doc for the anatomy scan. Rob and I were both excited to share this with our older children. They were over the moon to see the baby on the monitor! We also found out
we were having another boy!



July 20
, the day of our 14-year wedding and 20 weeks' gestation, I had a fine needle biopsy and the first of many MRI's. It would take almost two weeks for results to come back.
August 2nd
we finally received our results. It's hard writing this. Remembering. I had non-small cell malignant neoplasm. I didn't know it then, but later would find out they thought I had lung cancer. Dr. O referred me to Columbus.
This case was bigger than our small town hospital had resources for
. I was terrified. Rob and I have three other kids at home. Cancer at 32?! While pregnant!? It was unreal. I was in complete shock.
August 8
was my first appointment at Columbus. We met with an ENT who reviewed our information and checked out the MRI. He also had more results from the biopsy. Squamous Cell Carcinoma. Not skin cancer, but head and neck cancer. Unfortunately, he did not think surgery was an option. The tumor was too close to the carotid and the vein in my neck. It sort of encircled it, not entirely but most of the way. Damage to the artery and vein would be likely during surgery. He was sending me to meet with radiation, chemo and setting me up with a high risk OB. I would transfer total care to Columbus. I now had a team of doctors working on it.
The general treatment idea was to shrink the tumor, remove it and do chemo. Baby would most definitely be arriving early so I could start treatment. We met later that week with the radiation doctor. He left us shocked. Stage 4a cancer. Treatment would have to be aggressive. We didn't know where the primary was. The CT and the MRI were both clear, they didn't see anything abnormal. We left that appointment feeling desperate for answers and without hope. Finley would have to be born early, they implied that we wouldn't make it to 30 weeks. The treatment would not be safe for him at all. We had two weeks between appointments. We were waiting to meet with the high risk OB and get his input on treatment and delivery. We came home and decided we needed a second opinion.
I was not ready to risk Finley for a treatment that felt wrong
. I couldn't justify delivering him so early when we still had no solid answers on what this cancer was, where it was or what our prognosis would be. We decided to head to
Cleveland Clinic
for a second opinion.
Cleveland has been amazing for us
. From the first appointment,
August 23
, they saw Finley as the patient as well as myself. We were both their patient. We were also pretty special. From the first day of receiving my files, all the doctors that were on my case were talking about me.
32-year-old female, pregnant, unknown primary squamous cell carcinoma of the neck. No symptoms. I was a mystery
. Being pregnant made all of the normal testing for cancer risky. The traditionally used PET scan would make baby Finley light up like a Christmas tree and he would absorb most of the radioactive isotope. It wouldn't be good for him. So the doctors had to put the pieces together like a puzzle. We could do a CT scan of my chest but not my abdomen. We could do an MRI of my abdomen but not the CT. We could do ultrasounds and biopsies.
We couldn't do the one scan that would make diagnosis easy
.
We met with chemo, radiation, ENT and high risk OB. The good news is that Finn was growing as he should. He was measuring a little bit above in weight but everything looked great. The doctors looked me over, used a scope to see my throat, vocal cords and couldn't see anything. Between appointments, they were emailing each other and bouncing ideas off one another. They wanted to figure out where this came from before starting treatment. So they started ordering more tests. Since my MRI and CT were clear, they decided we should do something like an upper GI, but done by my ENT. They wanted to get a better visual of the back of my nose, throat They also decided at tumor board to try to remove the tumor. It was risky.
It is growing around the vein and artery
. Not completely encompassing it but partially. They gave us a 50/50 shot of actually getting the tumor out. I would have to be under general anesthesia anyway, so why not?
September 21st
I had my surgery. Everything about this has been complicated so I wouldn't have expected this to be any different! The tumor was sticky. It wasn't attached directly to the artery or vein but was close.
It would have been a long and complicated surgery to remove the tumor. They were worried about how Finn and I would tolerate a surgery that long
. They took another biopsy and closed the incision. Then the doctor checked out everything from the back of my nose to my stomach. They even peeked inside my lungs just to be sure. They took many biopsies during the process and removed my tonsils. Finn decided to be extra active during the surgery and tried to kick the monitors off and hide from them. My OB nurse had to lay across my tummy and hold the monitors in place the whole time. She was pretty great! She kept reassuring me later that the doctor was so thorough. He wanted so badly to give us answers that he kept going back and checking everything again.
I am happy to say that he found nothing
. There were no spots that gave him pause or concern.
Every biopsy he took came back negative
. My tonsils came back normal. They spent two hours looking everywhere for something and found
NOTHING
! Amazing! While I wanted answers, I would rather have no cancer than more cancer. This was great news in my opinion!
On September 27th we went for our follow up
. I am healing well after surgery. They did get more results in from the tumor biopsy, it is still
squamous cell carcinoma
. It is also testing
positive for hpv p16
. This was also good news as it means
the cancer is highly treatable
. They are sending the rest of the sample to the Mayo clinic for testing. It doesn't make a difference for my treatment but they want to run genetic and hpv testing on it. Maybe it will help someone else in the future. We met with my radiation and chemo doctor next. They have one last MRI they want to do of my cervix. This is pretty much the last place they have to look. They have been so thorough with us. My radiation doctor is amazing. He wants to make sure they check everywhere before we start treatment. It would be extremely rare for the cancer to start inside of my cervix and spread all the way to my neck but again, this is the only other place they haven't looked.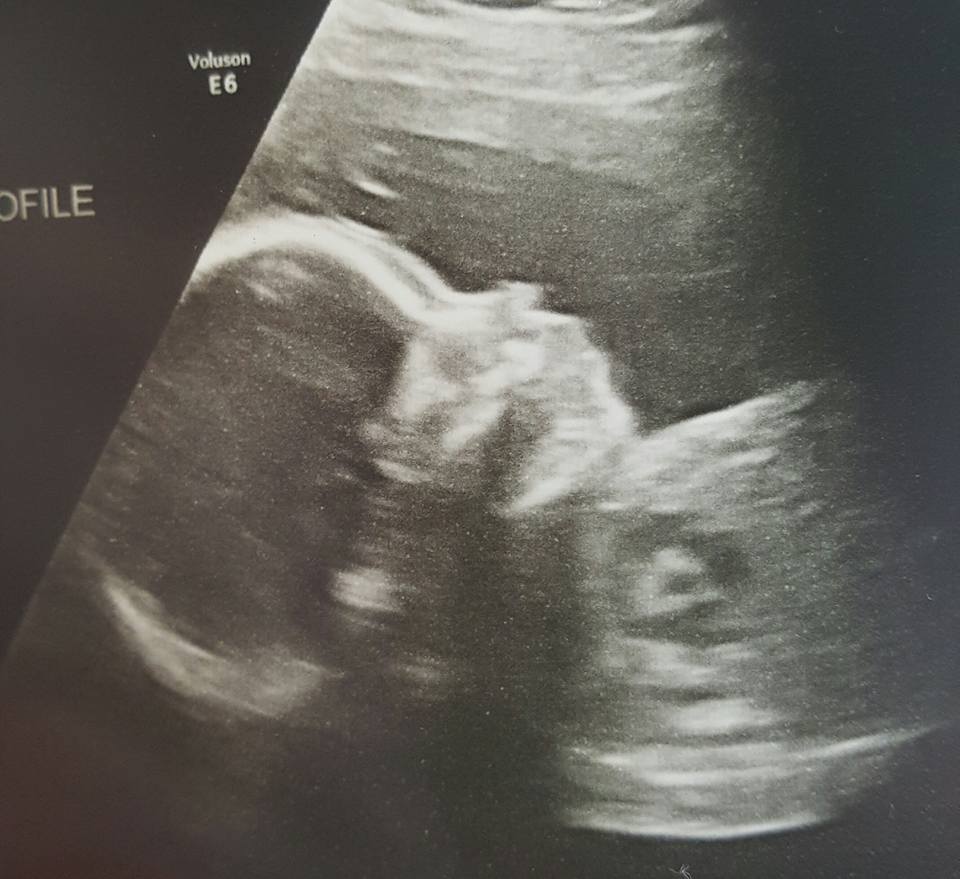 Finn will be coming early but they gave us more time!
We follow up with our OB on
October 11 and are probably scheduling his delivery the next week
. We feel that while my treatment is important, the cancer is not aggressive and hasn't grown much. We have time to let him get big and strong first.
He should be here around 34 weeks' gestation, mid-October
.
My treatment isn't going to be easy. We are looking at 7 weeks of radiation with chemo
. The plan is to deliver Finn and give me a week to recover before starting. I won't be able to drive it as the risks from bleeding and blood clots are high. So we are looking into housing options. The Hope Lodge isn't really an option for us. We have three kids and they do not allow children. As a mom, I can't imagine leaving them for 7 weeks. I would get to be home on the weekends but who would take care of them? That is a lot of burden to ask of family. We also homeschool. Who would do that? We are hoping to find an option for our family.
The doctor said the radiation and chemo should just melt the tumor away and we won't have to have another surgery
. Unless something comes up on the MRI of my cervix or the PET scan after delivery, they expect me to make a full recovery!
There aren't words for this crazy, emotional roller coaster we've been on. We've had lots of lows and some amazing highs. We went from not knowing what the outcome would be to believing God has got this and a full recovery is just around the corner. I can't put into words all the emotions.
I am just grateful for doctors who went the extra mile to make sure Finn and I have the best possible results and thankful for my family and friends who have stood beside me. And I give all this to God, because I know he has had his hand in this the whole time.
 "
- Jessica Dermer