Goggans Family Lyme Disease Treatment
As many of you know, we have been battling chronic illness of unknown origin for several years in our little family. It is very hard for us to put our private lives online like this, but it is now necessary to save our family....pride and privacy are luxuries we no longer hold.
Both Ben and I have tested positive for Lyme disease, I will need a daily IV infusion of antibiotics strong enough to kill off the little buggers. Ben will take oral medications in addition to supportive supplements for PANDAS. We need your help. Our costs will average $2,000 per month WITH INSURANCE...that is OUR cost.  I will need approx. a year of treatment, as will Ben....maybe more.  I ask that you support our fundraising efforts, as we have searched for years getting diagnostic work done by doctors who had no idea what to look for.  My health is at a very crucial turning point now, and I have been unable to work for several years. I get very dizzy, have heart and organ problems, vision disturbances, horrible pain, involuntary movements, and memory difficulties. I lost and then gained 40 pounds in just a few months.
If you would like to know more, there is a full story below...or you may feel free to contact me.  There is a donation button on the page, we need your support. If you could also pass this on to everyone you know with a personal message, I would much appreciate it.  I have to get my PICC line in this week (for daily IV drip), and they won't even see me without $400 copay plus 20% (whatever that turns out to be). I dont have a lot of current pictures of myself, because I tend to hide from cameras these days (you ladies know what I am talking about). I will, however clean up and try to get some together :)
 God Bless, Anne
Us at my last class reunion....i couldn't hide from the camera that time LOL. This was taken before I really started losing my hair.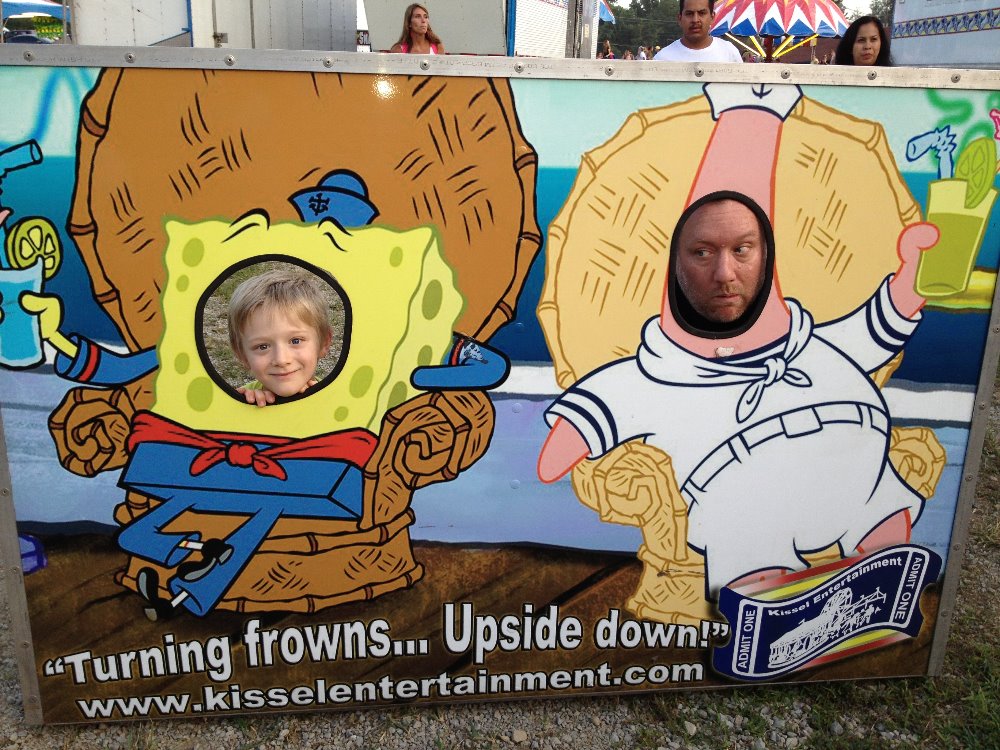 My jokesters couldn't resist keeping it fun. :) Can you believe that little boy is so sick? He amazes me with his strength....and ya gotta love patrick LOL.
There is a video at the bottom of the page about Lyme disease and the treatment i will be going through. There is also a video about PANDAS, Ben has both!  If you are not up to reading the whole story, I still highly recommend the videos below.
--------------------------------------------------------------------------------
More comprehensive story:
 Ben was diagnosed with PANDAS last year (Pediatric Autoimmune Neuropsychological Disorder Associated with Strep), which causes involuntary movements and other symptoms caused by the immune system reacting to Strep and turning on the body's own brain tissue. I then pushed for Lyme testing because we had previous tick bites, and all of the symptoms made sense. Not only did Ben test positive, but my test results were the highest for Lyme that our specialists had ever seen. Apparently my Lyme disease load is so high that they were surprised that I could walk on my own. Thanks to natural remedies and supplements and a clean GAPS diet, we were much higher functioning than we SHOULD be considering our germ load. In other words, we are putting up a good fight.
While Ben is able to take oral medications, my untreated Lyme will require at least a year of Intravenous Therapy starting ASAP. While insurance technically covers therapy for a short time, we will still owe a percentage for my daily treatments, and the full amount after insurance coverage stops. Also, there is controversy with the insurance companies, because they don't yet "financially support" Chronic Lyme. That means that even though I have been sick for years, they won't cover more than a couple of months treatment at most...which leaves us in a very scary place....because untreated Lyme disease will eventually take your life. No doubt about it. 
 This amazing video on Lyme will explain everything.
This video about PANDAS will tell you all about it. Highly recommend.
This is information about PANDAS, which Ben also has. Treating Lyme also helps his PANDAS disorder. Many children with PANDAS, are also testing positive for Lyme. I personally think there is a  link.  Either illness on it's own is difficult, and our little man is fighting BOTH!
We have to drive 9 hours round trip to the nearest Lyme Literate Physician as there are no Lyme Literate doctors in the state of Kentucky, period. In addition, quality testing is NOT covered by insurance (ridiculous, I know) and  as a last resort, we are asking friends and family to spread the word to everyone you know, from church to family, to social networks, every little contribution will help.
I have been unable to work for almost 8 years now and we have spent thousands of dollars in the past couple of months alone. Those of you who know how long we have been battling things like food allergies, gastrointestinal problems, vertigo, memory loss, chronic fatigue and pain that have gotten progressively worse over the years...it all comes down to Lyme.
Our little man hasn't grown properly in years, and has gone from the 99th percentile in size down to 15th. We have maintained his health using a very strict diet called GAPS which is grain free, sugar free, corn and soy free, color and preservative free...you get the picture, and seen a list of doctors as long as my arm. I can't tell you how many times we have been told "he'll grow out of it" many times. His memory and attention are suffering due to the combination of immunity and disease issues caused by Lyme and Strep.  Lyme seldom travels alone.
Eating an all natural diet is far more expensive than eating supermarket meals. We spend about 3 times more on food than most families our size.That is not easy to substantiate to a bankruptcy attorney...they roll their eyes, trust me.  Candida overgrowth and leaky gut are huge problems for Lyme sufferers, as are food allergies and gastrointestinal manifestitations of all kinds. 
After only one month on proper Lyme treatment, Ben has starting eating much better and showing signs of growth. The antibiotic he is on also seems to be helping with his PANDAS infection. While some days are better than others, we are encouraged by seeing changes at last. We have used our family savings diagnosing this illness due to lack of knowledge in the medical community, now we need a little help from you to finally heal and live life again. Please pray for our family, and pass this on to everyone you can think of via email, facebook, or in person.
Due to the fact that Lyme has been found to transfer between mates, we will also be testing and treating my wonderful superhero of a husband, Don. He is not only our breadwinner, but the love of our life. Accurate testing is very expensive through IGENEX lab...the best Lyme lab in the US. I tested negative through other labs for years before testing CDC positive through IGENEX.  Damage must also be assesed by other testing ranging from cardiac, organ damage and the like. Testing must be repeated periodically to asses progress. Your support in campaigning for our cause is so appreciated. If you can post this link on your church site, send to your friends, post on facebook, and relay our situation to those friends....you will be changing lives, and we thank you tremendously. God Bless, The Goggans Family
Every dollar helps.
Thank You and God Bless,
Anne, Don, and Ben Goggans
If you are still reading....we love you.

Organizer
#1 fundraising platform

More people start fundraisers on GoFundMe than on any other platform. Learn more

GoFundMe Guarantee

In the rare case something isn't right, we will work with you to determine if misuse occurred. Learn more

Expert advice, 24/7

Contact us with your questions and we'll answer, day or night. Learn more